Holiday Sharing Options with High Quality Photo Products from Saal Digital
Uploading images to social media is fast and easy, but not really the best primary way to share them, especially during the hectic holiday season. Emailing your favorite shots to friends and family members is an option, but that method has some uncertainty, too. And how many recipients save them after they see them? An image that exists only as a digital file has a fragile lifespan.
To share your memories and the photos that document your experiences, you should consider high quality personalized photo products from Saal Digital. They deliver a visual message that is uniquely you, are fun and easy to create, and are very affordable.
Our longstanding favorite is the Photo Calendar. Calendars are gifts that keep on giving every day of the year and are universally appreciated. We'll drill down on Photo Calendars in a moment, but first here are some other personalized photo products to consider. With the upcoming holiday season in mind, we'll focus on the ones you may want to share as gifts.
Who is Saal Digital?
Saal Digital is a professional photo lab and one of the leading suppliers of photo products in Europe. They work continuously to further develop their products in order to achieve higher standards and to meet the needs of their customers. As a modern online service provider, they specialize in a broad range of high quality photo products including Photo Books, Photo Prints, Posters, Calendars, Greeting Cards, Wall Decor (Metal Print, Acrylic Glass, PVC Foam Board, GalleryPrint), as well as many popular Photo Gifts.
First class, professional quality Photo Prints are always near the top of everyone's list, but did you know that Saal Digital can provide fun Photo Stickers and Postcards, too? Surprise your kiddos with stickers that display their pets. Or think about this idea: create a series of postcards that display the places you visited on vacation and other meaningful locations.
To share a larger body of work, nothing beats a Photo Book. If you're like many of us, you may have a strong collection of images you're proud of but have no experience with Photo Book layout, organization or format. Saal Digital offers video tutorials that teach you how to use Saal Design Software USA, a powerful but easy tool that enables you to create photo books that dazzle. This holiday season you can share a photo book that's uniquely yours. It's sure to be a lasting treasure for any person on your holiday shopping list.
Not Just for Professionals
To share that very special image with a very special friend, rely on Saal Digital for Posters and Fine Art prints. Their printing techniques are second to none and they offer supreme quality options and papers like Hahnemühle Photo Rag . Remember, Saal Digital is a professional photo lab. You get the same high quality that is enjoyed by some of the world's best photographers. Don't settle for drugstore print quality when you can have the best.
Saal Digital serves pro photographers in their Professional Zone. Professional media designers, graphic designers and photographers have access to Saal Digital's Pro-Upload function. They can design Photo Books with other programs such as InDesign, Photoshop or QuarkXPress and upload the printable PDF files. In addition they provide tutorial videos that cover using ICC Profiles and other information pros need.
Many Gift Possibilities
The list of available Photo Gifts is long and comprehensive. Here are a few examples: beverage mugs, picture puzzles, shopping tote bags, keychains, cushions, coasters, glass cutting boards, towels and even doormats. Need a distinctive gift for a client or colleague? This might be a fun place to start.
Why We Love Photo Calendars
Photo Calendars are undeniably useful, become beautiful when you add your personal images, and are always appreciated by the people who receive them. (Don't forget to order one for yourself.)
The classic, traditional approach is the page-per-month style, 12 pages and 12 photos. There's a great many options to choose from if you go this route. Decide between a hanging wall calendar, stylish desk calendar or maybe a family calendar that begs everyone to coordinate their schedules in one place. Match the design and images to augment the décor of the room.
Saal Digital Photo Calendars are made with extremely durable and stable materials. Their Wall Calendars include a classic wire binding (known as wire-o or double-o) and a stable hanger that is attached to the wire so that it can easily be hung on a wall. What's more, the pages can easily be turned over to uncover a clear view of each month, and they won't get folded while being turned, so no damage occurs.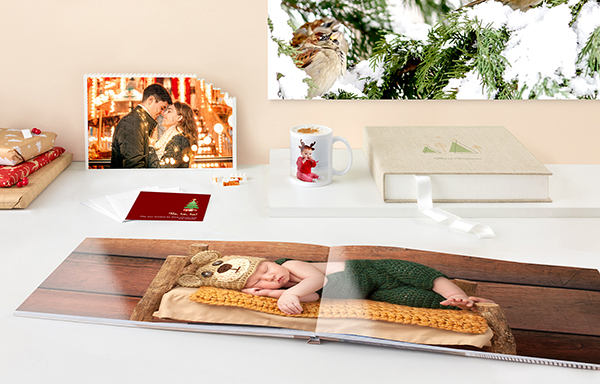 Order Now
Three options, and all are quick and easy.
The best option is to download and install Saal Design Software USA. If features a full range of functions and editing options. You can customize your design with clipart, backgrounds, color and text boxes. When you need a break you can save your projects offline and edit them later before ordering.
A faster way that's not as flexible but is just as effective is to visit the Saal Digital online store. Design and then place your order directly from your web browser. Import photos from Dropbox and Google Drive.
The Saal Digital US App for mobile devices is a third way to order. It's fast and convenient, and you can complete your creations with just a few steps. You get great results, even with smartphone images.
High quality personalized photo products from Saal Digital provide exceptional photo sharing opportunities all year round but are particularly useful during the holiday season. Share your memories, your talents and your thoughtfulness with those you love.
FEATURED VIDEO