Great Imaging Gifts for Photographers: Photo Accessories That Would Make Ideal Holiday Stocking Stuffers
Instead of visions of sugarplums, it's gadgets, gizmos, and software dancing through digital photographers' heads during the holidays. Presented for your approval is a collection of fun and affordable tools to put a smile on your face and make imaging next year easier and more creative. You can use this column as a shopping list for your favorite photographer or grab a Sharpie and circle the goodies you want and leave it near where your spouse eats his or her Cap'n Crunch. It's worked for me. A tip of the old Farace chapeau to Richard Griot of Griot's Garage (www.griotsgarage.com) for that idea.
When shopping for stocking stuffers, don't forget the basics:
RAM. To paraphrase an old axiom, nobody can have enough Random Access Memory in their computer.
Higher capacity memory cards. You always need room to capture more or larger image files. I've finally come to accept but hardly love SD cards. They're more affordable cost/GB than ever and almost all mirrorless cameras—even Leicas—use them but that doesn't mean that I like 'em.
Backup drive. Apple computer users should use the company's Time Machine software, which is free, and Windows users need the biggest backup drive they can afford.
Uninterruptible power supply. Be sure to get one with enough power to run your computer and peripherals, especially that backup drive.
Without further ado, here are my favorite gifts for photographers this holiday season.
Plug-In Of The Month
Macphun Software's Tonality uses a 16-bit Raw processing engine and advanced algorithms to produce high-quality black-and-white images with minimal effort and a maximum fun factor. Starting with a bunch of presets, Tonality uses layer-based image editing, adaptive exposure and smart contrast, user-loadable textures, clarity controls as well as structure detail and grain emulation of more than 20 film types. The software has adjustment brushes and a selection of finishing tools wrapped up in an interface that encourages experimentation. Tonality can be used as a stand-alone app ($19.99) or, in the Pro version ($69.99), as a plug-in for Adobe's Photoshop, Lightroom, and Photoshop Elements or Apple's defunct Aperture. It's also available as part of Macphun's Creative Kit Plus (along with Snapheal Pro, Intensify Pro, and Focus 2 Pro) for $149.99, perhaps making for the ultimate software stocking stuffer. For an interesting spin, Macphun's retail products are delivered on a high-speed SD memory card.
Lens Pouch With A Difference
I always thought OP/TECH USA's Snoot Boot was no ordinary lens pouch and now it's available in two new sizes, the Wide Body XL and the Wide Body XXL, to accommodate larger lenses. Made in the USA, the new sizes are ideal for lenses such as the Canon EF 55-200mm f/4.5-5.6, AF-S VR Nikkor 300mm f/2.8G IF-ED, or Leica APO-Telyt-R 280mm f/2.8. The wide-mouth opening makes it easy to retrieve a lens while a drawstring closure with spring keeps it securely locked. For convenient carrying, each pouch has a neoprene-wrapped handle. Its soft, durable neoprene construction protects these larger lenses against dust, moisture, and impact. The Snoot Boot Wide Body XL ($24.95) measures 4.5x10 inches and the Wide Body XXL ($25.95) is 5x12 inches, making these lens pouches essential gear for outdoor or location shooters. Smaller sizes are also available starting at $13.95.
Splish, Splash, I'm Shooting Digital
Well known for their underwater housings, SeaLife has kicked it up a notch with their permanently sealed, waterproof 13-megapixel Micro HD camera. It can be used above or below the waterline and is guaranteed not to leak for the life of the camera. Measuring four inches wide and similar in size to a deck of cards, the rubber-armored Micro HD has a 2.4-inch LCD screen but there are things you won't find, such as a housing, removable batteries, memory cards, O-rings, openings, latches, or doors. The built-in 140-degree wide-angle lens focuses from one foot to infinity with "almost no shutter lag." The base model has 16GB of storage, while the Micro HD+ model's capacity is 32GB. Images (and video clips) can be downloaded with an included USB cable that attaches to waterproof contacts on the camera's base. The Micro HD+ offers Wi-Fi for wireless transfer and sharing. Camera batteries are charged via USB cable and last for three hours of shooting. The camera works with GoPro camera-compatible mounts, too.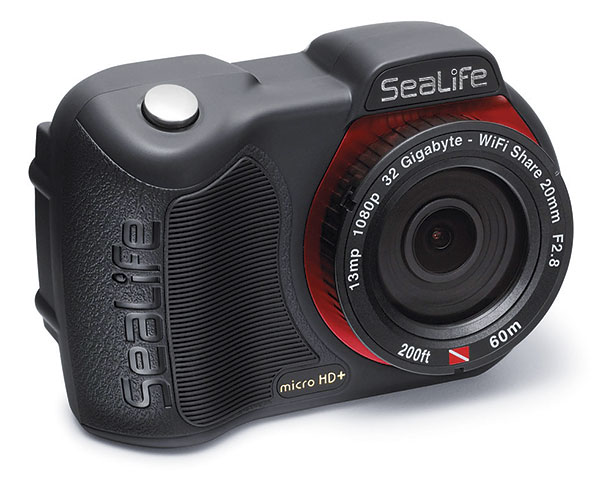 Free Actions From St. Nicholas
Panos Efstathiadis has two free Photoshop (and Elements) Actions in time for the holidays. His updated Page Curls is a set of Photoshop Actions that let you create highly customizable page curls on any image corner. You can choose from three styles and apply different page curls on every corner of the same photo and have the ability to customize curl size and color. Efstathiadis's free Reflections action creates reflections and contains three actions for creating realistic reflections for print or web use. The first action creates a classic reflection, the second produces a triptych version of the original image, and the third is designed to be used on images with transparent areas. You can choose from two different types of backgrounds (plain color or horizon) with all layer masks and adjustment layers left intact in the final image file.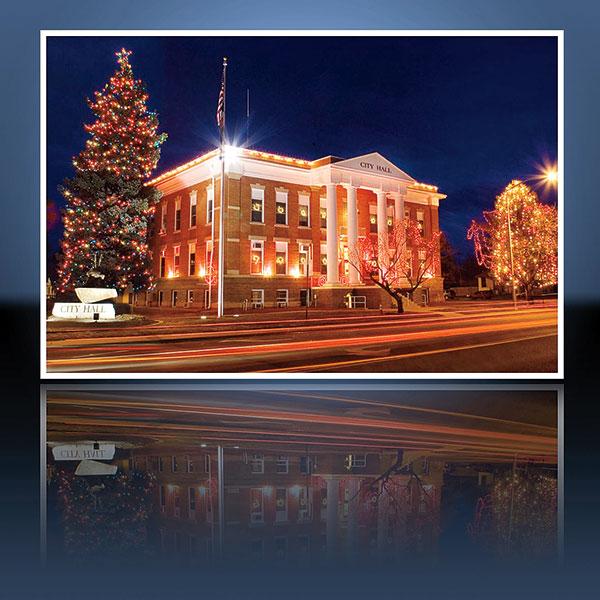 Camera Color Correction For Photo And Video
Datacolor, which knows a thing or two about color, added the SpyderCHECKR 24 to their product line. Engineered with 24 pigment patches, it provides the accuracy of a full-size, large patch photo target wrapped up in a thin, compact design. SpyderCHECKR 24's gray face provides in-camera and post-processing white balance and exposure adjustment, while its color face lets you automatically color correct capture in Adobe's Camera Raw and Lightroom, Hasselblad's Phocus, and Blackmagic's DaVinci Resolve. If you shoot stills and video, SpyderCHECKR 24 ($49) makes a perfect stocking stuffer.
A Bag To Keep It In
Now here's something you give the photographer who has everything. Manfrotto's newest bags are part of their Pro Light series designed for professionals and advanced amateurs. They're crafted using lightweight construction and feature a tough nylon outer layer with a brushed fabric interior for soft cushioning, shock-absorbing foam, and a structural reinforcement board to protect your gear. The series includes backpacks and holsters from $80 to $310. I've been looking for a backpack for my mirrorless system and their Minibee-120 PL backpack ($255) fits the bill and can hold a surprisingly large amount of gear for its size. For SLR shooters, the bag can carry a camera without grip with up to a 70-200mm lens, six to eight lenses, a flash, and accessories. A rear padded laptop slot fits most 13-inch laptops or tablets.
Contacts
Datacolor: www.datacolor.com
Macphun Software: www.macphun.com
Manfrotto: www.manfrotto.us
OP/TECH USA: www.optechusa.com
PanosFX: www.panosfx.com
SeaLife: www.sealife-cameras.com
FEATURED VIDEO