Decorate Your Living Space With Wall Décor Made From Your Best Photos
Go large: display your favorite images in your home or apartment as high quality Wall Décor you can see and enjoy every day. Do this, and you'll learn that the most beautiful words you'll ever hear from someone who visits your home are, "Wow! Did YOU take that photo?"
Don't hide your light under a bushel—and don't leave your best images trapped inside a memory card. Large prints add beauty and impact to any room and can be quickly switched around as the mood strikes. Portraits of loved ones, landscapes, pets, and life events top the list of favorite wall art subjects, but there are absolutely no limitations because you are the curator of your personal gallery.
Many photographers become frustrated when they make inkjet prints at home. The first major limitation is size. Unless you purchase a specialized printer, you're generally limited to prints that measure less than 24 inches in their longest dimension, usually smaller. While some inkjet printers are capable of very high quality output, many produce results that are well below the potential of the image file. To get reliably high quality prints and an amazing variety of display options you must enlist the services of a first-tier professional photo lab.
Saal Digital
Saal Digital is your one-stop shop for Wall Décor in an amazing array of material choices, surfaces and shapes. And the professionals at Saal Digital will print your artwork expertly so that every drop of beauty and quality is revealed for all to see.
Saal Digital is a professional photo lab and one of the leading suppliers of high quality photo products in Europe. They work continuously with pro and amateur photographers to develop products that achieve the highest standards of quality and long lasting value. As a modern online service provider, they specialize in a broad range of top-of-the-line photo products including Photo Books, Photo Prints, Posters, Calendars, Greeting Cards, a broad selection of popular Photo Gifts and of course Wall Décor. Plus Saal Digital provides easy-to-use layout software that requires zero professional expertise and makes online ordering very easy.
One reason why Saal Digital is the best source for Wall Décor is the extensive options they offer, so many options that you're sure to find exactly what you're looking for. Visit the Saal Digital website and tour the various choices of Wall Décor shapes, surfaces and material. Here are some favorite options you may enjoy. Keep in mind that this is only a small sample.
Multipart Wall Décor
Your personal photographic centerpiece, a multipart print brings excitement and a new element to displaying photographic artwork. Divided on several picture panels, your image will add a new dimension to the room. Or you can arrange several images in a dramatic layout. Multipart Wall Décor provides the viewer with an infinite expanse and thus creates a very special atmosphere. Saal Digital provides a Wall Décor Configurator, so you can experiment with different combinations and create a unique design object as a result.
Photo Canvas
Show off your images at the highest resolution and maximum quality to ensure impressive brilliance as well as crisp, sharp reproduction with the Photo Canvas option. The process uses a high-end latex print with 300 dpi resolution on a natural color, fine canvas made of a blended fabric (35% cotton and 65% polyester) that's stretched by hand on a solid real-wood wedge frame that's .78 inches (2 cm) thick. Installation is easy—the canvas is ready to hang without a separate frame using two nails or screws.
By default, the edges of the images are folded over the frame, but you can specify Edge Mirroring so that the entire image area is visible from the front and the edges are mirrored on all four sides. You can choose between a 0.8 or 1.58 inch frame depth to give your canvas a three-dimensional appearance.
Brushed Metal
For a contemporary, modern look, go for the versatile Brushed Metal print. Reproduced on a 3mm thick brushed aluminum surface, this technique especially helps brighter parts of your image stand out. Alternatively you can choose the regular (not brushed) Metal Print. This video guides you through the differences. The print is made using a special UV direct print with a seven-color printing (normally only four) and provides impressive color intensity at the highest resolution without pixelation and with maximum sharpness. Optionally you can specify gold or silver metallic toning effects that enhance the detail in black & white photos.
Custom sizes are available, so you can match the format to the display area, and there are four mounting options that making hanging the creation easy and straightforward.
GalleryPrint
Created using direct printing on a 2mm acrylic substrate that's reinforced by a 3mm aluminum plate, GalleryPrints offer superb resolution and maximum sharpness through a seven-color UV direct printing process. These genuine works of art transform any room into an art gallery. They're also perfect for professional offices and public places and can be reproduced in custom sizes to match the display environment.
Professional photographers who offer prints for sale in art galleries, at street fairs and on a private contracted basis should strongly consider GalleryPrints to show off their work at the highest quality level.
Wall Décor as Gifts
Wall Décor items make unique gifts that will be treasured forever. Regardless the occasion, personalized Wall Décor is an unbeatable way to share your art and delight your friends.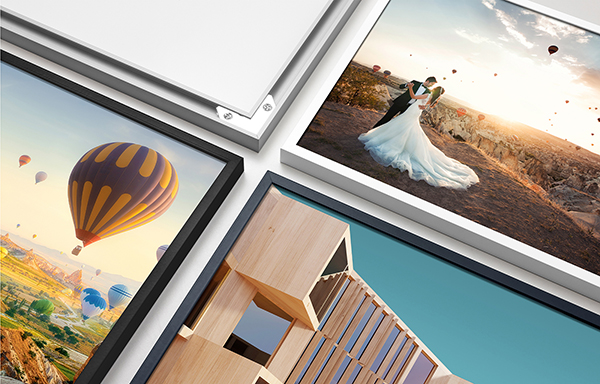 How to Order
Click here to download Saal Design Software USA. It features a full range of functions and editing options. You can customize your design with clipart, backgrounds, color and text boxes. When you need a break you can save your projects offline and edit them later before ordering.
A faster way that's not as flexible but is just as effective is to visit the Saal Digital online store. Design and then place your order directly from your web browser. For convenience you can import photos from Dropbox and Google Drive.
The Saal Digital US App for Apple and Android mobile devices is a third way to order. It's fast and convenient, and you can complete your creations with just a few steps. You get great results, even with smartphone images.
Saal Digital Newsletter
Sign up for the Saal Digital newsletter to receive regular updates on Saal Digital's offers, new products and professional information. Like and follow Saal Digital on Facebook and Instagram to stay up to date.
— Shutterbug Staff
FEATURED VIDEO