Bags & Carrying Systems; Stow And Go Page 2
Lightness is an ever more important point, because even American airlines are starting to enforce what have long been very notional limits on carryon size and weight. More than one American tourist has been badly shocked, when returning from a European trip, to find that their carryon baggage is too bulky or too heavy to be taken on board. Assuming, of course, that it is not too numerous as well. Increasingly, one piece of carryon luggage means one piece of carryon luggage and not all you can carry, plus a garment bag.

Close by Kata were National Geographic and Manfrotto bags. The former tend to feature natural materials (cotton, linen, hemp, leather) and to appeal to the kind of photographer whose preferred habitat would be a small hotel in a war zone or a camp in the jungle: laid back, macho, relaxed, a bit Hemingway. Manfrotto bags are much more for the city dweller, with Italian styling.
National Geographic rain hood. The mannequin really WAS that color.
Both National Geographic and Manfrotto also had new photographic clothing. The former offered a very clever rain hood-cum-backpack cape: the sort of thing you need in the monsoon when the cool of the rain is welcome, but you don't want it going down your neck or soaking your camera gear. Manfrotto offered two styles of jacket, plus a vest and an over-the-head hooded rain cape which more than anything else resembles a giant version of an old-fashioned cycling cape. There is a choice of two fabrics, a heavier black (probably a siliconized polyester, from the feel of the cloth) and a rubberized nylon.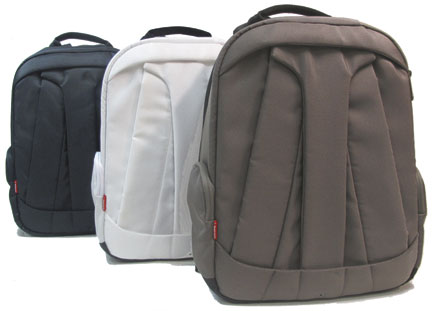 Manfrotto "Stile" backpacks.
As always, there were so many camera bag manufacturers at the show that it is impossible to cover them all, but one more that is worth mentioning with a little more detail is Naneu Pro. They offered what Frances calls "expanding possibilities": gusseted expanding compartments, concertina-style, that are zipped out of sight when they are not needed. Once again, this may be important on international flights.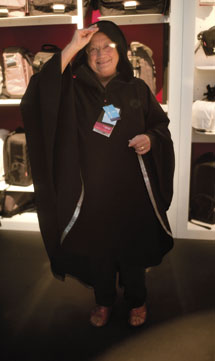 Manfrotto cape. Ready for Halloween—available in several sizes.
© 2010, Roger Hicks Ltd., All Rights Reserved
There's nothing new about expanding gussets, of course, but most look as if they were added as a grudging afterthought. Naneu Pro's look as if they are fundamental to the design. A useful point here is that oversized bags are much more likely to be noticed by airport staff than overweight bags, so it is useful to practice looking nonchalant when carrying absurdly heavy bags jammed tight with camera gear. At least with the Naneu Pro bags you can expand them after you've landed.

Another way to address "personalizing"bags is via a modular approach: a basic bag (or even body harness) on which you can hang all kinds of smaller bags, pouches, and slings. A leader in this trend is Lowepro, with their "Street and Field" series. Or for a completely different approach to personalizing, there's jill.e, whose camera bags are designed for women, by women. Not only do they look less like camera bags: there's also one new design with interchangeable zip-on flaps to harmonize with different clothes. Their men's line is called, yes, "jack."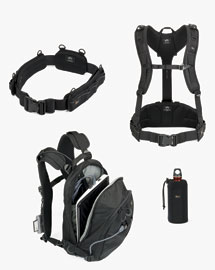 Lowepro's "Street and Field" system is modular in the extreme. These pieces are not necessarily to scale, as we cobbled the illustration together from four smaller shots.
Quite a number of companies were extending their ranges to fill in gaps, so if in the past you have tried a particular bag and found that it wasn't available in quite the right size or with quite the right range of features, you might find that if you revisit them, they will have exactly what you want. Tamrac's new Rally series of messenger bags are an excellent example.

This is especially true of Vanguard, who are not only redesigning their bags for even greater utility, but also for significantly increased durability and long-term comfort, including such tricks as air padding: "added lightness" again. They know they won't sell as many replacement bags to the same photographer, but they also know that more and more people are attracted by this sort of philosophy.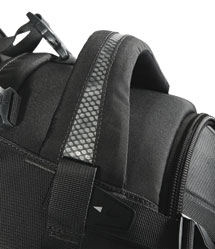 Vanguard's "air-infused" padding is not just a nod to high-tech fashion: it actually works as well.
Others were redesigning apparently for the sake of it, but when you start talking to them, you begin to understand why. Sometimes it's because they don't want their image to become staid and stuffy: "We don't want people to see this as their father's camera bag." Other times, it's because they have had enough good suggestions from their users, and good ideas from their designers, that they want to incorporate them in their new bags. "To God alone belongs perfection," runs the old Persian proverb, and it's as true of bags as of anything else.
Manufacturers/Distributors
b-grip: www.bgrip.com
BlackRapid: www.blackrapid.com
Bron Imaging Group: www.bronimaging.com
Cullmann: www.cullmann-foto.de; distributed by RTS Inc.
jill.e: www.jill-e.com
Kata: www.kata-bags.com; distributed by Manfrotto Distribution
Lowepro: www.lowepro.com
M-ROCK: www.m-rock.com
Manfrotto: www.manfrotto.com; distributed by Manfrotto Distribution
Manfrotto Distribution: www.manfrottodistribution.us
Naneu Pro: www.naneubags.com
National Geographic: www.geographicbags.com; distributed by Manfrotto Distribution
OP/TECH: www.optechusa.com
RTS Inc.: www.rtsphoto.com
Sun-Sniper: www.sun-sniper.com; distributed by Bron Imaging Group
Tamrac: www.tamrac.com
Think Tank Photo: www.thinktankphoto.com
Vanguard: www.vanguardworld.com
FEATURED VIDEO