Sports Photography Marketing; Actions, Products, Portraits, And More
Whether you are starting out, adding income to your business, or changing marketing direction, sports photography provides opportunities for creating and selling exciting and interesting images. The subjects vary between products, portraits, and lifestyle. Though Sports Illustrated magazine most often springs to mind, the clients can range from editorial to advertising and everything in between. But this is not just photography for magazine articles; successfully marketing sports photography means more than just documentary or action images. Beyond photography of the games, sports photography for commercial clients means helping a client build brand awareness and sales of their products. This may require expertise in lighting, unique camera angles, capturing an athlete's passion, and even dealing with celebrity spokespersons.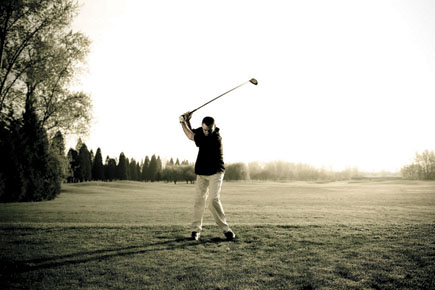 All Photos © 2009, Andy Batt, All Rights Reserved
Andy Batt (www.andybatt.com) is the principal photographer for andyBATTstudio based in Portland, Oregon, which he co-owns with his partner and wife Therese Gietler. His work centers on people photography—quirky lifestyle work and moody action photography of athletes and dancers. Batt graduated from the Rochester Institute of Technology with a BFA in photography, and has been in the commercial photography world ever since. He has been awarded for his photography by Photo District News and the International Photography Awards and been featured in articles in Communication Arts and STEP inside design. Gietler is a producer, fine art photographer, and bookbinder. She has extensive production experience in all aspects of a print campaign—from estimates to keeping the crew fed and on top of their game.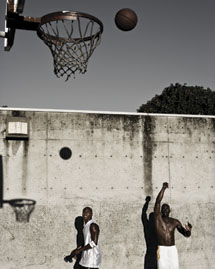 Shutterbug: How did you start shooting sports photography?

Andy Batt: I was given an opportunity to divert from doing product photography for some of my sports marketing clients (like Nike and adidas) to photographing people. We had developed a good client relationship, and built on top of that. My work isn't about documenting sports (although I have the utmost respect for those who do). For me, sports photography isn't about the sport—it's about working with the athlete and capturing an exciting moment.

SB: I noticed a wide range of subjects on your website Sports page. How do you approach the varied commercial assignments to set your work apart from other photographers?

AB: I treat sports photography as storytelling. It's about conveying a message—sometimes that message is delivered with an action shot, sometimes with a detail shot or it could be a portrait. My favorite type of assignment combines all three of those things. I push myself to create images I haven't seen before, to give my clients, and myself, a fresh approach.
SB: Describe the range of client types you currently work with for sports photography assignments.

AB: We work the complete range from advertising to editorial. We've built image libraries for sports product companies like adidas, done advertising branding launch campaigns for sports shoe companies like Protege, and worked with editorial clients like Runner's World and Outside magazine. Currently we're doing a soccer poster campaign for Volkswagen and their advertising agency, Crispin Porter + Bogusky.
FEATURED VIDEO