Photographer Warren Richardson Wins World Press Photo of the Year for Dramatic B&W Image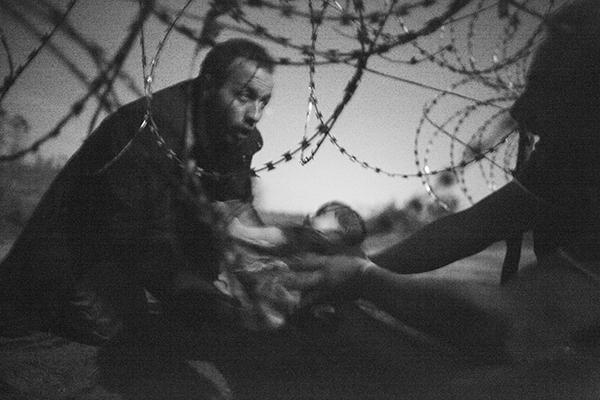 The World Press Photo of the Year 2015 award winner is Australian photographer Warren Richardson for his dramatic black-and-white image, "Hope for a New Life" (above). This photo was also awarded first prize in the Spot News category.
The winners of the 59th World Press photo contest were chosen from a pool of 82,951 entries submitted by 5,775 photographers from around the world. This year's categories included: Contemporary Issues, Daily Life, General News, Long-Term Projects, Nature, People, Sports and Spot News.
Richardson's powerful image was chosen because of its emotional impact, showing refugees escaping the violence of their home country by crossing the Serbian border into Hungary. A fence was being constructed to slow the human tide but the man in Richardson's photo was still able to find a spot large enough to allow him to get his family to safety, gently passing a baby under the barbed wire.
"I camped with the refugees for five days on the border," Richardson said about the image. "A group of about 200 people arrived, and they moved under the trees along the fence line. They sent women and children, then fathers and elderly men first. I must have been with this crew for about five hours and we played cat and mouse with the police the whole night. I was exhausted by the time I took the picture. It was around three o'clock in the morning and you can't use a flash while the police are trying to find these people, because I would just give them away. So I had to use the moonlight alone."
Richardson is a freelance photographer who is currently based in Budapest, Hungary.
The Jury chair, Francis Kohn and jury member Vaughn Wallace were deeply moved by Richardson's work and agreed that it skillfully expressed the plight of the refugees.
"Early on we looked at this photo and we knew it was an important one," Kohn said. "It had such power because of its simplicity, especially the symbolism of the barbed wire. We thought it had almost everything in there to give a strong visual of what's happening with the refugees. I think it's a very classical photo, and at the same time it's timeless. It portrays a situation, but the way it's done is classic in the greatest sense of the word."
Here is a sampling of some of the other winners in the World Press Photo contest.
First Place Winners:
Contemporary Issues Category, 1st Prize Winner Zhang Lei (China), Haze in China
A city in northern China shrouded in haze, Tianjin, China. December 10, 2015. Commissioned by Tianjin Daily.
Daily Life Category, 1st Prize Winner Kevin Frayer (Canada), China's Coal Addiction
Chinese men pull a tricycle in a neighborhood next to a coal-fired power plant in Shanxi, China. A history of heavy dependence on burning coal for energy has made China the source of nearly a third of the world's total carbon dioxide (CO2) emissions, the toxic pollutants widely cited by scientists and environmentalists as the primary cause of global warming. November 26, 2015. Commissioned by Getty Images.
General News Category, 1st Prize Winner Mauricio Lima (Brazil), IS Fighter Treated at Kurdish Hospital
A doctor rubs ointment on the burns of Jacob, a 16-year-old Islamic State fighter, in front of a poster of Abdullah Ocalan, the jailed leader of the Kurdistan Workers' Party, at a Y.P.G. hospital compound on the outskirts of Hasaka, Syria. August 1, 2015. Commissioned by The New York Times.
Long-Term Projects Category, 1st Prize Winner Mary F. Calvert (USA), Sexual Assault in America's Military
US Army Spc. Natasha Schuette, 21, was pressured not to report being assaulted by her drill sergeant during basic training at Fort Jackson, South Carolina. Though she was hazed by her assailant's fellow drill instructors, she refused to back down and Staff Sgt. Louis Corral is now serving four years in prison for assaulting her and four other female trainees. The US Army rewarded Natasha for her courage to report her assault and the Sexual Harassment/ Assault Response & Prevention office distributed a training video featuring her story. She is now stationed at Fort Bragg, North Carolina.
Series portraying women who have been raped or sexually assaulted during their service with the US Armed Forces. At the moment, only one out of ten reported sexual violence cases goes to trial and most military rape survivors are forced out of service. Victims suffer from the effects of Military Sexual Trauma, (MST), which include depression, substance abuse, paranoia and feelings of isolation. March 21, 2014.
Nature Category, 1st Prize Winner Rohan Kelly (Australia), Storm Front on Bondi Beach
A massive 'cloud tsunami' looms over Sydney as a sunbather reads, oblivious to the approaching cloud on Bondi Beach. November 6, 2015. Commissioned by Daily Telegraph.
People Category, 1st Prize Winner Matic Zorman (Slovenia), Waiting to Register
A child is covered with a raincoat while she waits in line to register at a refugee camp in Preševo, Serbia. October 7, 2015.
Sports Category, 1st Prize Winner Christian Walgram (Austria), FIS World Championships
Czech Republic's Ondrej Bank crashes during the downhill race of the Alpine Combined at the FIS World Championships in Beaver Creek, Colorado, USA. February 8, 2015. Commissioned by GEPA pictures.
More info on the World Press Photo Contest here.
FEATURED VIDEO