Why You Need A Monopod
You'll never be sorry that you took your monopod along on your photo trek. There aren't many photo accessories that can make that claim. If you don't own a monopod, you should know that prices begin at less than $25 but many pros consider them priceless.
Monopods Have A Bad Rap. Why?
The prefix "mono" is Greek. The Latin equivalent is "uni." Mono sometimes has a slightly negative connotation, for instance, the words monoxide, monotonous, monopolize. Even the word "mono" itself is shorthand for the debilitating disease mononucleosis. There's no wonder why our smart ancestors opted for uni over mono when they named cool things like unicorns, unicycles and uni (sea urchin). Can you imagine anyone being excited to encounter a "monohorn?"
Steady Shots With Minimal Gear
The primary purpose of a monopod is to support and help stabilize a camera while an image is being captured. Tripods, of course, do the same things. Tripods are better if you need to leave the camera in the same position for a long period of time, but it's hard to beat the nimble speed of a monopod when it's time to put it into action.
If you carry a monopod extended to hold the camera at your eyelevel, deploying it is matter of milliseconds. And when finished, there are no legs to fold. And if you need an emergency tripod, a mono cousin can be propped against a fence or tree for greater stability.
Instant Ad Hoc Panning
No, it's not as smooth as a fluid pan head, but with a little practice and a steady hand you can follow a moving subject simply by rotating the camera on the monopod's axis. There are many situations where this is preferable to tripod, like when shooting birds in flight, insects erratically buzzing around and children who had a cup of chocolate syrup with their mid-day snack.
Multi-Purpose
Attach your camera to a monopod, extend it fully, set the self timer and raise it high above your head, over the crowds. You get an amazing view without being 11 feet tall. Sure, the results are a bit hit-and-miss, but randomly composed (and unique, if nothing else) images are better than shots of the back of the head of the person in front of you.
Monopods can also be used as a hiking stick. Some are specifically designed to facilitate this function. They're good for knocking apples from branches higher than most humans can reach, and in a pinch can provide a feeble, last ditch tool of self defense (like that time when an overly aggressing goose caught you taking a gander its gaggle of goslings).
Walking on ice? Many monopods have a sharp stud at on the bottom, typically poised within the rubber cushioned foot, waiting to be rotated into position. No ice where you live? The sharp stud is also ideally suited to grabbing a firm hold on a vintage 1970s shag carpet.
Although a bit thick in the top and therefore not well balanced when grasped by the thinner bottom and held parallel to the ground, a monopod makes a useable selfie stick. You need an adjustable head, but many come with a compact tilt head of one sort or another.
A reliable example is the Manfrotto Element MII monopod. It weights a scant 1.1 pounds and extends to 62.6 inches. Collapsed it measures 16.9 inches, and it's priced at $54.99 without head.
Generally Affordable
Prices run the gamut from the sublime to the ridiculous, as is frequently the case when it comes to specialized photo gear. We've seen satisfactory models tagged at less than $25 and some carbon fiber professional models priced as high as $400.
Amazon offers a 67-inch monopod in their line of Basics products. While we have not tested this item, it does appear to be quite a bargain priced at $22.54 with case.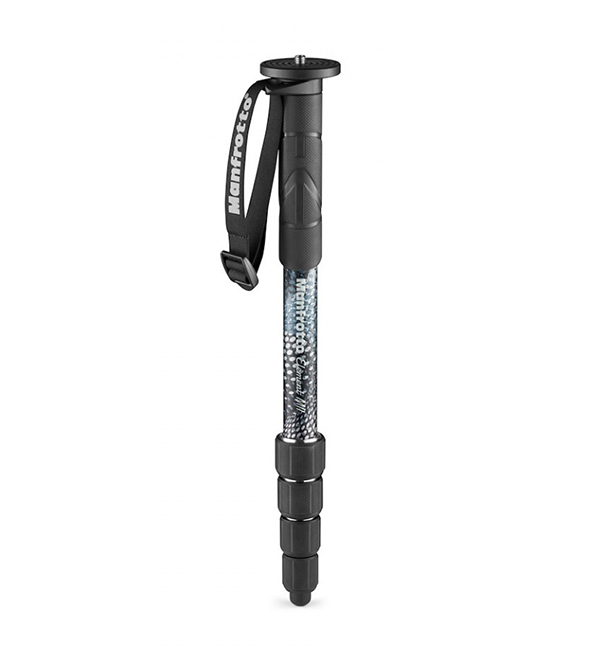 Easier To Pack/Carry Than A Tripod (Usually)
There are many super compact, quick to deploy, easy to carry tripods on the market, to address the times when you need a three-legged friend fast. But common sense suggests that one leg occupies less space than three. It's more likely you'll be able to stow a mono in your camera bag, or comfortably lash it to the outside (some people carry a monopod in the water bottle pouch on their backpack).
Being easier to carry means you are more apt to take it with you instead of waving goodbye to it when you leave home.
You May Already Own One
Clever designs allow some tripods to lend a leg to be pressed into one-legged service. For example, many of the tripods offered by 3Legged Thing convert to an excellent monopod. Unscrew the designated leg, screw on the tripod head, and away you go. In fact, in the case of the 3Legged Thing Albert 2.0 carbon fiber tripod, all three legs can be detached. In theory, we suppose, you and your friend and their friend could all become monopodized from the compliant and accommodating Albert.
By the way, the 3Legged Thing Albert 2.0 in carbon fiber can be ordered from the manufacturer for $379. 3LT offers lower priced convertible models as well, the but the Albert 2.0 is amazing. The Punks Trent 2.0 magnesium alloy monopod is a solid choice if you want a monopod only, and is priced from $89.99.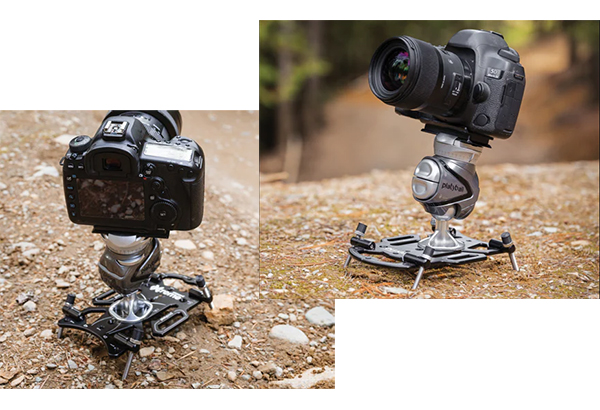 What Do You Call A Pod With No Legs At All?
The category-disrupting Platypod is an amazing feat of engineering that introduces several new innovations to the world of compact tripod alternatives. The latest model is the Platypod eXtreme and it sells for $149.
Designed to be used at ground level (or sitting on an uneven surface) the Platypod series of products allows users to get a unique view of any scene. It has no legs per se, but four short threaded stainless steel screws that can be adjusted independently to tweak angle of view or to provide a secure grip on an uneven surface. The Platypod eXtreme measures 0.19 inches (5mm) thick with a full body size of 7.75 x 5.25-inchs and weighs 9.6 ounces. Despite the diminutive size, it supports 22 pounds, about the same weight as 15 separate Sony a7 III mirrorless camera bodies. You can read more about the Platypod eXtreme in our coverage when this latest model was launched on Kickstarter a few months back.
—Jon Sienkiewicz
(As an Amazon Associate, Shutterbug earns from qualifying purchases linked in this story.)
FEATURED VIDEO