Wear Your D-SLR Stress-Free: Custom Straps And Harnesses
The conventional camera strap does the job, but with some gear can put considerable strain on the neck, tempting you to hang your camera from the shoulder, where it may slip off or invite thieves. Like a good backpack, today's ergonomically designed camera-carrying systems largely relieve that stress and throw in some extras in the bargain. New age straps feature a more comfortable neck/shoulder pad than found on conventional neck straps, so you'll still be comfortable hours later, and often with a quick-release mechanism to rapidly detach the camera when the need arises. Many are of a sling design aimed at the "quick shooters" among you, and some are so innovative as to almost defy description. A few even let you comfortably and safely carry two cameras at the same time.
Sling Straps & Holsters
A sling strap normally connects to the camera at only one point: either at the tripod socket via a special screw post or by using one camera strap lug. This encourages the camera to hang at a downward angle or even upside down (when connected via tripod socket), preferably with the lens pointed toward your back.
The sling strap distributes the weight across your body, much like a sling bag, starting at the left shoulder. This strap allows you to swing into action at a moment's notice, since the camera comes to rest against your hip: with one hand resting on the grip, you simply slide the camera along the webbing to eye level. Many sling straps add nylon clamp-style bumper guards to restrict unintentional camera movement, but they're not really necessary.
Next, we come to dual-camera harnesses. This takes several forms: the two straps may hang off one neck pad (which drapes across the back and over each shoulder); off separate shoulder pads; or from a singular shoulder pad in a bifurcated (branching) fashion. One or both straps may be detachable on a two-camera harness.
More novel designs do away with the conventional concept of a neck strap entirely, replacing these elements with a holster attached to a waist belt or combination vest/waist belt. The camera is holstered in a locking slot, ready to be withdrawn quickly. A second holster is an option. The holster prevents the camera from swinging around and bumping into things, freeing up both hands to attend to setting up lights and props without the need to put the camera down somewhere. It can probably also be used to advantage while hiking.
We should note that the tripod socket post required with many sling straps, harnesses, and holster systems may interfere with packing the camera in your bag and when using a tripod. A little ingenuity (such as packing with the handgrip on top) or an accessory (namely, a tripod adapter plate) should resolve these concerns in most cases.
Pro Tip: When using a dual-camerarig: exercise due diligence when negotiating tight spaces and making sharp turns; be aware that it may be difficult to extricate yourself quickly; balance (yours or the rig's) may be thrown off when lifting one camera while the other hangs at your side.
Pro Tip: When using any strap or holster that connects to the camera via the tripod socket: check for a secure hold by periodically tightening the post (notably ones you've attached, but don't over-tighten); where applicable, monitor the condition of the rubber/neoprene washer for wear and grit if you frequently attach/detach the strap, and replace/clean if necessary; keep a set of hex wrenches handy.
Backpack Camera Straps
Wouldn't it be nice if your backpack could bear the weight of the camera and thereby relieve some of the stress and strain on your neck? Well, there are special tether straps for this purpose.
With the exception of the rare sling and holster designed for backpack use, each strap normally attaches to the camera strap lugs at one end and the shoulder harness (or other convenient lash point) at the other (via buckle or clip) so that the camera rests comfortably against your chest. Quick-release buckles let you detach and reattach the camera when needed. You can usually leave these straps permanently attached to a backpack—they won't get in the way.
Pro Tip: First detach the camera before removing a backpack to avoid getting entangled or causing damage to camera/lens.
Field Notes
I did have some issues with assembling some of these products. They often come with poor instructions, forcing one to rely on online videos—and common sense. But in the end, I look back with a smile. And when all is said and done, I am left to marvel at the ingenuity with which these products were designed.
As a rough guide, sling straps appear to be most appropriate to nature and sports shooters and photojournalists for situations requiring a fast response time. Holsters and leather gear carry a more refined air suited to weddings and events, although these boundaries are not set in stone. Make sure that what you buy is practical and comfortable, and that it suits your shooting style. Your neck and shoulders will thank you.
Evaluations
Please contact the manufacturers for more information on these and additional camera-strap/harness solutions they may offer (websites provided below). All products listed are primarily aimed at use with a D-SLR. Single straps were tested for the most part with either a Nikon D300/Tokina 50-150mm f/2.8 zoom or a Canon EOS 5D/70-200mm f/4 zoom. Dual-camera harnesses were evaluated using both systems.
Ergonomic & Dual-Purpose Neck Straps
DeluxGear Lens Cradle/Neo Duet Camera Strap Combo ($42). Features wide, contoured nonslip neoprene neck pad, plus quick-release straps that attach to camera strap lugs, adding a detachable metal lens cradle, which connects to the tripod mount on a long lens for added support. It's a comfy combo. The cradle can also serve as a mini-pod, but can interfere with access to the zoom/focus rings.
Dot Line Corp. DL-0226 Air-Cell Strap ($24). Attaches to strap lugs; benefits from quick-release buckles for fast separation from camera. The wide, contoured neoprene neck pad adds special airflow channels that let your neck breathe, for added comfort in hot, humid conditions. Works nicely.
Kata D-Light C-Strap (KT DL-C-STRAP) ($10). Attaches to strap lugs. While the only neck strap in this group without quick-release buckles, this strap's chief benefit is in the breathable, poly-foam mesh pad that is suited to hot, humid climes. It's extremely thin and lightweight, and packs easily in a bag. Comfortable and very easy to use.
Tamrac N-27 Boomerang Camera Strap ($29). Attaches to strap lugs; benefits from quick-release buckles for easy separation from camera. Wide, contoured (boomerang-shaped) neoprene pad adds what appear to be moisture-wicking channels for added comfort in the heat. A practical choice.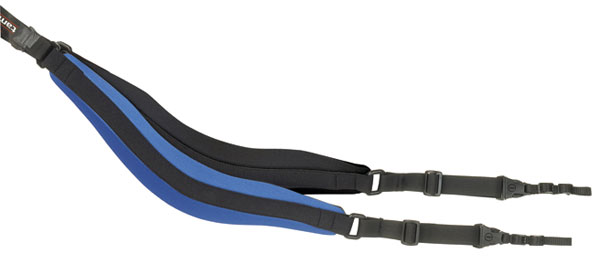 Single-Camera Sling Straps
BosStrap Generation 3 Sliding Sling Strap ($47). Attaches to camera via a strap lug, freeing the tripod socket, and employs seatbelt webbing for an ultra-smooth camera glide. Lacks shoulder pad so may prove uncomfortable after hours of use. Takes up practically no space in camera bag, which is a plus when packing tight. Very easy and quick to use.
Carry Speed FS-Pro ($79). Attaches via tripod socket. This sling is unique in that it comes with an Arca-compatible QR mounting plate. The wide, contoured nonslip neoprene shoulder pad is slotted for ventilation, with quick-release buckles for easy separation. Hand strap included. Comfortable, and very easy to assemble and use.
Custom SLR Glide One ($69). Attaches via tripod socket. Slotted, nonslip neoprene shoulder pad, ending in quick-release buckles, promotes ventilation, and shapes itself to the shoulder for enhanced comfort, while reducing weight and bulk. Simple and quick to use.
Joby UltraFit Sling Strap ($49). Attaches via tripod socket. Proprietary layered pad shoulders the weight—best for compacts and medium-sized rigs. Lightweight and slim profile—great for camera bag of any size. To speed things up, unlock locking clamp when anticipating camera use. Very easy to use.
Sun Sniper Sniper-Strap Pro-II ($93). Attaches via tripod socket. Nonslip shoulder pad is a bit stiff and bulky, but benefits from a breathable, contoured layered fabric for added warm-weather comfort. It features a steel wire running through the strap as a theft deterrent and shock absorber section to dampen sudden jolts. Lightweight and very easy/quick to use.
Holsters And Dual-Camera Harnesses
BlackRapid Yeti ($99). A nonslip, contoured neoprene shoulder pad comfortably supports up to two cameras—one full-size D-SLR with zoom suspended from the primary sling; a smaller camera from the secondary sling. You can remove the second sling and replace it with included security straps. Very easy and quick to use.
Cotton Carrier Camera System for 2 Cameras ($189). This backpack-harness-like vest lets you comfortably carry a full-size D-SLR with a 70-200mm f/4 on your chest, with a second D-SLR with shorter lens seated in the removable holster on the built-in cummerbund-like waist belt. Each camera attaches to a post and slides in and out of the holster slot with a twisting motion, and is secured by a tether. Hand straps included.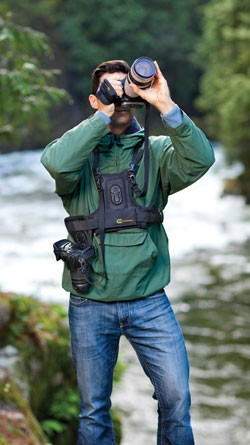 May be too bulky to fit in smaller camera bags.
HoldFast Money Maker
Multi-Camera Harness ($200). This is a beautifully crafted leather harness that slings one D-SLR on each side. Plus it supports a compact camera against the torso via a pair of HoldFast Leashes (an option on the two-camera version). The sling straps attach via the camera's tripod socket, but the middle straps attach via the strap lugs (simplifying tripod use). I found this rig comfortable when supporting two D-SLRs plus a light meter (instead of a third camera). D-rings provide additional lash points for accessories. No assembly required; extremely easy to use; adds an elegant touch. May be difficult to pack in smaller camera bags, so probably best to wear it.
OP/TECH Double Sling ($23—that's not a typo). A sling strap on each side of this harness connects to the strap lugs on the camera, freeing up the tripod socket. The contoured neoprene pad extends around the back, from shoulder to shoulder, for a comfortable fit. Quick-release buckles let you detach the camera and attach directly to OP/TECH's backpack straps (model J System Connectors). Caveat: for balance and stability, keep two cameras attached, more or less of equal mass. Easy and quick to use.
Peak Design CapturePRO Camera Clip ($79). This compact, lightweight but sturdy aluminum holster attaches to any strap/belt up to 3" wide. Camera attaches to Arca-style QR plate (suited to compatible tripod heads), which quickly slides/locks onto clip (safety lock prevents accidental release). Back plate also has 1/4" tripod thread for standard heads. Easy to use, with no assembly required. A Nikon D600 with a 90mm macro lens was a comfy fit, but I'd be wary of stress from much heavier loads on some backpack straps (a separate waist belt should resolve this). Add a hand strap or tether for added safety when hand holding a camera.
Spider Pro Holster ($135). This holster rides on the included waist belt and puts the camera in a natural position for your "quick draw." A sturdy pin/plate slides into the holster, which uses a quick-release mechanism to lock and release the camera. It's comfortable, takes only a few minutes to assemble, and is easy/quick to use, but may be too bulky for some camera bags. Lack of a safety tether is a small concern. Will easily hold a 70-200mm f/4 on a full-size D-SLR. (Note: The attachment plate may not be suitable for all cameras—check with manufacturer for update.)
Backpack Camera Tethers
Cotton Carrier StrapShot 211 CPS ($79). Uses the same holster principle as its vest.
National Geographic NG 3030 ($17). The only item tested in this group that starts out as a stylish neck strap employing breathable cotton webbing, then gives you a quick and easy way to detach the camera and attach it to a backpack. Battery/card pockets are a nice extra.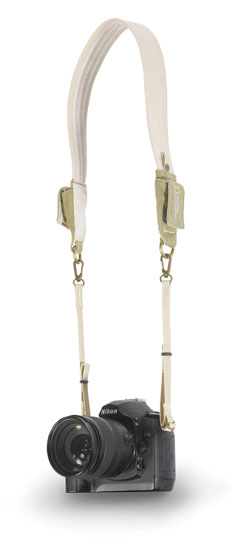 OP/TECH Reporter/Backpack System Connectors Model J ($8). Attaches to camera via strap lugs and to 1" backpack webbing; quick-release buckles let you detach camera, then reattach to compatible OP/TECH strap/harness.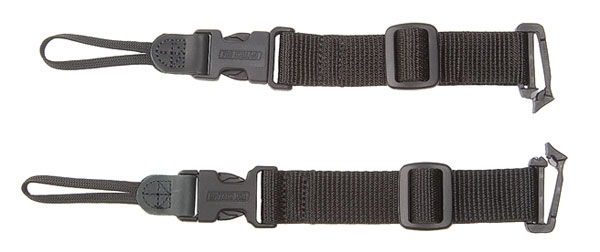 Sun Sniper BPS Back-Pack-Strap ($62). A sling-type strap that attaches to any two convenient lash points on a backpack.
Think Tank Photo Camera Support Straps V2.0 ($17). Works in combination with their Camera Strap V2.0 ($26) and attaches to backpack harness 1" webbing. For lighter loads, since it's lashed at only one point on the backpack harness.
Accessorizing: Tripod Adapter Plates And More
If you want to use a tripod when working with sling straps that occupy the tripod socket, you'll need an adapter plate. Arca-Swiss-compatible QR adapter plates are available from Cotton Carrier (Universal Adapter Plate—$39) and Custom SLR (M-Plate Pro Tripod Plate—$74). The Carry Speed FS-Pro sling strap includes an adapter plate. However, I've found that the safety catch on Arca-style Quick-Release (QR) heads may interfere with use of these sling plates. There is a workaround that may work with some plates/heads if the pin is spring-loaded: simply push down on the pin while sliding the adapter in position (but make sure you can depress the pin and release the plate later). Alternatively, attach the adapter to a QR plate before attaching to the head.
Another option, which works with both BlackRapid's straps and HoldFast's Money Maker harness is Acratech's Swift Clamp ($149). A compatible Arca-style QR plate attaches to the camera, replacing the screw post. The strap clips attach to the Swift Clamp. With it, I found I could quickly move the camera from the strap to a QR head/tripod and back. And BlackRapid offers the FastenR Tripod (FR-T1) replacement connector ($17) for use with Manfrotto RC2 QR plates.
Here are a few other noteworthy accessories: OP/TECH offers the Stabilizer Strap ($15) for cameras hanging down against your chest/stomach. This waist belt has a neoprene pad with a large hole for a lens of modest size to fit through, adding support and preventing the camera from swinging around while you negotiate rough terrain (watch that it doesn't snag the lens shade). HoldFast has a leather Photo Belt ($174) with metal eyelets and short accessory strap plus D-ring to attach accessories and accessory pouches. It's convenient and fashionable—in a choice of sizes and styles.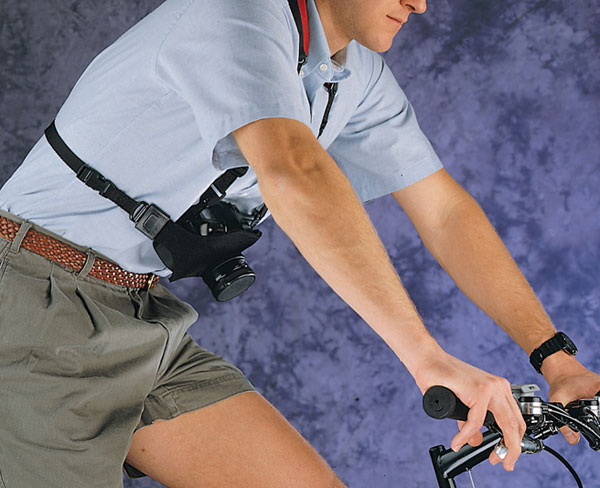 The Spider Monkey is a mini-holster that clips onto a belt and features two attachment options:
Velcro-type strap plus adhesive pad to secure a meter, flash, or even a smartphone. The adhesive is best for long-term use, but is permanent, for all practical purposes; I don't recommend using the strap alone. A safety catch secures the accessory in this holster. Finally, Custom SLR's C-Loop Camera Strap Mount ($39) and HoldFast's The Camera HoldFast ($21) are essentially each company's tripod connector sold on its own. They let you convert any standard neck strap by simply threading the strap ends through either gizmo, connecting it to the camera tripod socket, and draping the camera crosswise from your left shoulder. Voilà! Sling strap.
Contacts
Acratech: www.acratech.net
BlackRapid: www.blackrapid.com
BosStrap: www.bosstrap.com
Carry Speed: www.carryspeed.com
Cotton Carrier: www.cottoncarrier.com
Custom SLR: www.customslr.com
DeluxGear: www.deluxgear.com
Dot Line Corp.: www.dotlinecorp.com
Hasselblad Bron Inc. (Sun Sniper): www.hasselbladbron.com
HoldFast Gear: www.holdfastgear.com
Joby: www.joby.com
Kata: www.kata-bags.us
Manfrotto Distribution (Kata, National Geographic): www.manfrottodistribution.us
National Geographic: www.geographicbags.us
Op/Tech usa: www.optechusa.com
Peak Design: www.peakdesignltd.com
Spider: www.spiderholster.com
Sun Sniper: www.sunsniperusa.com
Tamrac: www.tamrac.com
Think Tank Photo: www.thinktankphoto.com
Product shots appear courtesy of the respective manufacturers/distributors.
FEATURED VIDEO