We Shot with the New 64MP Leica S3 Medium Format Camera & It's a Thing of Beauty (But Incredibly Pricey)
Photokina in Cologne, Germany this week has been (largely) about high-end cameras and there's not much higher-end than what Leica unveiled at the show: the S3 camera. We got some hands-one time with this 64MP medium format monster at photokina and have to say that if there's one camera we dream about owning someday, this would be it!
But dreaming is probably all we can do at this point because when it goes on sale in spring 2019, the Leica S3 is expected to retail in the neighborhood of $20,000. (The price could be lower but most likely higher. Leica has not annouced pricing yet for the S3 but the previous model is currently selling for $19,995 at several locations.)
It sure is sweet though as you can see from some of the images we captured of the S3 in this story. While shooting with a Leica S3 protoype for a few minutes at a crowded booth at photokina is, by no means, enough review time for a proper evaluation, we were pleased the camera has maintained much of what we liked about its predecessor, the S2, while adding some important upgrades.
It's worth noting that photokina 2018 marks the 10th anniversary of the S2, which has gone through two slightly revamped iterations since: the Typ 006 in 2012 and the Typ 007 in 2015.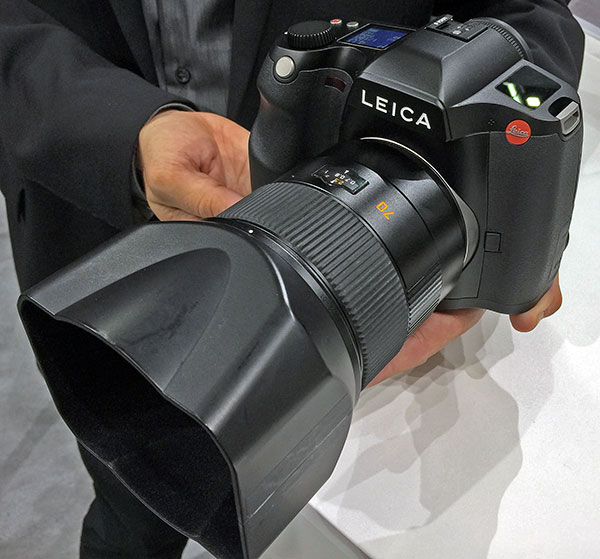 Most importantly about the new Leica S3 is that its 45 x 30mm medium format-type (Leica ProFormat) CMOS sensor offers significantly more resolution than its predecessor: 64MP vs 37.5MP. Along with this 70% bump in resolution, dynamic range will be 15 stops, according to Leica, and the S3 will be capable of shooting up to ISO 50000. (We're anxious to see how much noise is produced at that ISO level.)
The Leica S3 also ramps up the continuous shooting speed to 3 frames per second (fps) compared to the original S2's 1.5fps. The S3 uses the Leica Maestro II processor and has 2GB of buffer memory, so it shouldn't get too bogged down while shooting bursts of images. The Leica S3 we shot with at photokina had no slow buffer problems when firing off bursts.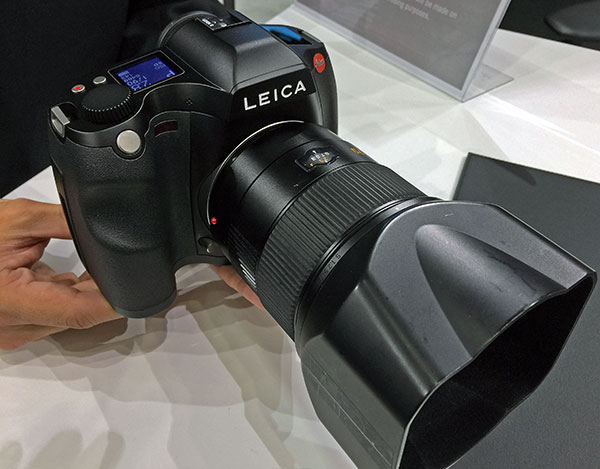 In our brief time with the S3, we could see the camera (potentially) being used for capturing more fast action scenarios such as sports and, definitely, runway fashion and active model photography. It also helps that the S3, like the S2, is designed more like an overgrown DSLR, giving it a lighter and far more balanced and ergonomic feel than most clunky, traditional medium format cameras.
For video shooters, the S3 can now capture 4K cinema resolution footage and full HD using the entire width the medium format sensor. Previous iterations of the S2 offered cropped video from the sensor.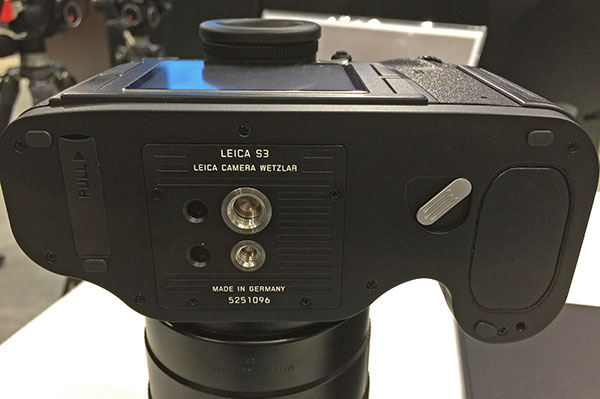 The optical viewfinder, as before, is big and gorgeous and the camera is built like a (relatively lightweight) tank, tipping the scales at just over three pounds. It has a rigid, magnesium alloy body and scratch-resistant Corning Gorilla Glass covers the 3-inch display on back. Rubber seals integrated throughout the camera body are designed to protect the camera from moisture and dust.
What still gets us about the Leica S3, however, is how comfortable and intuitive it feels. We can't remember the last time we shot with the S2, but a few seconds after picking up the new S3, we felt like we had never left Leica's medium format system. The camera layout is simple but intuitive: settings are changed via two dials and a 5-way joystick.
The rear screen is surrounded by four programmable buttons and a switch lets you change whether to use the focal plane shutter or central shutter, depending on which lens is mounted on the camera.
Yes, at its expected $20K+ price, the Leica S3 would be about the cost of some decent compact cars, but if money were not an issue, this is the camera we would buy, hands down.
See more of Shutterbug's photokina coverage here.
FEATURED VIDEO