Wacom Enhances Creataive Experience With 6D Art Pen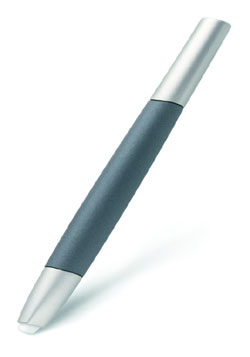 Wacom Technology Corporation, with the support of Corel, has successfully developed a 6D Art Pen that gives artists and designers six dimensions of pen control in Corel Painter IX. Available immediately, the 6D Art Pen is supported on Wacom's Intuos3 pen tablets and new Cintiq 21UX interactive pen display. The pen has a suggested retail price of $69.95.
State-of-the-Art Pen
The 6D Art Pen builds on Wacom's patented cordless, battery-free technology to offer artists and designers six dimensions of creative control:
1. X-axis (left and right)
2. Y-axis (up and down)
3. Pressure (force with which pen is applied to tablet)
4. Tilt (angle at which pen is tilted)
5. Bearing (direction in which pen is tilted)
6. Barrel Rotation (orientation of the pen around its long axis)
Corel worked closely with Wacom throughout the development of its Art Pen technology to create the Corel Painter IX Art Pen Brush Pack, a collection of five new brushes that greatly enhance the digital art experience and heighten the relationship between the designer and digital canvas.
Some of the leading software applications that are specifically designed to benefit from use with the 6D Art Pen are: Studio Artist by Synthetk; Body Paint by Maxon, and Studio and Symbolic Sound by Kyma. More graphics and design software companies intend to support the 6D Art Pen in the near future.