Velbon's New "Chairpod" Is a Combination Tripod & Collapsible Chair for Shooting Photos in Comfort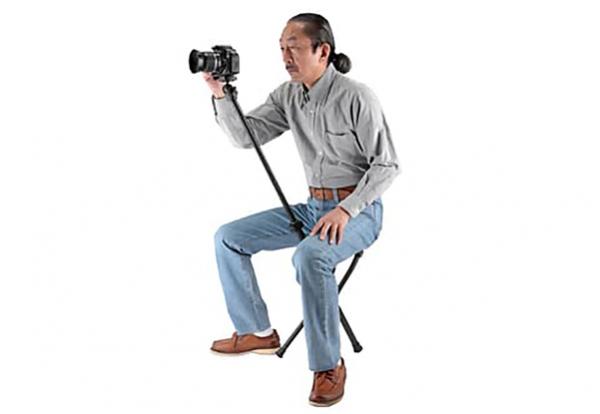 Every so often we come across a quirky photo accessory that's truly different, like the wearable umbrella known as Nubrella we wrote about that keeps photographers and gear dry while shooting in the rain. And now there's the soon-to-be-released Velbon Chairpod, a hybrid tripod/collapsible stool contraption for supporting both a camera and your posterior.
According to the Japanese website DC.Watch, which supplied the images you see here, the Chairpod will support 176 pounds of weight. (Japanese tend to be more svelte than Americans.) The contraption doubles as a monopod when the legs are collapsed and the camera support is extended.
It's pretty clear from the photos that you have to be sitting in the stool when the legs are unfurled, otherwise the thing will tip over from the unbalanced weight of a camera. So it's not meant to be used as a standalone tripod. As weird as thing appears, let me give you the perspective of someone who lives in New Orleans and regularly carries camera gear, a tripod, and a small stool for long nights of photographing Mardi Gras parades from curbside: I want one!
Chairpod is expected to ship by the end of this month for $180, just in time to buy one for Mardi Gras that begins on February 18th. More details should be posted to Velbon's website shortly. In the meantime, check out our earlier story on Nubrella.
FEATURED VIDEO