Top Photo Books Of 2007; Pictures & Words For Business And Pleasure
Each year we present our annual guide to some of the best photography books published in the past year. This year's selection spans a wild variety of topics, all expressed through beautiful images and thoughtful words. I'm pleased to offer you a brief glimpse at what I consider to be the best photography books of 2007.

Ansel Adams: 400 Photographs; edited by Andrea G. Stillman; Little, Brown and Company; 432 pages; $40; (ISBN-13: 978-0-316-11772-2)
This book documents the dramatic evolution of Ansel Adams' work over the course of his career. It features a marvelous collection of 400 duotone images presented in chronological order from 1916-'68. Together, the images and text offer a greater insight into the life and work of this amazing artist and photographic icon. Ansel Adams: 400 Photographs is a must-have addition to your personal library and a book that is certain to offer inspiration for years to come.
Our Point of View: Fourteen Years at a Maine Lighthouse; by Thomas Mark Szelog and Lee Ann Szelog; Down East Books; 112 pages; $24.95; (ISBN: 0-89272-704-7)
Our Point of View is a visual journal that expertly documents the dramatic moments of the Szelogs 14 years spent living and working at the Marshall Point Lighthouse in Port Clyde, Maine. Their words and images capture the tranquil beauty of their home and the many interesting adventures they shared, from saving a lost baby seal to having the lighthouse used as a backdrop for a major motion picture.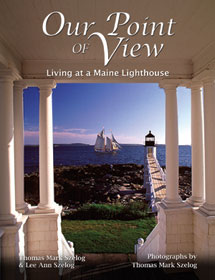 Fandomania: Characters & Cosplay; photographs by Elena Dorfman; Aperture; 144 pages; $35; (ISBN: 978-1-59711-035-8)
Fandomania opens the door to a new worldwide pop culture phenomenon called cosplay. The term was created from the words "costume" and "play" and is used to describe a wildly popular trend where participants of all ages dress as their favorite characters from video games, Japanese graphic novels, and animated television series, then act out scenes in character. Elena Dorfman captures the passion and creativity of cosplay in 75 vibrant images made against a stark black background, which allows the viewer to focus on each tiny detail in the costumes. Explore this exciting subculture with Dorfman and you might find yourself inspired to join the crowd.
Valley of the Big Cats; by Steve Price; Brown Books; 264 pages; $40.95; (ISBN-13: 978-1-933285-61-0)
Renowned nature photographer and writer Steve Price transformed his amazing African adventures into this exciting book. Valley of the Big Cats explores the untouched wonders of Zambia's South Luangwa National Park through sharp, vibrant images that seem to leap off the page. Price provides stunning close-up shots of Africa's most treasured animals and pairs them with highly informative text that brings the images to life. Price deftly creates an entertaining and educational safari diary that is sure to delight you.
Heaven & Earth: Unseen by the Naked Eye; by David Malin and Katherine Roucoux; Phaidon; 384 pages; $24.95; (ISBN: 978-0-7148-4760-3)
The naked eye is unable to see the tiny details of microscopic objects or the infinite face of the universe, but with the aid of high-powered microscopes and telescopes we are able to see far beyond our normal limitations. Heaven & Earth contains a collection of 296 color and 60 black and white images that provide a fascinating glimpse into these unseen worlds and reveals the true beauty and complexity of nature. The images are paired with educational captions that offer scientific explanations and a brief history behind each shot.
Wedding Photography: A Professional Guide; by Morag MacDonald; Argentum; 128 pages; $24.95; (ISBN-13: 978-1-9025-3847-1)
Expert photographer Morag MacDonald provides excellent advice to help you excel in the high-pressure world of wedding photography. She uses a generous supply of sample images and explains how to use lighting, emotion, framing, and digital enhancement to your best advantage. This guide features step-by-step instructions on planning and capturing magnificent images that document every treasured moment to produce a top-quality album that is certain to please your clients.
FEATURED VIDEO