Top Photo Books Of 2007; Pictures & Words For Business And Pleasure Page 3
Underwater Eden: 365 Days; by Jeffrey L. Rotman; Abrams; 744 pages; $29.95; (ISBN: 978-0-8109-9311-2)
Renowned underwater photographer Jeffrey L. Rotman transformed his passion for the ocean into this amazing coffee-table book. This stunning collection of 365 vibrant images documents the diversity of life to be found around coral reefs from the Red Sea to San Clemente Island, Folly Cove, and the Great Barrier Reef. The images are expertly paired with highly informative captions filled with scientific facts and trivia, which make this book as educational as it is beautiful.
The Color of Serendipity: A Journey Through Sri Lanka; by Nishantha Gunawardena; Traces Of Eden Foundation; 120 pages; $27.95; (ISBN-13: 978-0-9769972-2-1)
This coffee-table book features a breathtaking collection of 78 vibrant images that depict the exotic beauty that seamlessly blends with daily life in Sri Lanka. The photographer expertly captured candid portraits, the lush green landscape, and detailed studies of the lavishly carved Buddhist temples. It's a virtual tour of this faraway land and one that you will not soon forget.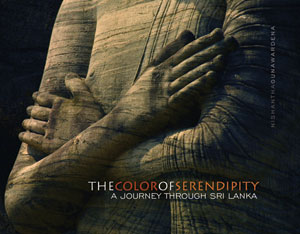 Through the Eyes of the Condor: An Aerial Vision of Latin America; by Robert B. Haas, introduction by Marie Arana; National Geographic Books; 232 pages; $50; (ISBN: 978-1-4262-0132-5)
For this beautiful coffee-table book renowned aerial photographer Robert B. Haas traveled across South America capturing breathtaking bird's eye images from Argentina to Bolivia, Ecuador, Mexico, Venezuela, and beyond. From the vantage point of helicopters and small planes, once familiar landscapes transform into a complex study of color and pattern. Haas provides an amazing collection of 100 images that is certain to shed new light on the natural wonders and manmade structures of South America in a way that you've never experienced before.
Seashells; photographs by Josie Iselin, text by Sandy Carlson; Abrams; 144 pages; $17.95; (ISBN: 978-0-8109-9327-3)
Photographer Josie Iselin and marine geologist and paleontologist Sandy Carlson have produced a tiny treasure of a book that explores the scientific facts and delicate beauty of seashells. Shot against stark white or black backgrounds, Iselin's 100 images expertly capture the fine detail, complex shapes, colors, and patterns unique to each type of shell. Carlson's rich text provides educational insight into the nature of the shell and the animal that once called it home. Their talents have merged together in a harmonious combination that is a treat for the eye as well as the mind.
Penguins of the World: Second Edition; by Wayne Lynch, M.D.; Firefly Books Ltd.; 176 pages; $24.95; (ISBN-13: 978-1-55407-274-3)
Writer and wildlife photographer Dr. Wayne Lynch is a self-proclaimed penguin addict. He has transformed his fascination for these adorable creatures into a delightful book filled with 130 of his color images and plenty of scientific facts that reveal that humans and penguins have much in common. Featuring in-depth information on habitat, species characteristics, population size, family life, and survival skills, Penguins of the World is as educational as it is entertaining.
Closeup Shooting: A Guide To Closeup, Tabletop, and Macro Photography; by Cyrill Harnischmacher; Rocky Nook; 122 pages; $24.95; (ISBN: 978-1-933952-09-3)
In this informative guide, photographer Cyrill Harnischmacher reveals the secrets of capturing the complex beauty of tiny objects, insects, and flowers. He offers detailed, professional-quality advice on choosing and using the proper equipment, backdrops, and lighting for each subject. Harnischmacher even includes tips to help overcome common problems, safety considerations, dealing with the demands of the weather, and perfecting your underwater close-up photography.
FEATURED VIDEO