Top Digital Books Of 2007; More & Better Digital Imaging Books Page 4
Digital Restoration From Start to Finish; by Ctein; Focal Press; 480 pages; $39.95; (ISBN: 0-240-80814-2)
If you're looking for Digital Restoration in Three Easy Steps, this isn't the book for you. Instead ubergeek Ctein takes you deep inside the process, showing how to do the best possible restoration for those old, faded, and damaged images that hold meaning for you. Advisory: In one set of examples there is nudity. The book is well illustrated but judging by the screen shots is clearly aimed at Microsoft Windows users. Since Photoshop functionally behaves the same way on Mac OS and Windows platforms that should be no biggie, but some of the software and compatible plug-ins featured in the first two chapters may be Windows only.
That's not enough to detract from a book that's clearly focused at the process more than the tools.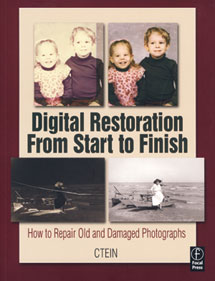 Mastering Digital Wedding Photography; by James Karney; Thomson Course Technology; 432 pages; $39.99; (ISBN: 1-59863-329-5)
The art and business of wedding photography is so complex and challenging that I encourage anyone considering entering the field to read as many different books on the subject as they can, and this is one of the better ones. Given its title, much space is given to hardware, software, and the web, but the author also manages to include information on the equally important aspects such as paperwork and business aspects of wedding photography that newcomers will be surprised to learn takes more of their time than photography. While I would have liked to see more photographs, it's a mild quibble given the high quality of what does make it onto the pages.
Digital Capture and Workflow for Professional Photographers; by Tom Lee; Amherst Media; 128 pages; $34.95; (ISBN: 978-1-58428-200-6)
Books about wedding photography need to accomplish two things: First, they have to educate the reader, assisting them with the business and craft of wedding photography. Tom Lee's book does this with illustrations, text, and tutorials that show how to increase productivity. Second, the photographs in the book should inspire the reader to improve his or her own work, and Lee does that as well. His photography strikes a delicate balance of capturing the fun of the wedding day while his portraits, especially of the oft-overlooked grooms, are spectacular. While the title seems to be general in nature, this is a must-have book for the digital wedding photographer.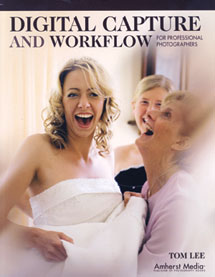 Photoshop, Lightroom, And Elements

Advanced Photoshop CS3 Trickery & FX; by Stephen Burns; Charles River Media; 368 pages; $49.99 with CD-ROM; (ISBN: 1-548450-531-1)
Trickery's writer builds the book around features that are (mostly) unique to Photoshop CS3, including Smart Filters. Instead of a be-all book, Stephen Burns wisely focuses on specific topics such as integrating 3D objects with photographs and my favorite section "Working with People and Backgrounds." If you want to get a hint at how Glen Wexler's cows got their superpowers, you'll find some of the answers in this section. While there is a bit of the textbook approach in Trickery's format, the text is easy to read, well illustrated, and nicely designed.
Adobe Photoshop Lightroom for Digital Photographers Only; by Rob Sheppard; Wiley; 352 pages; $34.99; (ISBN: 0-470-04723-2)
This is another of Wiley's template-based digital photography books but what sets it apart from similar mass-production efforts is its content from the prolific Rob Sheppard. I don't care for Lightroom but Sheppard swept me up from page one and got me interested through his sharply written text, crisp illustrations, and organization. While the price seems a bit steep, it's the perfect book for existing Lightroom users who want to maximize their productivity.
Photoshop CS3 for Nature Photographers; by Ellen Anon and Tim Grey; Sybex; 416 pages; $39.99 with CD; (ISBN: 978-0-470-11989-1)
Although all of the illustrations could be larger (especially screen shots), Ellen Anon and Tim Grey's book takes you inside Photoshop CS3 for a look at features nature photographers can use to improve or enhance their images. While it's not nice to fool Mother Nature, the manipulations shown in detailed, well-illustrated tutorials enhance or unlock what's already captured within your original file. Inside this weighty tome there's lots of emphasis on workflow, but some purists may be offended when the authors show how to move some birds or add a moon to a photograph. If that bothers you, skip that section because there's so much more that purists and non-purists alike can agree on here.
FEATURED VIDEO