Lucas Strobe Systems Macro Flash Bracket
I've worked with numerous macro flash systems. Most focus on the flash being on axis with the lens, often in the form of a ring flash mounted directly onto the lens. Alternatively, a twin-head system can be used, which attaches by way of a mounting ring. Here, the ultra-lightweight/ compact heads practically hug the lens. Usually, the flash heads are tethered to a controller, which also serves as the battery housing. While they may have some freedom of movement, the individual flash heads can't be easily used entirely off-camera because they have nothing to support them when you're shooting handheld.
Few and far between are macro brackets that give you true freedom of movement away from the lens axis. Enter the Lucas Strobe Systems Macro Flash Bracket. Out of the box, this bracket brings added versatility to macro lighting, but not without some drawbacks.
The Lucas Macro Flash Bracket
It's common knowledge that on-camera flash, even with a negative (downward) flash head tilt, cannot do justice to subjects within inches (or less) of the front of the lens. The lens often blocks the light, hence a preference for ringlights and their ilk.
A macro bracket goes one huge step further. The Lucas bracket, specifically, allows you to work with two shoe-mounts, one on either side of the lens. When shooting close-ups, that could mean producing dramatic results with improved modeling versus possibly mundane lighting with little modeling. At the very least, the bracket affords you more choices in how you position each light to better suit the subject. You may, for instance, want a top light or even a backlight for translucent subjects. This bracket is specially equipped toward that end.
Life-Size Alstroemeria
Bracket Components
Both the camera and strobe support arms are situated in slots on a V-shaped base. The bracket base is black powder-coated aluminum, attaching to the camera by way of the tripod socket (or tripod mounting ring on applicable lenses). The tracks allow for sufficient movement to suit most needs. For the camera, that means back and forth (or up/down, depending on orientation). The strobes can move linearly at a 45-degree angle relative to the lens axis.
The camera rests on a pair of rubber pads, which help secure the camera in place. There are also 1/4" and 3/8" screw threads for mounting to a tripod, the smaller also serving to retain the camera screw when not in use. One problem with this arrangement, however, is that the screw is not permanently set in the track, as on conventional brackets, with the option to remove it entirely when needed.
Double Shadows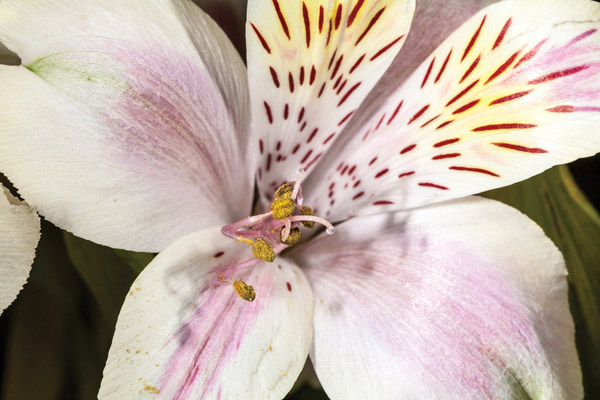 Strobe Support Arms
Flex arms are the primary support for the flash. Extremely lightweight, these offer a degree of flexibility unequaled in an articulated arm, which bends only at specific joints. You can twist and turn the arm and position the flash practically any way you like, much like a Gorillapod. I did note a creak when flexing the arms of the Lucas bracket. That won't disturb insects, but may cause small animals to skitter away. The flash units attach to the flex arms by way of cold shoes. Made of Delrin, a thermoplastic resin, these shoes prevent shorting the flash units (which could happen when the flash contacts come in contact with cold metal).
There is also a short arm, with considerably less flexibility, but topped off with a three-way Delrin cold shoe. This short arm has an added benefit, one that I did not test: not only can you attach up to three shoe-mounts, but you can also add a photographic umbrella (there's a hole for that, plus retaining screw) for portrait lighting. Just attach the short arm to a light stand or tripod at the base, instead of the macro bracket.
Light Placement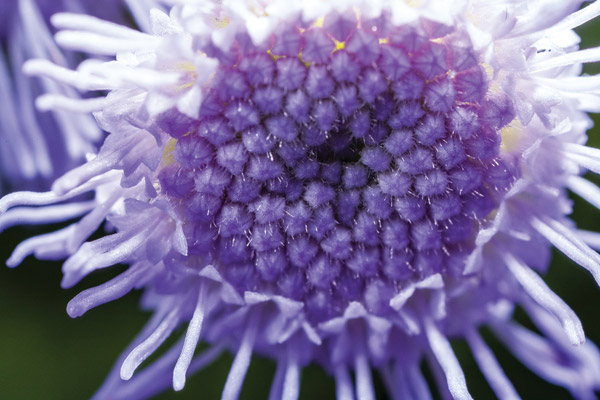 Lucas Bracket In Use
Admittedly, my first time out proved disappointing. I attached a pair of Nikon SB-900 Speedlights, one on each flex arm. First, I found this felt clumsy and unbalanced and I feared it was too much of a strain for the Nikon D300. Second, as I approached an outdoor flower arrangement, I noted that the flashes were bumping into plants surrounding the flowers I was trying to photograph. My solutions: first, switch to smaller strobes; second, photograph subjects that were more isolated; third, perhaps use at least one short flex arm (with three-way shoe), keeping one flash closer to home, as it were. The second point was not as critical once I modified my approach.
Since I also work with the Canon Macro Twin Lite MT-24EX, I readily had a pair of compact strobes at my disposal—although that meant switching to my Canon EOS 5D, with either a 100mm macro or 65mm 1-5x macro. And, in the process, I switched out one of the flex arms for the short arm/three-way shoe combo. This way, I could spend less time worrying about a flash bumping into leaves and branches or adjacent plants and focus entirely on my subject. (The three-way shoe/arm is optional.) You can also pull out some of the links to shorten the standard arm, but I don't recommend it: fitting them back together can be a chore.
Japanese Beetle
Beetle Rig
I later switched back to the Nikon system outlined earlier for a still life study, where I could mount this rig onto a tripod. I mounted one long flex arm with the flash upside down so I could position one speedlight underneath the milk-white Plexi-like material that served as the backdrop, adding an upright short arm with flash on the opposite side.
Conclusions And Recommendations
Mark Lucas points out that he's been using his Macro Flash Bracket in the field, shooting handheld, with a pair of Canon Speedlite 600EX-RT shoe-mounts, with no difficulty. These strobes are roughly the same size and weight as the SB-900 Speedlights I used. That said, I'm still hesitant to run around with this configuration and felt much more comfortable once I'd switched to the more compact twin flash heads, even if it meant sacrificing some power. In fact, I could easily hold the camera in one hand with this more compact configuration, rig and all. (I should point out that Lucas is also working on improving certain features, among them adding a retaining screw on the shoes for flashes that lack a thumbwheel to secure the unit.)
So, with suitably sized shoe-mount strobes, the Lucas Macro Flash Bracket can prove to be a very effective tool for close-ups and small still life subjects. If you've grown tired of the look a ring flash gives you, you'll certainly appreciate how this rig can lend form to flowers and bugs and give your pictures added depth.
Small Product Still Life
Tech Specs
Size: 13.25 (width) x 5.75 (depth) x 0.25" (thickness)
Weight: 16.6 oz (includes standard flex arms and screws)
Standard Flex Arm: 5.75" long/high (supplied x 2);
short arm/three-way shoe (optional): 4"
Price (Street): $199 (complete Macro Flash Bracket, includes two flex arms); $69 (short arm w/three-way shoe)
For more information, contact Lucas Strobe Systems at: www.lucasstrobesystems.com.