Studio Lighting Gear: Continuous & Strobe (And LED, Too)
Studio lighting equipment is available in either continuous or electronic flash configurations. Continuous lighting is "on" continuously, much like a light bulb or the sun for that matter, enabling you to use your in camera light meter to measure and see how the light falls on your subject. Continuous lighting sources use photoflood, quartz, or HMI (Hydrargyrum Medium-Arc Iodide) bulbs, which can be hot, leading to the use of the term "hot lights." An increasing number of continuous lighting tools use Compact Fluorescent Lamps (CFL) or LEDs, producing what are, in effect, "cool" hot lights.
Electronic flash is available in two basic flavors: a monolight is self-contained and powered by AC power, with DC battery options becoming more popular; power pack and head systems are an à la carte alternative approach that offers these components as individual units so they can be mixed and matched. Unlike continuous lights, output from electronic flash is almost instantaneous so you can't directly see its effect on your subject, which is why studio lights include a modeling light showing an approximation of the final image.
Speedlights, those that are mostly mounted on a bracket or the camera's hot shoe and increasingly are used wirelessly, are not covered here because they are "a whole other animal" and will be covered in future reports individually and perhaps collectively.
Because the state of the art for studio lighting is constantly changing, what follows should be considered representative and not inclusive of what's available from all makers. The lights are divided into three broad categories based on price and usage but many companies offer lighting systems that straddle several categories, so check their websites for prices, kits, and new products.
While I have gathered lots of examples of lighting gear for this roundup, consider them just that—examples of equipment that's recently caught my eye, some at a recent pro trade show. There's way more gear out there, and my intent here is to give you a sense of what you might use, and not a catalog of lighting equipment. In Shutterbug, myself and other contributors do frequent tests of various types of gear, so keep an eye on the magazine and visit our website for more. I have also included a listing of websites of all products in this report, so visit them for more details and specs.
Entry-Level Systems
JTL offers different lighting systems for aspiring professionals ranging from compact fluorescent to quartz, such as the Everlight, and a range of monolights, including the E-360, one of seven models in their Versalight E series. This series offers outputs from the 250 ws Versalight E-250 to the 800 ws Versalight E-800. Monolights in this series have a detachable UV-corrected flash tube that's protected by a glass cover. The E-500, E-650, and E-800 have continuous output adjustments and simultaneous modeling light tracking from full to 1/23 power. E-250, E-360, E-360 Plus, and E-500 Plus monolights have an LED display along with simultaneous power adjustment for flash and modeling lamp. Recycle times for the Versalight E series are approximately 2 seconds with audio and visual indication of full charge. To avoid overheating, the monolights have a built-in fan with thermostat. The E-360 Plus and E-500 Plus have a built-in radio receiver and LED channel indicator as well as a built-in optical slave.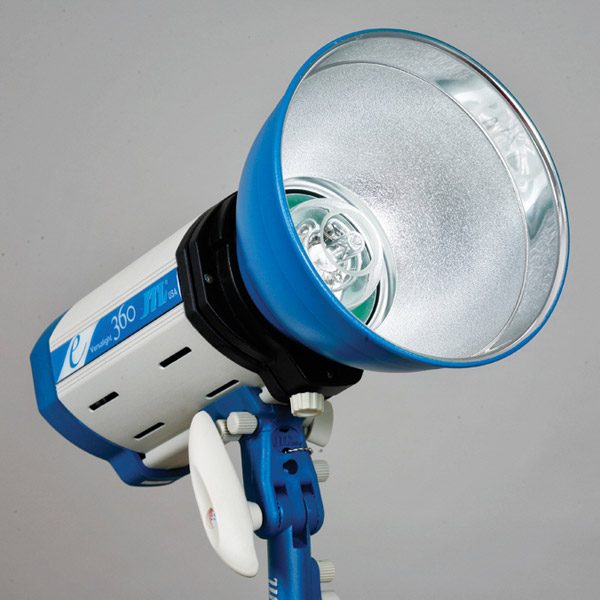 Photoflex makes affordable systems that are ideal for the photographer just getting started. Their new (and tiny) 300 ws TritonFlash monolight offers a Guide Number (GN) of 185 and produces up to 750 full-power flashes from a single charge of its lithium-ion battery pack. It's available as a kit that includes an extra battery, reflector, extra small OctoDome SoftBox, light stand, and carrying case.
Photoflex's Constellation3 is a multi-lamp, continuous lighting solution that accepts daylight-balanced CoolStar CFL lamps, tungsten-balanced Starlite lamps, or (by using a bi-pin adapter) ceramic-based, two-pin G9.5 lamps. The Constellation3 features three lamp sockets each with its own power switch. One power cord supplies power for two sockets; two power cords supply full power to three. The StarLite QL uses a forward projecting tungsten lamp and has a metal swivel light stand mount and twist lock handle for positioning, allowing you to use the fixture with a light modifier such as a softbox. Due to its heat dissipating design, the portion of the StarLite QL outside the modifier remains cool.
Denny Manufacturing offers a family of small, entry-level monolights, including the Z-100, Z-160, and Z-320. Readers who saw my "Safari Luminations Pro Lighting Kit" review (October, 2009, issue of Shutterbug) will recognize them as the same lights but without zebra stripes, although as I write this, the website shows striped versions. While the stripes may be fun, the lights themselves remain an excellent entry into the world of studio lighting with several kits, starting with the Zap Pac 100 Portable Light Kit that includes the Z-100 monolight, a DC power pack, a light stand, and a 36" umbrella. At the other end is the Advanced Light Kit that includes two Z-160 monolights, one Z-100 monolight, two 10-foot light stands, one 8-foot light stand, two 36" umbrellas, barn doors, and a carrying case. In between there are four other kits, so check Denny's website for any that might work for you.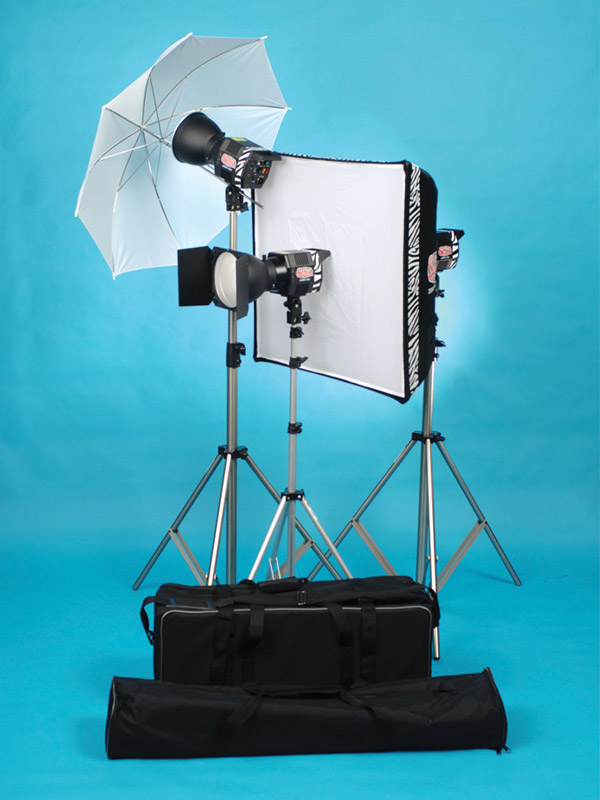 Smith-Victor offers electronic flash and continuous light sources for everything a beginning photographer needs to light subjects, be they people or products. The FlashLite series consists of four compact monolights with power outputs from 45 to 320 ws. Smith-Victor's classic Adapta series uses photoflood lamps, while nine different quartz lights are available from the Q80 600w quartz light to the 1000w broad light for still photography or video.
There are also several on-camera lights for run-and-gun video shooters. DigiLight models, such as the CL500 fan-cooled photoflood, have a heavy-duty ceramic socket, vented housing with a quiet fan for sound recording. This fixture uses standard photoflood bulbs up to 500w. A family of fluorescent lights, including dimmable models, provides flicker-free daylight-balanced illumination with practically no heat.
Paul C. Buff lighting systems start with the AlienBees three color-coded monolights with power outputs from 160 to 640 ws. Each one offers a six-stop power range, fast recycle (0.5 to 2 seconds, depending on model), and light weight (2.5 to 3.7 lbs, depending on model). The ABR800 ringlight is a self-contained studio ring flash that might be the best value available in a studio ringlight.
The original White Lightning monolights have shed their former "paint can" profiles and evolved into three monolights with power outputs from 330 to 1320 ws with six- or eight-stop continuous variability (depending on model). The X1600 and X3200 models offer a Power Range button for switching between modes for higher power vs. lower power and faster flash duration. Like the others, the X800 has a thermostatically controlled cooling fan, which automatically kicks in when temperatures rise. The Vagabond Mini Lithium is a lightweight (3.5 lbs) portable power system that can operate up to four monolights.
Buff's Zeus pack-and-head flash system begins with portable power packs in two outputs, including the Z1250 (1250 ws) and Z2500 (2500 ws). The packs provide power and control for Zeus flash heads, including the ZRM1 Ringmaster, Z2500SH Standard Flash Head, and Z2500BTH Bi-Tube Flash Head, which requires either one or two Z1250 or Z2500 power packs for fast flash durations or two separate Zeus power packs for higher power at up to 5000 ws. Einstein is a 640 ws monolight with a nine-stop range from full to 1/256 power adjustable in 1/10 stops with voltage regulation over the entire range. Einstein recycles to full power in 1.7 seconds, with recycle time decreasing as power is reduced. The unit may also be fired from the optional CyberSync CSXCV Transceiver/Cyber Commander or third-party radio triggers.
Booth Photo's Cameron Pro 350 monolight has a power output of 350 ws and a stand bracket with an umbrella holder, a handle, an impact-resistant housing, and spare fuse storage. The Pro 350 has a five-stop range LED readout with soft touch controls for modeling lamp (on/off/proportional), flash ready beep, and optical slave (on/off). The monolight has three modes of redeye pre-flash management, a user replaceable plug-in flash tube, a household thread modeling lamp, and a bayonet reflector that accepts grids and barn doors. The one-touch accessory mount accepts snoots and softboxes. Two kits will be available: a two-head kit with two 7-foot air-cushioned stands, two 40" convertible umbrellas, two 28" softboxes, adapter rings, wireless flash trigger system, and case. The three-head kit includes all of the aforementioned gear plus an additional head, stand, barn door set, grid, and colored gel set.
Flashpoint offers a series of affordable monolights ranging from inexpensive models such as the "just-getting-started" 160 ws Budget Studio Monolight that costs less than $60 up to larger models such as the 300 ws DG600 that's powered by AC or DC using the optional portable battery power pack. In between there's the versatile Flashpoint II series that includes both AC and AC/DC powered models, including the affordable 300 ws 620M that sells for $189.95 but has all of the features of more expensive studio monolights such as stepless power output control from full to 1/32 power, separate modeling lamp controls, and a built-in switchable slave.
Need more power and value? The fan-cooled 900 ws 1820A monolight is available for just a bit more than $300. It offers stepless power output control from full to 1/8 power, separate modeling lamp controls, an audible beep when the unit is ready to fire, and a built-in switchable slave. Flashpoint offers a series of kits that include one or more of their monolights, stands, light modifiers, and a carrying case. A wide variety of reasonably priced Flashpoint lighting modifiers from umbrellas to softboxes to beauty dishes is also available at relatively inexpensive prices.
Mid-Range Systems
Rotolight's compact RL48-B HD LED RingLight produces warm, shadowless light, with a default color temp of 5600K (daylight) with 6300K, 4300K, and 3200K (tungsten) available with the bundled filters. Using the included neutral density filters, the output of the LED source is controllable over a range of 1.5 stops. The RL48-B can be mounted on a video camera over a shotgun mic or on a digital SLR with an accessory shoe or, if you prefer, a tripod or light stand. Rotolight's new Anova One is a professional LED light that's available in daylight (5600K) or tungsten (3200K) and produces the equivalent of a 1000w tungsten bulb but uses only 38w of power at full output. The Anova Two is a bi-color LED system that's capable of accurately reproducing everything from candlelight through to daylight. Both Anova versions feature full wired DMX (Digital Multiplexing) control, V-Lock battery mount, and Wi-Fi (no kidding) for wireless control through your smartphone. Rotolight's Magic Eye app lets you sample the color of ambient light in a room and transmit that color to the Anova light which will then reproduce it.
Calumet's Travelite 375R/750R monolights offer variable power over a five-stop range with a maximum output of either 375 or 750 ws, depending on the model. Both the 375R and 750R Travelites are equipped with slots that accept optional LiteLink and PocketWizard radio receiver cards, eliminating the need for a sync cable. The 375R has a recycle time of 1.7 seconds, while the 750R recycles in 2.6 seconds.
The Calumet Genesis 200/400 monolights produce 200 or 400 ws output and feature digital, variable flash-output controls that adjust power over a five-stop range. You can switch from full to proportional model light by pressing a button. A built-in optical photocell provides wireless flash synchronization and is adjustable to increase or decrease sensitivity. The Calumet Pro Series LED Studio Panel Light is a 12x12" unit featuring 324 LEDs that provide up to 1400 lux of 5600K light. The light has a swivel bracket with a 5/8" mount for light stand mounting and a continuously variable dimmer control (from 100 percent to off) that's detachable from the unit's back and is tethered to an 8-foot connecting cable for remote control. The unit can be powered by AC or optionally by Anton Bauer or Sony DV batteries and has a removable diffusion panel that mounts via hook-and-loop. Filters can be attached by built-in magnets.
Norman makes monolights as well as power pack and head systems. The ML400 and ML600 monolights are available in 400 and 600 ws versions and are compatible with all Norman reflectors and light modifiers. The affordable Allure DP320 monolight is a 320 ws monolight that can be used with AC power or on location with an optional battery. The Allure C1000 Constant Light has a dual quartz lamp configuration that can be set to a constant output of 350, 650, or 1000w. The Series 900 power supplies in Norman's power pack and head systems are available in 1200 and 2400 ws versions with digital controls and optional built-in PocketWizard receivers, while the Series 500 power supplies are available in 800 and 1200 ws configurations. Matching heads are also available for both the Series 900 (IL2000, IL2400, and IL2500 lampheads) and Series 500 (rugged LH500 lampheads that are available with or without a fan).
Westcott recently introduced the Ice Light, a.k.a. lightsaber because son of a gun that's what it looks like. The Ice Light is a handheld LED daylight source that uses lithium-ion battery technology but can be run on AC or DC power. The built-in batteries weigh 1.3 lbs and will last for 60 minutes at full power. The LEDs used are a flicker-free daylight light source that works for photo and video applications and the curved front has a 72˚ wide beam spread, producing soft, wrap-around light. Both ends of the Ice Light incorporate a 1/4-20" thread for mounting on a light stand, tilter bracket, or mini tripod. Using the included clips you can attach gel filters to switch from daylight to tungsten or add color for drama.
Westcott also offers the Strobelite and Strobelite Plus monolights with more than 400 ws (Strobelite is 300 ws) of power and adjustable output from 1/4 to full power. An auto-dump feature automatically adjusts power when any adjustments are made. Housed in high-impact polycarbonate with a metal tilting bracket, the unit is lightweight and includes a built-in optical slave for use in the studio or on location. Westcott also offers a family of continuous light Spiderlites from the single 500 or 1000w tungsten halogen lamphead to the Spiderlite TD6 Light Head that gives you the ability to change from daylight fluorescent lamps to tungsten halogen lamps with up to 1200 effective-watts of power per lamp. In between there's the TD3 and TD5 so you can find the exact size of arachnid that suits your needs.
Lowel-Light offers LED products such as the Blender that uses two sets of LEDs (3000K tungsten and 5000K daylight color) that can be blended together to match mixed light sources or create a contrasting color blend to pop your subject out of the background. Each set of LEDs has rotary dimmer controls on the back of the fixture. The lamphead's 4x3x3" size makes it small enough to fit on a compact light stand and it can be powered by AC, camcorder battery, or 12v connections. Lowel recently showed me a prototype of its pistol grip-shaped GL-1, which is a focusable and dimmable LED light source that wedding photographers can use to light brides and grooms while maintaining the surrounding ambience. Looking all the world like a DeWalt drill (or my old Buck Rogers ray gun) the GL-1 sports a quick-swap rechargeable battery pack.
Lowel's interestingly named SoftCore uses the fluorescent lampheads from their Rifa eXchange System to light with up to five lamps and works with most standard softboxes. It can use Lowel's 80w daylight fluorescent lamps for high output with accurate color and folds for compact storage. Lowel's TRIO is a three-lamp fluorescent fixture that folds into a slim package and its three individually switched lamps control light output and use high CRI daylight or tungsten bulbs for color matching to other light sources. It even has an easy-to-install egg crate for trimming spill.
Photogenic's product lineup includes the CL and FL series of continuous DigiLights that are compatible with its Quick Change system of light modifiers. CL models range from 500 to 1200w, including a focusing model. Other continuous lighting options include Photogenic's Horizon family of large, cool-light fluorescent light panels for photographic and video applications. The company's electronic flash offerings include the Solair monolights (500 and 1000 ws) that have constant color technology, a digital display, an eight-stop power range, and an auto-bracketing capability.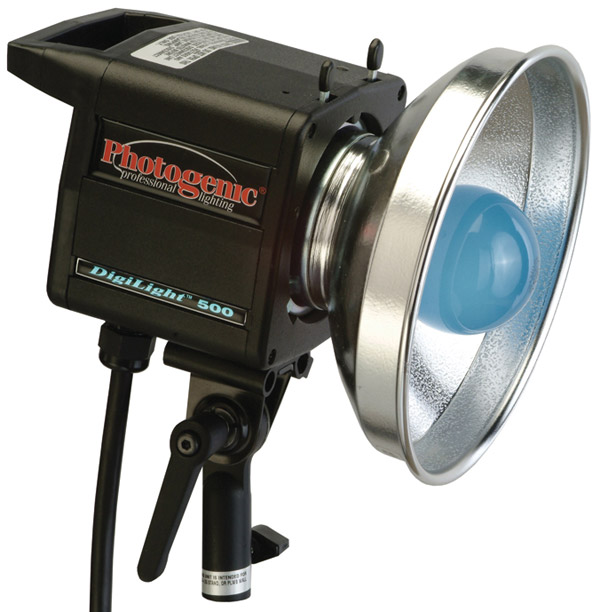 Photogenic's PowerLight monolights offer a choice of options and functions in power levels from 250 ws to 1000 ws, some with digital display and two 1000 ws models—PLR2500DR and PLR2500DRC—that have a built-in PocketWizard. Then there's the entry-level StudioMax III line that offers portable and consistent color monolights with optional radio trigger or battery power options.
Hensel-Visit USA makes monolights such as the Expert D500 and D1000 (ws) models that have fast flash recycle times of 0.11 to 0.5 seconds for the D500, and 0.14 to 1 second for the D1000. The lights have extremely short flash durations with pan-tilt support and an integrated umbrella holder that can be positioned on the top or bottom of the unit. The Integra Mini 300 and 600 monolights have a seven-segment performance indicator, quiet fan, and quick-change mounts for reflectors with an EH (10cm) connector. The Integra series consists of four models, including the 500 Pro and 1000 Pro (ws) with Plus versions having a built-in radio receiver offering control over triggering, power, and modeling lamps. The transmitter is not included with a single monolight but is bundled with Hensel's kits. Don't forget the EFlash that's designed for digital Passport, tabletop, and portrait applications.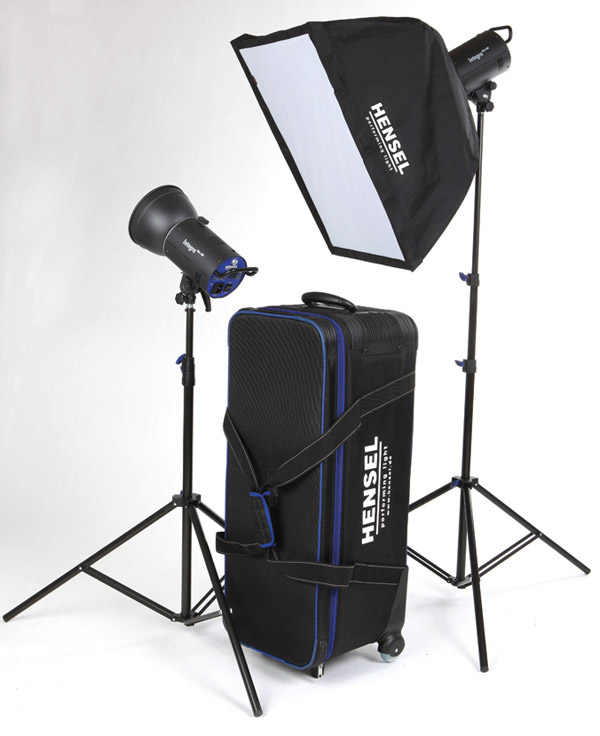 If you need speed, Speed Max compact flashes produce a flash duration time of less than 1/54,000 sec at up to 31 times per second. Then there are the Porty L 600 and L 1200 mobile battery power packs with built-in radio receivers. For studio use there are the Nova D 1200 and D 2400 power packs with three switchable radio receivers (Integrated Profoto Air radio, Hensel Strobe Wizard Plus, and FreeMask) and an eight-stop output range adjustment in 1/10-stop increments. Available flash heads include the EH Pro MINI and EH Pro MINI Speed models letting you mix and match.
More than ever there's a convergence of continuous lighting technology between video and still photography. Mole-Richardson's 575W DayLite Par is made from cast aluminum and uses a Brytal Aluminum parabolic reflector that provides more than 95 percent reflectivity. Other features include a trough skid for operating and safe transportation; a low-profile yoke with a 5/8" receiver; a locking, hinged front door for easy lamp replacement; and a pigtail electrical input. It has a stainless steel safety screen, spring-loaded fourth accessory clip, and variable accessory clip positions that are located at either 90˚ or 45˚. Need more power? The Type 6861 24kW DayLite Fresnel is the largest HMI Fresnel available and instead of using fans to cool the lamp uses black 5 1/2" diameter anodized sockets combined with top and bottom ventilation to provide more than adequate cooling. A highly polished 11" reflector produces more than 95 percent reflectivity and was designed to work with the larger arc gap of the 24K Lamp.
The first "good" lights that Mary and I ever owned were Bowens monolights and we loved 'em because they were inexpensive, rugged, and dependable and from what I can see that continues to be the case. The company's power pack and head systems are available in three product lines, including the Explorer 1500 that provides up to 150 shots at the full 1500 ws, recycling in 3.8 seconds or 180 shots at 1200 ws in 3 seconds, and has an intuitive LCD interface with digitally controlled power in 1/10-stop increments. The Quad 2400 has two channels letting you choose between the full 2400 ws from a single socket or dividing power across two. Switched to asymmetrical mode, two channels, each with a maximum power of 1200 ws, are available. The QuadX is a four-channel pack with a maximum power of 3000 ws and a minimum of just 31 ws with one head and a 7.6-stop power range. Bowens offers a wide choice of heads, including the Ringflash Pro.
The Bowens Gemini family extends from entry-level Gemini to the Gemini Classic, Gemini R, and Gemini Pro with each model adding more power and features than the previous one. The Gemini is available in 200 and 400 ws models with control over five stops of power using a stepless dial, which also controls the 250w proportional modeling lamp. The slightly longer Gemini Classic is available in 250 and 500 ws models and by plugging in a small radio trigger card works with Bowens' Pulsar radio trigger systems. The Gemini Classic has a separate lamp dial for setting the 250w modeling lamp at any level and can be powered from AC or optional Travelpak battery.
The Gemini R is available in 250 and 500 ws models that let you turn one dial for stops and the other for tenths to set five stops of power. The Gemini Pro is available in 500, 750, 1000, and 1500 ws models and has all of the benefits of the Gemini R units, including the Travelpak battery and Pulsar Trigger Card that offer flash durations as fast as 1/2400 sec along with a voltage seeking power system making them usable anywhere in the world. The optional Gemini Remote Control works with Bowens Gemini R and Pro monolights permitting control of lighting up to 22 feet and has eight IR channels letting you control power levels, modeling lamp settings, test flash, photocell, and channel settings. Bowens also offers Studiolite and Streamlite fluorescent continuous lighting in traditional form factors.
Aurora Lite Bank is a Korean company that makes a wide variety of studio electronic flash as well as a family of color correct LED lighting systems. The Aurora LED flat light BLP/1000F system has a CRI (Color Rendering Index) over Ra 90 and is daylight color consistent with accurate color at minimum and maximum power levels. Aurora's BLP LED Light Panels are available in four sizes, including 600x300mm, 600x600mm, 300x1200mm, and 600x1200mm. The 1000F that measures 12x23x59" and weighs 20 lbs seems best suited to photo studios and produces a maximum output of 150w that's equivalent to 1000w of halogen power. Different Aurora Lite Bank models are available that produce daylight or tungsten color balance.
High-End Systems
Elinchrom's Ranger Quadra RX system is a compact portable 400 ws battery flash system with built-in wireless triggering and remote control over a 6.6-stop power range. A built-in EL-Skyport offers remote power control, flash triggering, and modeling light on/off control right from the top of your camera. There's even a small, daylight-balanced LED modeling light that's useful for video recording. All Elinchrom heads are lightweight and have user replaceable plug-in flash tubes. Coming soon (perhaps by the time you read this) is iPad and iPhone control of the Ranger Quadra RX system.
The Elinchrom D-Lite monolights are available in 200 and 400 ws versions with a built-in EL-Skyport Receiver for triggering and frequency channel settings. A new housing design features a new reflector bayonet with speed locking that accepts Rotalux softboxes up to 53" and has a pro-quality stand bracket with an extra umbrella fitting for larger 9mm American-sized umbrella shafts. It has an EL-Skyport with four frequency channels that are compatible with the ELS Transmitter and ECO Transmitter, and redeye pre-flash management system. The BXRi 250 and 500 monolights I recently tested for Shutterbug are rugged and incorporate the 2.4GHz radio EL-Skyport System, which permits remote control of all power settings, modeling lamp functions, and remote release.
Multiblitz's current product range contains two monolights, including the Profilux and Profilux Plus along with its Pro X halogen-powered hot lights with output from 650 to 1250w. The workhorse Profilux monolights are available in either 250 or 500 ws versions that are controlled over five stops in 1/10-stop increments. Both offer a built-in 16-channel wireless receiver that is compatible with Multiblitz's RS2 radio flash trigger as well as a feature I'd like to see in other monolights—automatic dissipation of energy without firing. The Profilux Plus monolights are available in 200, 400, or 800 ws versions with two (optional) ProPac battery-powered sources to power them on location.
The 200 and 400 ws versions have a seven-stop power range that's adjustable in 1/10-stop increments, while the 800 ws version has an eight-stop range. The built-in 16-channel wireless receiver is compatible with Multiblitz's TriggerHappy remote trigger.
Coming to the US is Multiblitz's top-of-the-line X-System that has a SpeedMode, which enables simultaneous charging and firing of the monolights at up to 20 flashes per second. The X-System includes three different types of units: the 500 ws X5, the 1500 ws X15, and 1000 ws AC/DC X10 also offers battery operation.
If there's any company that produces power pack and head systems built like a bank vault it's Speedotron. Since its beginning the company has offered two lines for photographers with different needs. The Brown Line is considered a portrait photography system while the Black Line is aimed at commercial shooters, yet when used normally both have similar quality, reliability, and longevity. Black Line power supplies and heads provide accurate and repeatable light output 24-7 with output from 1000 ws from the 1005 LV to 4800 ws from the 4803cx LV. The new Explorer 1500 is a battery-powered unit that produces 1500 ws and has a removable battery module to let you swap and keep shooting. With more than 30 different heads available, shooters can mix and match and find what they need. Longevity? Speedotron's flash tubes are tested to have a minimum duty cycle of 100,000 flashes.
The Brown Line—power supplies are painted their namesake's color—offers nine different power packs with outputs from 400 to 1600 ws. Eighteen different heads provide the flexibility needed to assemble what you want but both the Black and Brown Lines offer kits that include heads, packs, stands, light modifiers, and a case to keep it all in. If you're looking for a bulletproof power pack and head system a Speedotron kit is one of the best ways to get started. And don't overlook the extensive list of accessories that should fit every photographer's wish list.
When you move into premium lighting systems from Broncolor you get what you pay for. Swiss designed and manufactured power pack and head systems such as their Senso (power pack) and Litos (head) provide quality construction and impeccable attention to detail. The individual units are available à la carte or in kits such as the Senso Kit 22 that I tested (December, 2011, issue of Shutterbug). Power packs include the Senso A2 (1200 ws) and Senso A4 (2400 ws) with other options including the AC/DC Verso A2 (1200 ws) and Verso A4 (2400 ws). Move up to the Scoro A2S (1600 ws) and Scoro A4S (3200 ws) for maximum in-studio power.
Bron offers a range of battery-poweredMobil power packs, including the new Mobil A2L compact 1200 ws battery-powered strobe pack that has two lamphead outlets and three asymmetrical settings allowing for a wide variety of lighting configurations. Mix and match with appropriate heads that include Litos, Pulso, Unilite, and the new MobiLED head that has a 30w LED modeling light that's a lot brighter than it sounds. There are two different ring flash heads, too. Broncolor also offers a family of Minicom monolights with power output ratings from 300 to 1500 ws. There is even an HMI light source that includes a ballast power source and lampbase.
Visatec offers two lines of monolights—Solo and Logos—that are available à la carte or in kit form. The rugged Solo 400 B is a 130 ws unit in the Visatec Solo line with the 1200 ws Solo 3200 B with four stops of power control at the top of the series. In between there's the 300 ws Solo 800 B and 600 ws Solo 1600 B. The monolights have an impact-resistant light alloy metal housing and a gray cap to protect the flash tube and halogen modeling lamp from damage. There are five monolights in the Logos series starting with the 300 ws Logos 800 model and going up to the 600 ws Logos 1600 RFS monolight with built-in Visatec Radio Frequency Triggering System that's compatible with Visatec RFS Transmitters. The Logos 1600 is also available without it. The built-in Visatec trigger in Logos 800 RFS (300 ws) and 1600 RFS models can fire multiple units wirelessly via their IR receivers. A bayonet mount system lets you quickly exchange light shapers and rotate them through a full 360˚. And attachments can be mechanically locked in place to keep a softbox from jumping off at an importune time. Don't laugh, it happened to me (not with a Visatec, though).
Profoto's products define high-end lighting and include electronic flash offerings with continuous light sources for video or still photography. The lamp in Profoto's Metal Halide (HMI) ProDaylight Air provides daylight color temperature for photo and video shoots and works with most of the company's Light Shaping Tools. The ProTungsten Air is a continuous light source, which can be used with 500w or 1000w halogen lamps and is equipped with a high-tech cooling system designed to minimize noises. The unit has a built-in "Air" radio capability giving the user the ability to remotely activate or deactivate and dim from 100 percent down to 10 percent. The Profoto D1 series of monolights have a compact, elegant design with an integrated reflector, seven-stop power range, short flash duration, and fast recycling times. The Profoto Air system (250, 500, and 1000 ws) enables you to remotely control and trigger your flash from as much as 1000 feet away. You can connect the D1 to the Profoto Air USB, for Mac OS and Windows computers, for full control of your studio flash system via wireless communication.
Profoto also has an extensive power pack and head lineup including different batteries, such as the compact AcuteB 600R that weighs 10.6 lbs and provides power over a seven-stop range from 9 to 600 ws, the equivalent of 160 full-power flashes per charge. It has a built-in radio slave with 32 channels/four zones for remote operation and short sync times down to 1/250 sec (focal plane shutter) and 1/1000 sec (leaf shutter). For the studio, the Pro-8a 1200 and Pro-8a 2400 Air provide fast recycling times (0.05 to 0.9 seconds for the 2400 and 0.05 to 0.5 seconds for the 1200) along with short flash durations and a 10-stop power range for the 2400 and a nine-stop power range for the 1200. Both are compatible with all current ProHeads, including four Acute heads and the Acute2 Ringflash.
And there are more heads for the Profoto system, including the ProTwin head, that, when using two flash tubes, effectively doubles the performance. When used with a single power pack, it produces a shorter flash duration. Used with two, it achieves faster recycling and/or higher power, up to 9600 ws. There are even two ringlights, including the Pro-7 Ringflash, without modeling light, and the ProRing2 that has a 200w modeling light, is fan-cooled, and has an ozone-free flash tube that's capable of handling 9600 ws per minute. It's compatible with all previous ProRing accessories, like the PR Softlight reflector.
Measuring Lighting Output
Electronic flash output is often measured in watt seconds (ws), a unit of electrical energy that's equal to the work done when a current of one ampere passes through a resistance of one ohm for one second. Sometimes also called a Joule, it's basically a way to measure the power and discharge capacity of an electronic flash's power supply.
Think of the rating as raw automobile horsepower, and because ws doesn't consider reflector design it's not a perfect indication of the total amount of light that can be produced by an electronic flash. Because of that, you'll occasionally see effective-watt seconds used to give you some idea of what to expect from the flash.
Another method of measurement is lumensecond, a unit of measurement of light intensity falling on a surface. A lumensecond refers to the light of one lumen for one second or the equivalent, such as two lumens for half a second. The number of lumenseconds produced by a particular flash system depends on how effectively the flash turns electrical energy into energy or ws into lumenseconds. Most electronic flash units produce between 15 to 50 lumenseconds per ws. What this means is that sometimes an efficient 300 ws system can produce as much light energy as an inefficient system that's rated at 1000 ws.
Some people prefer to use Guide Number (GN) as a measurement of flash output because it considers the entire lighting package. Guide Numbers are quoted in feet or meters (depending on where you live in the world) and are valid at a given ISO (usually and hopefully ISO 100, but do read the specs). The higher the GN, the more the light output.
Geek alert: continuous sources often use lumens and lux as measurements. The lumen (lm) is a measure of the total "amount" of visible light emitted by a source. Lux is equal to one lumen per square meter. The difference between lumen and lux is that lux takes into account the area over which the luminous flux is spread. A flux of 1000 lumens, concentrated into an area of one square meter, lights up that square meter with a luminance of 1000 lux. The same 1000 lumens spread out over 10 square meters produces a dimmer luminance of only 100 lux.
HMI (Pronounced HEMI)
HMI (Hydrargyrum Medium-Arc Iodide) lights have several advantages over incandescent or quartz light sources and deliver five times the light output per watt and generate less heat. Unlike quartz, the color temperature of HMI lights is the same as sunlight and doesn't require a filter or a tungsten color balance setting in the camera. Designed for the film and video industry, HMI is a flicker-free light source that's also useful for digital still photographs requiring long exposures. They are very pricey as well.
For More Info…
Please visit these websites for more information, product updates, and specs:
Aurora Lite Bank: www.alb.co.kr
Booth Photographic: www.boothphoto.com
Bowens USA: www.bowensusa.com
Bron Imaging Group (Broncolor and Visatec): www.bronimaging.com
Calumet Photo: www.calumetphoto.com
Denny Manufacturing Company: www.dennymfg.com
F.J. Westcott Company: www.fjwestcott.com
Flashpoint: www.adorama.com
Hensel-Visit USA: www.henselusa.com
JTL Corp.: www.jtlcorp.com
Lowel-Light Manufacturing: www.lowel.com
Mac Group US (Profoto): www.macgroupus.com
Manfrotto Distribution (Elinchrom): www.manfrottodistribution.us
Mole-Richardson Co.: www.mole.com
Multiblitz USA: www.multiblitzusa.com
Norman: www.normanlights.com
Paul C. Buff Inc.: www.paulcbuff.com
Photoflex: www.photoflex.com
Photogenic Professional Lighting: www.photogenic.com
R.T.S. Inc. (Rotolight): www.rtsphoto.com
Smith-Victor Corporation: www.smithvictor.com
Speedotron Corporation: www.speedotron.com
For hands-on tests and lighting technique articles, please visit: www.shutterbug.com/category/lighting-equipment.
All photos courtesy of the respective manufacturers.
LATEST VIDEO