Student Union - Richard Meade
Richard Meade
The Art Institute Of Atlanta
Atlanta, Georgia
The Beauty Part
From the photos it's easy to tell that Richard, who is in the final year of the Institute's three-year bachelor of fine arts program, hopes to work in fashion and advertising. "I enjoy working with people," he says, "and would like to be a free-lance commercial photographer doing advertising and fashion work...." The images are from the specialist's portfolio students are assigned to produce in addition to their class work.

His early influences were Ansel Adams, Edward Weston, and others from Group f/64, but his interest in fashion has led to his appreciation of the work of Patrick Demarchelier and Steve Meisel, among other fashion photographers. With an internship a requirement for graduation, he's hoping to fill that position with fashion photographer Liz Von Hoene.

"I get five fashion magazines regularly so I can see what's going on," Richard says. He knows that in the fashion field what went on a few months ago may provide ideas and inspiration, but, he says, "if I'm shooting something now for a magazine, I've got to be three months ahead of now."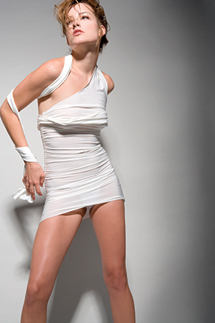 All Photos © 2006, Richard Meade, All Rights Reserved
Richard Meade was recommended by Linda W. Wood, department chair, Graphic Design and Photographic Imaging, Art Institute Of Atlanta.
If you know a student whose work deserves recognition, contact our editorial department by e-mail at: editorial@shutterbug.com or call (321) 225-3121.