Stocking Stuffers: Gifts For Photographers Who've Been Nice All Year
"Life is a lot like a photo album. Be sure to take lots of pictures."—Mary Farace
Instead of visions of sugarplums, it's visions of gadgets, gizmos, and software dancing through digital photographers' heads during the holiday time. Presented for your approval is a group of fun, clever, and affordable tools that will put a smile on your face when opening holiday gifts and make imaging in 2014 more exciting.
Plug-In Of The Month
ReStyle from Topaz Labs offers an easy way to create color and tonal effects you may never have thought about or, in my case, didn't know how to produce. What I really like is how ReStyle lets you add thousands of unique looks to your images with a few mouse clicks. The $59.99 plug-in uses mapping technology to create effects by mapping color/tonal values from sample images, producing high-quality color and tonal transformations and dramatic effects. Built-in presets let you choose from more than 1000 effects that are categorized by different kinds of photography and are searchable by style, color, and keyword. A well-designed interface and infinite possibilities presented by the presets (on the left) and the adjustable sliders (on the right) make it a dynamic image manipulation tool that's well worth the title of Plug-in of the Month. A free trial version is available for download.
Picture Puzzle Actions
Our old friend Panos Efstathiadis is offering a new set of Photoshop Actions that should make Agios Vassilis—the Greek name for Santa Claus—smile. PanosFX Puzzle Effects turns your photos into 2D or 3D jigsaw puzzles or animations. Each puzzle piece is placed on a separate layer, allowing you to move and rotate any piece or groups of pieces to create fun effects. The 2D set produces 21 different puzzles while the 3D set lets you produce 22 different puzzle styles. Note: 2D actions require Photoshop CS4 or Photoshop Elements 11 and 3D actions require Photoshop CC or CS6.
Two commercial editions are available, including the Full edition ($21) containing the entire collection of 2D and 3D actions. The Standard ($17) edition includes 2D actions only and is designed for non-Extended Photoshop or Photoshop Elements 11 that lack 3D tools. Prices are based on current exchange rates as I write this. There's even a free version designed strictly for home use that contains a limited number of two 2D and two 3D actions you can try.
Creative And Corrective Effects
Power Workflow 4 (PW4) from Seim Effects is a series of 75 tools for Adobe Lightroom 4 and 5 that increases your processing options. PW4 Lightroom Presets contains Super Series X, a set of batch automation presets, and Light Magic II presets that address common problems such as harsh sunlight, reception halls, dark images, and other situations that event and wedding photographers typically encounter. There's even a Red Face Fixer for the kind of color balance problems encountered shooting flash-on-camera candids.
Fluid Silver is a series of black-and-white presets that uses Channels and Curves and I found it was a wonderful monochrome conversion tool for studio portraits. PW4 includes an entire category of Modifier presets that work independently of tonal settings and only affects settings such as Channels, Curves, or Color, allowing you to mix, match, and take your image just a bit further. You can then modify the image using Tones or Curves. PW4 works with any image file and includes presets for Raw, DNG, JPEG, PSD, and TIFF, providing tweaking capabilities to produce many different looks. Visit Seim's site to see before and after examples. PW4 has an introductory price of $49, and owners of previous versions are eligible for a discounted upgrade.
Prints On Glass
Photographers are always looking for new and different ways to present their images by having images printed on canvas, metal, or using products like Moab's Slickrock Metallic Silver (October, 2013, issue of Shutterbug) media. Two entrepreneurs from the University of Florida have developed a proprietary way to use UV technology to print digital images onto glass and package these vivid photos so they're mountable and inexpensive to produce and ship. They call the process Fracture and the lightweight and durable prints, if you want to call 'em that, can be made from any JPEG, PNG, or GIF file in five different sizes from small (4.8x6.4") to extra large (21.6x28.8") with prices ranging from $15 to $125. They are delivered all-in-one as a picture, frame, and mount with easel or wall mount, depending on size. I printed a portrait of Mary's parents on glass as a gift for her mother's 90th birthday and it was a big hit. Invest $15 for a small sample print and see for yourself.
Action Hero Photo Vest
Cotton Carrier's Camera Vest isn't a vest in the way that my old ExOfficio photo vest is; it's really more harness than vest. The Camera Vest for 1 Camera ($149) is an adjustable one-size-fits-all unit that's made from 1680 denier polypropylene and fitted with a Lexan camera receptacle. It supports your camera making it instantly available, but more importantly eliminating its weight from around your neck and shoulders. The vest includes a 10-degree camera hub for all camera types, a camera tether, a hand strap, and a universal adapter plate. The two-camera system ($189) includes a vest unit and removable side holster. You can keep a second camera on your vest or hang it on your pant belt or camera bag's waist strap. While a little beyond some Stocking Stuffer budgets, the vests are designed for active shooters (see photo) and either product would be a useful holiday gift for adventure and nature photographers.
Colorful Monopod—With Compass
I first saw MeFOTO tripods earlier this year and was impressed by their quality, design, and affordability. MeFOTO's WalkAbout is a monopod that can also be used as a walking stick and is available in eight colors. You can choose from gold, blue, green, red, titanium, purple, orange, or basic black. The aluminum WalkAbout only weighs 1.4 lbs but has a weight capacity of 30.9 lbs, making it compatible with point-and-shoot, Micro Four Thirds, and digital SLRs. The monopod has an extended height of 60.4" and compresses to 18.1". As a former scoutmaster I love that the WalkAbout includes a compass in its removable knob! The monopod has a foam grip, a hand strap, and, best of all, a suggested retail price of $59.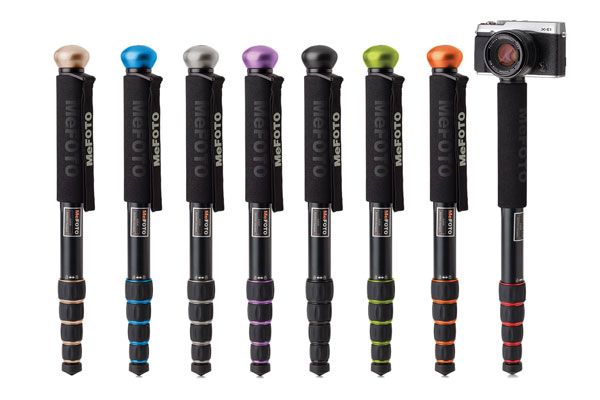 Contacts
Cotton Carrier Ltd.: www.cottoncarrier.com
Fracture: www.fractureme.com
MAC Group (MeFOTO): www.macgroupus.com
MeFOTO: www.mefoto.com
PanosFX.com: www.panosfx.com
Seim Effects: http://seimeffects.com
Topaz Labs: www.topazlabs.com