Speedotron DM802B Two-Light Travel System: Indestructible Yet Affordable Lighting
Speedotron's power pack and head systems are the studio lighting world's equivalent of the American muscle car. They're powerful, made in the U.S.A., and ruggedly built to take hard use. Since its beginnings the company has offered two lines of lighting systems for photographers with different requirements. The premium-priced Black Line is intended for commercial shooters, while Brown Line products are aimed at portrait photographers, yet when used normally both have similar quality, reliability, and longevity.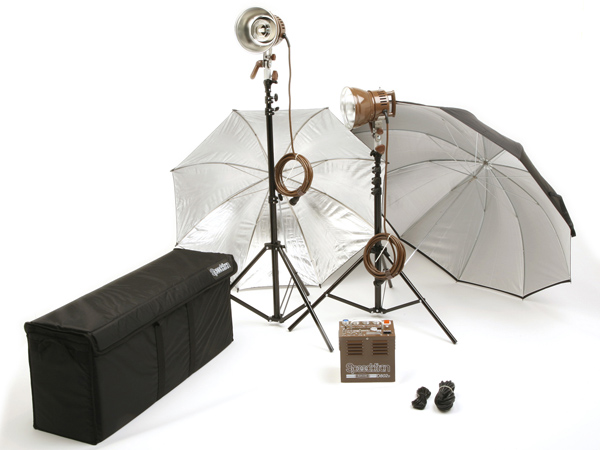 For this review I asked Speedotron to send me their DM802B Two-Light Travel System kit because I think it's the kind of starter power pack and head system that Shutterbug readers would find useful. If you need more versatility than that, a three-light version of this kit is also available.
Built To Last
Brown Line units are engineered with the same attention to real-world functionality as Speedotron's Black Line power supplies. The light heads are made of metal, including reflectors, are convection-cooled, and should provide decades of daily use. Two M11 heads are included in the kit and each one has a 20-foot cable with a locking/quick-release power supply connector that is compatible with older Brown Line power supplies.
The cables are long enough so even the most cable adverse (or clumsy, like me) photographer can position them out of the way to keep from tripping—or worse yet, tripping the subject—over them. In my 11x15-foot in-home studio, I placed the power supply along the back wall and snaked the cables around the edges of the side walls. All of the system's controls and connections are built the way they are because they need to be.
Each light head has its own modeling light on-off switch and is delivered with your choice of either clear or UV color corrected flash tube, halogen modeling lamp, reflector, and 5/8" tilting light stand mount. The system I tested was delivered with the UV color corrected flash tubes. Every part of the head from the handle on its back that's used for aiming to the stand mount is beautifully finished and shows no trace of cost cutting.
The M11 head features a system of quick-release, bayonet-mount reflectors that use the same mounting system as Speedotron's Black Line universal light units. Over 50 other light control accessories are available from the company to produce the exact quality of light you want for a portrait session. Speedotron light heads are backed by a two-year warranty with an optional Plus-3 Protection Plan available. Think of it as AppleCare for your lighting system.
The Two-Light Travel System kit is supplied with an 800 ws power pack and two M11 heads with 7", 105-degree reflectors; one 45" black-backed Photoflex silver umbrella; one 54" Photek white umbrella with removable black cover; two 7.5-foot light stands; and a soft carrying case. Weighing in at nearly 40 lbs, the kit packs easily into the trunk of a car—even my Mini Cooper with the back seats down—while offering enough power and control options to handle a variety of assignments.
In The Studio
In my 11x15-foot home studio, it took me about 45 minutes to set up all of the kit's components, including installing flash tubes and modeling lights in both heads, attaching reflectors, popping and mounting both umbrellas, and making a few test shots.
Tip: When initially removed from the case, the cables for the M11 heads are tightly fastened together using industrial-strength ties. Resist the temptation to grab the nearest sharp tool to remove them. Use cable cutters instead—your fingers will thank you.
In addition to a high build quality, one of the things that make Speedotron systems long-lived is their simplicity. The power pack has no LED displays or complex dials. It's all simple switches and connectors and it's how you use those connectors that determines how much power is pushed to each light head. If you're using one light, as I did on my first lighting setup, you can get 800 ws when it's plugged into outlet one or two of the four that are available. You'll get 600 ws if it's plugged into outlet three or four. Toggling the "800-400 ws" switch to half-power cuts those numbers in half.
Similarly, when using both of the heads that are delivered with the kit you can get equal power (400 ws) to both heads when the Symmetrical/Asymmetrical switch is set to—you guessed it—Symmetrical. Flipping the switch to Asymmetrical provides several options, including pushing 400 ws to the main light and 200 ws for fill, unless you would prefer to reverse that arrangement. Other options in the Asymmetrical configuration are nicely diagramed in a well-produced 32-page Instruction Manual. Initially, I kept the manual on the windowsill in my studio, referring to it from time to time, but after a few sessions it become second nature and I was plugging and shooting with the best of 'em.
Speedotron includes a long, ruggedly built sync cord that you can use but instead I plugged my Flash Wave 2 Pro Kit radio receiver from Booth Photographic into the power pack that lets both heads be wirelessly triggered without a cable. I needed a mini-phone adapter, which is included in the kit, to connect it to the power pack's phone jack sync connector. Unlike a monolight system, no slaves are needed because when you trip the power pack both heads fire simultaneously.
For my sessions with Misa Lynn I used a bare-bones lighting arrangement: a single M11 head with a 32" round reflector placed at camera left was positioned at camera right with an Asymmetrical setup selected. This simple lighting setup (see illustration) produced a final aperture of f/14 at ISO 100.
Test & Shoot
In the first session Misa Lynn was wearing a black dress and the background was gray muslin, which inadvertently gave me a good test of the output color of the system with a result that showed that the light produced by the lights and/or the lighting modifiers was slightly warm. I used two different cameras (Nikon and Canon) for this initial shoot and they both produced similarly warm results. Some shooters like portraits to be on the warm side but I prefer a color balance that's more neutral and if this were my standard lighting setup I would do a custom white balance for whatever camera was used.
Tip: Since everybody's workflow is a bit different, it's a good idea to do a test session with any new lighting system or camera to check color balance and then make the appropriate adjustments.
This Speedotron Brown Line system is powerful enough to be the main power pack and head system for studio—individual or group—portraits or small product work and recycles its 800 ws in just over 3 seconds, which won't necessarily set any land speed records. When photographing active models such as Misa Lynn, who can throw poses at me as fast as I can click the shutter, I noticed that occasionally some images were slightly—just ever so slightly—underexposed because the power pack had not fully recycled between shots.
Adjusting the flash heads is easy because of the logical way that the M11 heads are designed. First, there's a big handle on the back of the head that's easy to grab and tilt any way you like. Second, the stand mount's tilt mechanism is controlled with a big rubber-covered lever that's easy to grab and lock down.
All of the attributes that I've mentioned here are ones that have made Speedotron a classic lighting system for so many years and make it more so even today. The hardware found inside the DM802B Two-Light Travel System case is built to post-Mayan apocalyptic standards and should last as long as you plan to make portraits. If you have a high-volume portrait operation take a hard look at Speedotron's Brown Line series. I'll bet it's the last lighting system you'll ever need.
Specifications
Speedotron DM802B
Two-Light Travel System
Power Pack
Power: 300-800 ws
Guide Number: 380 at ISO 100 in feet, with M11 light head and standard reflector
Recycling Time: 3.2 seconds
Power Range: Two
Flash Head Outlets: Four
Weight: 12 lbs
Size: 7.9x5.6x7.3"
M11 Light Head
Maximum Power (Watt/Seconds): 1200-1600
Modeling Lamp Wattage:
150w quartz
Cable Length: 20 feet
Kit Price: $1395 (MSRP)
For more information, contact the Speedotron Corporation at: www.speedotron.com.
FEATURED VIDEO