Special Report: photokina
New 35mm And Digital SLR Cameras
Although compact digicams with built-in lenses remain hot sellers, many photo enthusiasts prefer SLR cameras that accept a full line of lenses from ultra-wide to super telephoto. The majority of new models shown at photokina were digital of course, but two new 35mm SLRs were also introduced, including one that came as quite a surprise. Nikon's new professional F6 left some industry observers wondering as to the logic of marketing a high-end 35mm SLR in the digital era.

But Nikon insisted that the demand for conventional cameras justified this new model, a major upgrade over the F5, incorporating some high-tech features developed for their digital SLRs. Even today, some pros and advanced amateurs (particularly outside North America) continue to shoot film, for at least some of their work, and this group will certainly love the Nikon F6. Photo enthusiasts on a tight budget will want to check out the new 35mm Canon EOS Rebel T2, also loaded with advanced capabilities but costing some 90 percent less than the Nikon F6.

A half dozen new digital SLRs were also announced, and four of these images with very high resolution, ranging from 8 megapixels to 16 megapixels. Only two models, the Konica Minolta Maxxum 7D and the Pentax *ist Ds maintain the familiar 6-megapixel standard. This certainly suggests that the megapixel wars are heating up, and not only in the very expensive "professional" category. The two 8-megapixel models, the Canon EOS D20 and Olympus E-300 EVOLT are relatively affordable given their wealth of capabilities and advanced technology, while the Fuji S3 Pro is within reach of the serious enthusiast. (As discussed later, the S3Pro generates 12-megapixel images by employing a sensor with 6 million pixels but containing a full 12 million photodiodes.)
Canon's 16-Megapixel Full Frame Vs. Nikon D2X?
In professional digital SLR cameras, Canon scooted ahead of Nikon again with their 16-megapixel EOS-1Ds Mark II (with full-frame sensor), stealing the thunder from the 12-megapixel Nikon D2X (with APS-C size sensor). In truth, the new Nikon competes in a different category, targeting news and sports photographers who simply do not need 16-megapixel resolution. When viewed from this perspective, the 12-megapixel Nikon D2X is a direct competitor for the 8.5-megapixel EOS-1D (no "s") Mark II released earlier in 2004. That gives Nikon an edge in megapixels in this category, but is their camera as fast as the Canon EOS-1D Mark II, which boasts an 8 fps continuous advance rate? Yes and no. The D2X offers a maximum framing rate of only 5 fps in 12-megapixel capture, fast enough for the vast majority of applications. But it does provide an 8 fps advance option as well, available by switching to 6.8-megapixel capture; that's more than enough resolution for most news and sports photographers who make up the primary market for cameras of this type.


Finally, there's the 6-megapixel Konica Minolta Maxxum 7D (with APS-C size sensor), a unique digital SLR with a built-in image stabilizing mechanism called Anti-Shake. This feature allows us to shoot at shutter speeds up to three times slower, when compared to conventional camera equipment. The Anti-Shake system works with virtually all Maxxum lenses precluding the need to buy special lenses that are equipped with Image Stabilizers. This feature should certainly allow Konica Minolta to maintain its competitive edge, in spite of being the last major manufacturer to enter the digital SLR market.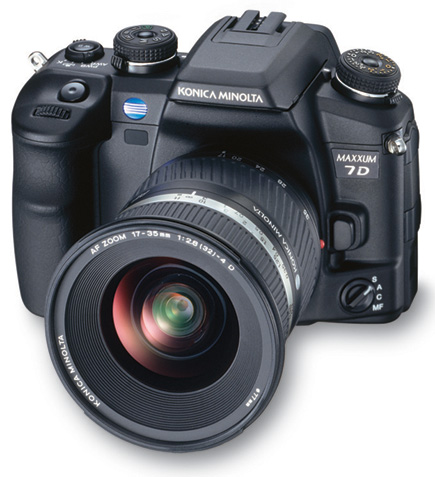 Although it's not a camera, the new Leica Digital Modul-R fits well into this category, because it's an accessory that converts the 35mm R8 or R9 to a 10-megapixel digital SLR. Simply remove the film back, attach the module, and start shooting digital images. This is a brilliant concept that other 35mm SLR manufacturers should also have adopted but only Leica had the foresight to make their cameras digital-ready during the original design phase.
New 35mm SLR Cameras In Detail
Let's take a closer look at both of the conventional models. The new flagship of the Nikon 35mm line, the F6 (www.nikonusa.com) includes most of the numerous F5 capabilities but gains extra Custom Functions (41 in total); an entirely new KEVLAR and aluminum-alloy shutter module for great speed and reliability; a refined 1005-pixel 3D Color Matrix metering system with improved algorithms; a superior CAM2000 autofocus module for high speed and precision plus the more sophisticated i-TTL flash system for superior metering as well as i-TTL wireless off-camera flash and high-speed sync. The top framing rate is 5.5 fps but that can be boosted to a blazing 8 fps with an optional MB-40 battery pack with an estimated street price of $399.


A few other F6 improvements are worth noting as well. Controls have been slightly modified, and a large LCD data panel has been added to the back, for more convenient operation. This camera is quieter than the F5 and can be virtually noise-free; simply select Continuous Silent mode, available with 1 fps film advance. Mount one of the AF-S lenses with Silent Wave motor and it's ideal for certain wildlife photography, for wedding photography during a church service, and for any situation that benefits from quiet operation. The autofocus sensor now offers 11 points (vs. five), including nine cross-type and two line-type points. Aside from maximum reliability, the 11-point sensor allows for quick shooting with a subject most anywhere in the frame; it's also ideal for action photography, making it easier to maintain focus on a small subject that drifts off-center.

Even more rigid and durable than the F5, the Nikon F6 (34 oz) is built like a tank with an aluminum-alloy die-cast chassis, magnesium-alloy front body and covers (top, bottom), and aluminum-alloy back. In keeping with the Nikon tradition, the F6 is compatible with a vast range of accessories, including the latest SB-800 Speedlight and seven interchangeable focusing screens. Do note that the penta-prism is fixed so it does not accept accessory prisms, a minor drawback when compared to the F5. It's also compatible with numerous Nikkor lenses from AI/AIS (with Matrix metering available) to the very latest AF-S VR series allowing this camera to fit nicely into most any Nikon SLR system. (Street price, $2299.)

At the other end of the spectrum, the new Canon EOS Rebel T2 (www.usa.canon.com) is much smaller, lighter (0.8 lbs), and affordable (street price, $199). Upgrades over the Rebel Ti include faster shutter speed; more autofocus mode options; faster 3 fps framing rate (2.5 fps in Continuous AF); superior autofocus tracking speed; more convenient controls; and an oversized LCD data screen. Flash metering has been improved significantly with the E-TTL II system (originally developed for digital SLRs) for more accurate exposures with dark-toned or highly reflective subjects. The full-featured Rebel T2 includes a full 12 shooting modes plus six Custom Functions for exceptional versatility at a budget price. In my estimation, this is a best-value SLR that will keep the Rebel series the most popular in 35mm SLR photography.
FEATURED VIDEO