Sony Intros Powerful Alpha 1 50.1MP Full-Frame Mirrorless Camera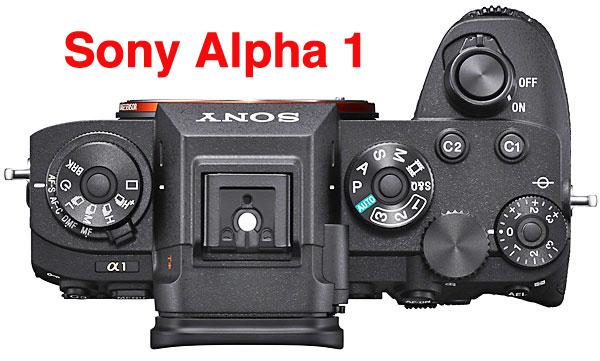 This morning Sony introduced the 50.1MP full-frame Alpha 1 mirrorless camera—a powerful new model the company calls "The most technologically advanced camera Sony has ever produced." Bragging rights include a unique combination of blazing performance, high-resolution, and a host of new creative capabilities.
In terms of speed, the new Sony Alpha 1 features a large buffer that, in combination with the camera's upgraded processing engine, enables shooting up to 155 full-frame compressed RAW images or 165 JPEG images at up to 30fps—all while maintaining complete AE tracking and AF performance.
Further enhancing the camera's high-speed capabilities is its 9.44 million-dot EVF that eliminates blackout with an impressive refresh rate of 240fps. The Sony Alpha 1 also accelerates workflow with what Sony claims is 3.5 times faster Wireless FTP transfer speed.
Autofocus performance is equally enhanced, with precision acquisition and quicker tracking of fast-moving subjects. The phase-detection AF system in the Sony Alpha 1 boasts 759 points covering approximately 92% of the image area. And Sony claims a 30% boost in real-time Eye AF capabilities over their previous AF system. In a first for a Sony Alpha camera, the new model provides Eye AF for birds, in addition to humans and other animals.
Other high-resolution enhancements offered by the Sony Alpha 1 include superb low-light performance with a sensitivity range of ISO 100-3200 that's expandable to ISO 50-102,400 when shooting still images. In addition to low noise, the camera is said to deliver over 15 stops of dynamic range for video and 15 stops for stills.
The Alpha 1 also features a Pixel-Shift shooting mode in which the camera shifts the sensor in either 1-pixel or one-half-pixel increments. This enables the camera to capture 16 separate pixel-shifted images with over 796 million pixels of data that can be compressed into a 199-million pixel image using Sony's Imaging Edge desktop application.
Hand-held shooting at slow shutter speeds with the Alpha 1 is facilitated by the camera's advanced stabilization system and gyro sensors that Sony says provide a 5.5-step shutter speed advantage. And videographers will achieve outstanding stabilization of hand-held videos while using the camera's Active Mode while shooting movies. And speaking of video, the Alpha 1 offers in-camera 4K recording at up to 120fps and 5X slow motion capture.
As expected in a camera designed for professionals, the Sony Alpha 1 has two media slots supporting UHS-I and UHS-II SDXC/SDHC cards, and the new CFexpress Type A cards. Build quality is also up to rugged pro standards, with a tough magnesium chassis. The camera also features a silent vibration-free electronic shutter, unequalled mechanical shutter flash sync up to 1/400 sec., and much more.
Of course all of this performance and quality doesn't come cheap, and the Sony Alpha 1 will be priced around $6,500 when it becomes available in March. More information will be forthcoming on Sony's website, where you can find complete details on all of the company's imaging gear.
FEATURED VIDEO