Sony A6300 Mirrorless Camera Review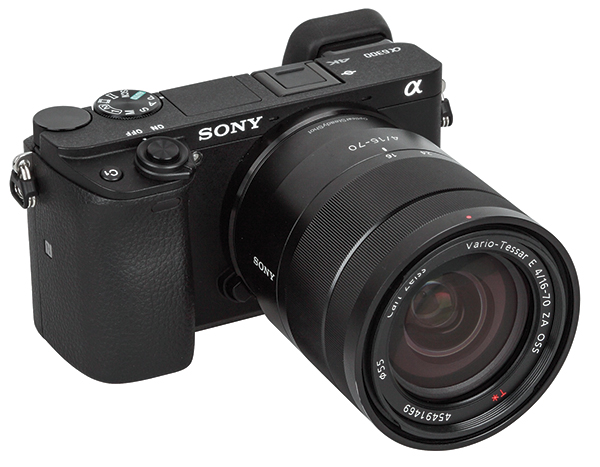 (Editor's Note: Lab Review lab tests and comments are supplied by BetterNet, Shutterbug's TIPA-affiliated testing lab and edited by George Schaub. Shutterbug is the sole US representative within TIPA, a worldwide association of photo and imaging magazines. You can check out our field test review of the Sony A6300 with full resolution sample images here.)
The 24-megapixel Sony A6300 mirrorless camera is the follow-up to the A6000 from 2014 and, in that respect, it has some very big shoes to fill. The A6000 was one of the best-selling mirrorless cameras of all time and Sony is clearly hoping to strike gold with the A6300 as well.
In contrast to its forerunner, the A6300 uses a high-resolution viewfinder (2.36 RGB dots versus 1.44 RGB dots); the result is very comfortable manual focusing and easier adjustment of other image parameters. What else does the new Sony A6300, which like its predecessor also uses an APS-C-sized sensor, add to the equation? Let's take a look at the A6300's design, features, and image quality.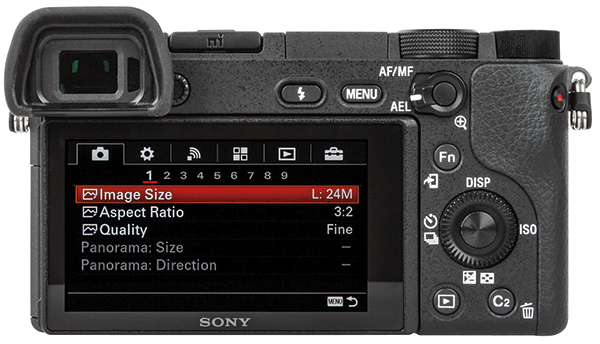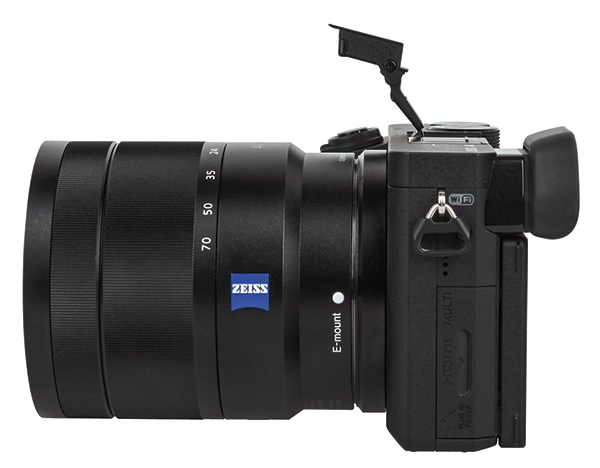 Camera Build, Layout & Performance
The A6300 is a compact mirrorless system camera that uses E-mount lenses. The use of magnesium alloy in its build results in it being heavier than its predecessor.
The camera has two parameter dials: The first one is located right beside the mode dial on the top and the second is a combination of a parameter dial and four-way control field on the back.
The camera offers a lot of exposure modes: Besides standard settings like P, S, A, and M, it offers nine scene modes ("SCN" setting on the mode dial on the top) and additional image filters like "toy camera" and similar effects. It also offers two user-defined image settings on the mode dial. In default settings the "C1" button starts the focus mode menu, "C2" is used to get direct access to the white balance settings.
The A6300 offers numerous white balance presets, including some fluorescent light settings and a special setting for underwater photography. (Note: Even though the camera is sealed and splashproof it needs a special housing for underwater photography.)
The camera has a very fast AF system. This "hybrid system" combines phase-detection sensors (normally used in SLR cameras) and contrast-metering sensors on the image sensor. The camera offers 425 phase-detection sensors and 169 contrast AF areas. This system has an added advantage: It covers nearly the whole image area while standard phase-detection systems of SLR cameras will cover only the center of the image (40 percent of the whole image area).
Sony calls its AF system the "fastest in the world." In our tests it wasn't as fast as the new professional Nikon D5, but it's surprisingly close. The differences may depend on the lens used. (We used the 16-70mm f/4 Sony lens for the test.) We did note that with focus tracking the Sony keeps even very fast-moving objects in focus, such as cars moving rapidly down the street. Start-up time of the new Sony is very high: at nearly 1.7 seconds, it performs like a compact camera. Once the camera is activated, however, its performance (AF, shutter delay) is very fast and on a very high/professional level.
Comments On Image Quality
Color: The camera performed very well in our color tests. The GretagMacbeth chart was reproduced with 103.4 percent, which is only slightly oversaturated. Typical for a Sony system, there is a noticeable boost of red colors and some optimized versions of skin colors via a higher magenta and yellow rate, seen in our model test shot. The red fabric of her T-shirt also shows a saturation boost and a higher yellow rate than in real life. This "Sony red" almost seems to glow. The automatic white balance system did a very good job. Darker neutral tones have a slight bluish touch; very light nuances showed a shift into the more yellowish area.
Sharpness: The camera showed an excellent performance in our resolution tests. The ISO 12.233 chart was reproduced with 3,909 of 4,000 lines per picture height. The MTF result is only a little lower (3,505 lines) so Sony's BIONZ image processor keeps the sharpness filtering on a low level and avoids clipping effects. The over/undershot results are on a standard level for compact system cameras with an APS-C-sized sensor. The camera reproduced all real-life images with a lot of details and a crisp look, which isn't exaggerated by sharpness filtering. Fine structures are clearly noticeable.
Noise: The camera showed a very good performance in our noise tests. Nevertheless, it is noticeable that the camera uses an APS-C-sized sensor instead of a full-frame sensor. The image noise factor starts on a higher level than in images taken by full-frame sensor cameras, but is still on a very low level. It stays under the 1.0 percent mark up to ISO 3200.
Color noise isn't really noticeable in images taken with ISO 100 to ISO 1600; when using ISO 3200 to ISO 12,800 it becomes visible, but is still very subtle. At ISO 25,600 it becomes clearly visible, but even at ISO 51,200 the noise level is still acceptable.
The dynamic range results of the A6300 are excellent. The camera achieved a maximum of 11.4 f/stops. The camera keeps a high dynamic range level even in higher ISO speed settings up to ISO 12,800; at the highest ISO settings the dynamic range drops significantly to 7.31 f/stops.
Comments On Video Functions
The new Sony offers sophisticated video features. It is able to record video sequences in 4K resolution of 3840x2160 pixels. The camera uses the XAVC-S file format which is based on H.264 compression, but offers higher bit rates than standard H.264 file formats, up to 100 Mbit/s. This high data rate is used for 4K videos or for high-speed recordings. The camera can record up to 120 frames per second in "Full HD" resolution, which allows the user to shoot slow-motion sequences. For recording high data rate videos a very fast SDHC/SDXC card has to be used. The camera won't accept slower cards and has to be used with "UHS-II"/"U3"/"Class 10" cards.
Besides the XAVC-S format, the camera can record Full HD videos in standard AVCHD format—just like a simple Full HD camcorder. The camera allows high framing rates for recording fast-moving objects: In Full HD mode it can shoot 50/60 frames per second and in 4K mode it will record 24/25/30 frames per second (PAL or NTSC version, Blu-ray compatible videos).
The camera offers all image mode settings so videos can be recorded in P, S, A, and M modes, plus ISO manual setup, although the highest setting allowed is 25,600 (photo mode: ISO 51,200).
In addition, the A6300 allows for use of manual settings to alter saturation, contrast, and sharpness, among others. Sound levels can also be set up manually; a microphone jack allows for use of external sound recording devices.
Comments On Video Quality
The Sony A6300 showed an excellent performance in video mode. In 4K mode it showed very crisp, rich videos that are full of fine details. The ISO 12.233 test chart was reproduced with 1,773 of 2,160 lines per picture height; in Full HD mode the camera reproduced the test chart with 996 of 1,080 lines per picture height.
Color reproduction is very good: The automatic white balance system showed a slight shift into the yellow or green area of the color space, while red colors are really boosted.
The noise results are similar to the results in photo mode: Videos taken with ISO 100 to ISO 3200 settings are clean and very sharp. Higher ISO settings cause some noise artifacts and a little cutback in resolution due to the anti-noise filtering of the image/video processor.
Dynamic range results are very good: The Sony A6300 yields 10.1 f/stops in video mode (ISO 800), which is an excellent result for a video camera.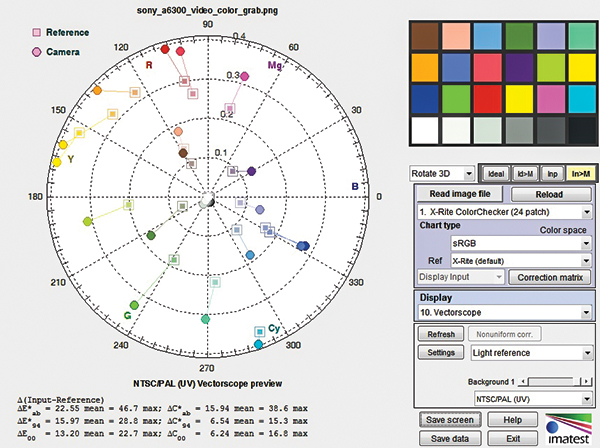 Scoreboard
Pros
› Very fast AF system
› Compact body, easy handling
› Excellent dynamic range
› High-resolution electronic viewfinder
› Integrated flash system
› Integrated Wi-Fi system, including NFC
› Swivel LCD
› 4K video
Cons
› Swivel monitor isn't fully articulated
› Tends to oversaturate colors, which is typical for Sony
The Sony A6300 has a list price of $998 (body only). For more information, visit sony.com.
(Lab Review is where we publish web-exclusive lab reports on cameras. To read more Lab Reviews, click on the Reviews tab on the top navigation bar of this page. New photo gear reports are published frequently, so check Reviews for more equipment evaluations from Shutterbug writers.)
FEATURED VIDEO