Sony's Alpha A900; A Prosumer-Grade, Full-Frame D-SLR With Class-Leading 24.6MP Resolution Page 2
Performance And Quality
During extensive testing, the Sony A900 proved to be fast and reliable. It started up in a 1⁄2 sec, fired a long series of images at 5 fps, and was almost always ready to shoot another burst when I used a 300x UDMA CompactFlash card. Autofocus is fast and accurate with any lens even in dark locations. When shooting FMX motorcycle stunts, autofocus was almost foolproof with a Carl Zeiss ZA 24-70mm lens thanks to its wide f/2.8 aperture and Super Sonic wave Motor (SSM). A Sony 75-300mm f/4.5-5.6 zoom, without an SSM, provided a 60 percent success ratio of sharp photos.
The A900 is the only full-frame sensor camera with a built-in Image Stabilizer and this system provided a two to three shutter speed step benefit in my tests. Bracing the camera or my elbows on a firm support produced even more impressive results, providing some blur-free photos at surprisingly long exposures. (This image was made in Vienna at 1⁄20 sec using ISO 1600 and the Sony 75-300mm zoom at 180mm.)
Auto WB was very effective outdoors while multi-pattern metering was often accurate, although some light-toned scenes required a +2⁄3 compensation level. In the Standard Picture Style mode, at default settings, the A900 produced JPEGs with slightly high contrast and sharpening and moderate color saturation. Naturally, I could easily achieve any desired effect by using raw capture instead (and making modifications in post-processing) or by taking advantage of the many in camera Picture Styles and overrides.

The Dynamic Range Optimizer's (automatic) Advanced mode was useful for lightening shadow areas in high-contrast scenes, without "blowing out" highlights or flattening contrast. This feature works by analyzing the scene and automatically correcting the gamma curve to modify exposure and contrast for a pleasing effect. For the best results when metering for highlights, I strongly recommend selecting Advanced Level 2; that provides plenty of mid-tone and shadow detail without an over-processed effect or a significant increase in the visibility of digital noise. (If shooting in raw capture, use the DRO options provided by Sony's Image Data Converter SR 3 software.)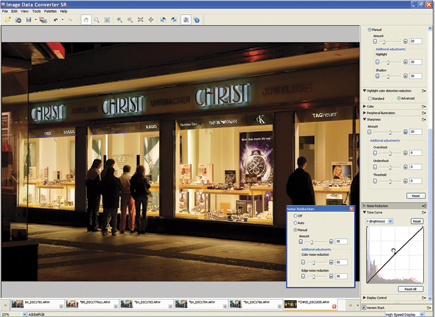 The improved Sony Image Data Converter SR 3 software (for raw captures) is quite fast and very versatile with a wide range of features, including DRO and noise reduction options. Numerous functions are available ranging from surprisingly intuitive to more advanced/complex, making the program suitable for everyone from novice to expert.
Particularly in Extra Fine JPEG or raw capture, image quality is superlative at ISO 100-400, suitable for making gallery-quality 13x19"—and much larger—prints. As you would expect, the ultrahigh resolution provides outstanding definition of texture and the most intricate detail. At ISO 800, digital noise is well controlled (automatically) so the images are smooth and richly detailed, suitable for excellent 11x16.5" prints. (The user-selectable High ISO NR feature is applicable only at ISO 1600 and above.)

At ISO 1600—with the Standard NR level—the images are still quite smooth; a mottled color pattern is visible but there's not much loss of detail. By ISO 3200, more obvious digital noise and a slight loss of saturation and resolution are noticeable, but the images still make for good 8x10" glossies. (ISO 6400 is strictly a problem-solving tool.) A stronger or weaker level of NR can be set, providing a smoother effect (but with more smudging of fine details) or better definition (but a slightly more "grainy" look). For the best results at high ISOs, set Standard NR and a low level for Sharpness; later, use some skillful sharpening in post-processing.

Evaluation: The many focus detection points were useful in action photography but they are all clustered in the central part of the frame. Hence, they're not as useful for focusing on the eyes in a vertical portrait and the camera cannot maintain focus when a small action subject drifts far
off-center. Although the A900 is very fast in most respects, it is a tad slow in displaying images in instant playback, especially while it was still writing previous captures to the card. There is also a bit more noise than I am accustomed to created by the shutter and oversized reflex mirror; this is not the ideal D-SLR for shooting during the vows at a wedding or for nature photography with very skittish subjects.
The Dynamic Range Optimizer provides automatic (Standard or Advanced) options and user-selectable levels (re: intensity) from 1-5. The latter are particularly useful, allowing the photographer to produce the desired increase in mid-tone and shadow detail for any situation under contrasty conditions. (These JPEGs were made handheld in Budapest, using Manual mode at f/4.5 and 1⁄40 sec with ISO 800, to illustrate the effect provided by each DRO option.)
At our press time, the A900 was the resolution leader (in 35mm-size D-SLRs), a benefit for those who frequently want oversized prints or need to satisfy critical photo buyers. For the optimal image quality however (particularly at the edges), it's important to use the best available lenses; that's true with any camera with a 24x36mm sensor. Remember, too, that this 24.6-megapixel Sony D-SLR also produces massive (69MB) image files, calling for a fast computer with lots of RAM for processing and a great deal of storage space.
Final Assessment
Considering the price ($5000 less than the 24.5-megapixel Nikon D3X), the Sony A900 offers excellent value in terms of resolution, versatility, and speed (for a 24.6-megapixel model) as well as the benefits provided by the stabilizer, Intelligent Preview, and full-frame sensor. This camera is not lacking a single important feature and it's particularly competent in terms of autofocus and off-camera flash photography. In my estimation, the A900 will meet the needs of virtually any photo enthusiast as well as some professional photographers. Even so, it's relatively uncomplicated and very convenient to operate.

In preparation for the release of the A900, Sony expanded its line of multi-platform lenses. The latest models include the Carl Zeiss ZA 24-70mm f/2.8 and 16-35mm f/2.8 zooms plus the Sony 70-400mm f/4-5.6 G lens, all with the fast/silent ultrasonic SSM focus motor. The company already offered a wide range of accessories, including the full-featured HVL-F58AM flash unit with a unique swiveling head that's ideal for shooting vertical photos with on-camera flash. If you're in the market for a full-featured camera, or for an entirely new D-SLR system, be sure to check out the options provided by Sony while comparison shopping.
Technical Specifications
Image Sensor: CMOS 24.6-megapixel chip (6048x4032)
Sensitivity: ISO 100-6400
Anti-Shake System: Built-in sensor-shift mechanism; also provides sensor dust removal through vibration
Shutter Speeds: 30 seconds to 1/8000 sec plus Bulb; top flash sync speed 1/250 sec or 1/200 sec when stabilizer is on
Drive: Single frame and Continuous at up to 5 fps; self-timer
Exposure Metering: Center-weighted, spot, and 40-segment (evaluative) metering; exposure and flash exposure compensation; AE Lock and AE Bracketing for ambient light and/or flash
Image Adjustments: 13 Style modes; Adobe or sRGB color space; Contrast, Saturation, Sharpness, and Brightness parameter adjustments; High ISO and Long Exposure NR; Standard and Advanced DRO with selectable levels plus DRO Bracketing
Dimensions/Weight: 6.2x4.6x3.2"; 2.07 lbs
Street Price: $3000, body only
For more information, contact Sony Electronics Inc., 16530 Via Esprillo, Ste. MZ 7104, San Diego, CA 92127; (877) 865-7669; www.sonystyle.com.

A long-time "Shutterbug" contributor, stock photographer Peter K. Burian (www.peterkburian.com) is the author of several books, including "Mastering Digital Photography and Imaging" as well as a series of "Magic Lantern Guides" for Sony and Pentax D-SLRs. He is also a digital photography course instructor with BetterPhoto.com.

LATEST VIDEO