Sigma 100-400mm f/5-6.3 DG DN OS Contemporary Lens (for Mirrorless) Review
When Sigma decided to extend its esteemed Contemporary line of broad-spectrum lenses to include a full-frame 100-400mm long-range telephoto zoom, they handed their optical engineers a tough assignment: come up with a really long 4x zoom that delivers outstanding imaging performance and enhanced shooting flexibility in a compact, well-balanced, lightweight package optimized for handheld shooting. In other words, they wanted a lens that would expand the long tele zoom market by appealing to travelers, nature, wildlife, and street photographers, hikers, sports shooters and others daunted by the prospect of toting and hefting a ponderous telephoto zoom lens.
The first fruit of their efforts was the (still current) Sigma 100-400mm f/5-6.3 DG OS HSM Contemporary Lens, a 21-element, 15-group design released in 2017 in Canon EF, Nikon F, and Sigma SA mounts. (We gave a glowing review to the original Sigma 100-400 lens back in 2017.)
The latest iteration of this "new classic" telephoto zoom is the Sigma 100-400mm f/5-6.3 DG DN OS Contemporary, which is specifically designed for mirrorless cameras. Just released in L-mount and Sony E-mount, the Sigma 100-400mm f/5-6.3 DG DN OS Contemporary lens for mirrorless cameras is based on a new, more advanced 22-element, 16-group optical formula that adds one F Low Dispersion (FLD) element to reduce chromatic aberrations even further, and now employs a stepping motor for quicker more decisive AF. We put the L-mount version of the new-for 2020 lens through its paces on the ultra-compact full frame Sigma fp for this Sigma 100-400mm f/5-6.3 lens review.
Build & Features
To give you a clearer idea of what Sigma's engineers achieved with this new lens, let's compare the physical dimensions of the Sigma 100-400mm f/5-6.3 DG DN OS Contemporary with two worthy competitors, both premium priced optics covering the same focal length range and 1/3 of a stop faster than the Sigma. The high-end Canon EF 100-400mm f/4.5-5.6L II USM is 3.7 inches in diameter, 7.6 inches long (minimum length), and weighs in at a hefty 3.61 pounds. The Sony FE 100-400mm f/4.5-5.6 GM OSS measures 3.7 inches in diameter, 8.1 inches long, and weighs in at more manageable 3.1 pounds.
In comparison, the new Sigma 100-400mm lens measures a comparable 3.39 inches in diameter and 7.76 inches in length, but it weighs in at only 2.5 pounds, or 44.4% less than the Canon. While the Sigma lens employs a combination of metal and polycarbonate components in the barrel to save weight, the overall construction of this lens is robust and feels very solid. The Sigma 100-400mm's precision brass lens mount incorporates a rubber gasket to prevent the entry of dust and moisture, although it's not completely weather sealed like Sigma's Sport lenses.

The Sigma 100-400mm L-mount test lens, also available in Sony E-mount, covers the full frame for all compatible mirrorless cameras and can also be used on APS-C-format models where it provides a 150-600mm-equivalent focal length range. The lens' upgraded optical design incorporates one low dispersion fluorite equivalent (FLD) element plus four Special Low Dispersion (SLD) elements to significantly reduce chromatic aberrations and color fringing over the entire zoom range, yielding images with enhanced clarity and color accuracy.
The Sigma 100-400mm's built-in Optical Image Stabilization (OS) system compensates for up to 4 stops of camera shake, enabling sharp handheld images at slower shutter speeds, and it integrates with in-camera sensor-shift image stabilization systems to correct for pitch and yaw as well as vertical and horizontal camera shake. An integrated stepping motor provides noticeably quicker and quieter AF than before, and its performance is further enhanced by a new AF algorithm that delivers smoother focusing performance— especially important in achieving pro caliber video capture.
The new Sigma 100-400mm focuses down to 3.7 feet at 100mm and 5.2 feet at 400mm for compelling close-ups, providing a maximum near macro magnification of 1:4.1 (0.24x) at 400mm. Other features: an integrated, programmable AFL button that can be used to lock focus or access a range of shooting settings on select camera bodies, a focus limiter switch for enhancing AF speed, a zoom lock (at 100mm) to prevent accidental barrel extension when carrying the lens, and a rounded 9-bladed diaphragm that contributes to its attractive natural bokeh.
The Sigma 100-400mm lens is compatible with the optional Sigma TS-111 Tripod Socket attachment, matched Sigma TC-1411 (1.4x) andTC-2011 (2x) teleconverters, and the Sigma UD-11 USB Dock for fine-tuning performance parameters and updating firmware. Note: Sigma does not currently offer matched teleconverters for the Sony E-mount version of this lens.
Performance
Perhaps the most attractive feature of this long Sigma 100-400mm zoom is the effortless way it balances and handles on virtually any camera when shooting handheld. It's a perfect match for the compact, lightweight (under 15-ounce) Sigma fp we used to shoot all the display images for this review, and it felt equally at home on a borrowed medium-sized 29.5-ounce Leica SL2.
Part of the reason for this excellent performance from the Sigma 100-400mm is good mass centralization, which makes the lens feel lighter than it actually is, and easier to move around when tracking active subjects. Thanks to the judicious use of lightweight components its excellent balance is maintained even when the barrel extends 3 inches as you zoom from 100mm to 400mm.
The rubberized zoom ring located toward the front of the barrel is a mammoth 1-7/8-inches wide, has a comfortable, easy to grasp ribbed pattern, a smooth well-damped action that holds settings well, and it takes the lens from 100mm to 400mm in a counterclockwise turn of about 120 degrees, a good compromise between manual zooming speed and precision.
Focal lengths on the Sigma 100-400mm are legibly engraved on the zoom ring in large white numerals and the index line is located atop the mounted lens making it easy to check or set the focal length in use. A small locking switch to the left of the 100mm mark lets you lock the zoom ring only when the lens is set to 100mm, to prevent accidental extension.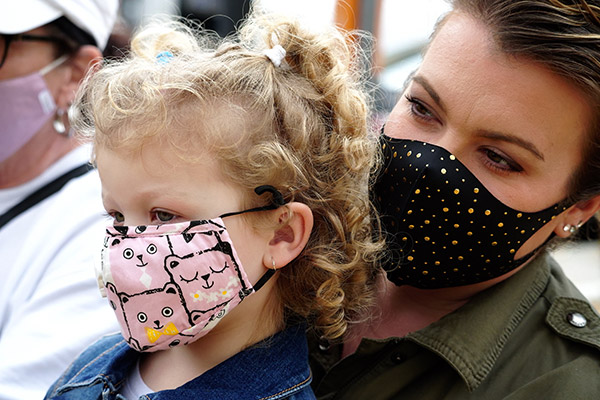 The 3/4-inch-wide ribbed, rubberized manual focus ring toward the rear of the Sigma 100-400mm lens barrel is a little too narrow for our taste but it also has a smooth well-damped action and, when enabled, a 4x magnified focusing patch and basic focusing scale bar are conveniently displayed on the LCD when you start to focus manually.
The remaining lens controls on the Sigma 100-400mm are conveniently clustered in a slightly raised panel that winds up on the left-hand side of the mounted lens, so you have to take the camera down from eyelevel and swing it to the right to change settings. However, since such settings aren't normally changed on the fly it's a minor inconvenience.
At the top of the panel on the Sigma 100-400mm is the AF/MF switch, and just below it is the focus limiter switch that has 2 settings, full range, and minimum distance to 6 meters, the latter providing slightly faster AF with subjects closer than 20 feet. At the bottom is the OS (optical stabilization) switch which has 3 positions, OFF, OS (normal OS for handheld shooting), and 2 (OS when panning or using a tripod).
We found the Sigma 100-400mm's in-lens OS system to be extremely effective in minimizing the effects of camera shake at slower (but still hand-holdable) shutter speeds with both stationary and moving subjects providing we followed the instructions to wait about a second for the image to stabilize before pressing the shutter release. When OS is enabled it overrides the Sigma fp's Digital Image Stabilization function.
Of course, you don't need to look at the Sigma 100-400mm lens' panel to press the round AFL (autofocus lock) button, which can be located by feel. It locks in the focus point in use so you can recompose and take the shot. On some L-mount cameras you can also program the AFL button to immediately access other menu options, a very useful feature.
Image Quality & Sharpness
The other commendable characteristic of the Sigma 100-400mm lens is its extraordinary versatility. Despite its modest maximum aperture range of f/5-6.3 it provides a bright, clear viewing/focusing image on the LCD even indoors in relatively dim light thanks to the "auto gain" feature found in today's mirrorless cameras.
And thanks to the exemplary high ISO performance of the full-frame 24.6MP BSI Bayer CMOS sensor in the Sigma fp, we were able to shoot indoors at sensitivity settings up to ISO 16000 and beyond and still achieve crisp, detailed, hi-res images with saturated colors that were virtually devoid of telltale artifacts.
Even images shot wide open with the Sigma 100-400mm lens show outstanding sharpness in the center of the field with relatively little falloff in the corners and hardly any discernible color fringing. And by stopping down to f/8 or f/9 the lens delivers exceptional sharpness across the entire field along with vivid, accurate color even under challenging lighting conditions.
We noticed a touch of flare in only one twilight street shot taken at 400mm against the light. We probably could have eliminated it if we had mounted the large ultra-lightweight lens shade that comes with the lens, adds about 2-1/2 inches in length, and reverse mounts for easy storage and protection.
All the display images accompanying this review were shot in A (aperture priority) mode and the majority were taken using Single Shot drive and Spot AF settings, with the AF frame placed in the center of the frame or moved off center to match the location of the main subject. When using C (continuous) drive for moving subjects we found that multipattern AF worked best in achieving rapid and consistent focusing performance and we invariably turned on the OS function and focus confirmation chirp.
The camera focused with alacrity and precision well over 95% of the time and chirped a fraction of a second after we partially depressed the shutter release. In rare cases it took a few tries to lock focus on a low contrast subject with little or no fine detail, and the red AF square blinked when we tried to focus on a subject that was closer than the minimum focus distance, until we backed off a bit, at which point focus was readily achieved. While the overall AF performance of the Sigma 100-400mm lens was outstanding in terms of speed and accuracy, the advanced contrast-based AF system in the Sigma fp deserves some of the credit.
Would the AF performance of the Sony E-mount version of this Sigma 100-400mm lens work better with challenging subjects on, say, the high-end Sony Alpha A7R IV, which has a hybrid AF system with 567 phase-detection and 425 contrast-detection points? Only further testing will tell.
We were also very impressed with the superb close-up performance of the Sigma 100-400mm lens which allowed us to capture a number of crisply detailed close-up portraits even under difficult lighting conditions. While not a true macro lens, its ability to deliver superlative image quality down to 1:4.1 magnification at 400mm vastly enhances its versatility as an all-in-one super-tele lens able to cover a wide variety of shooting applications.
Also uncommon for a lens of this type is its pleasing bokeh and beautiful natural rendition that's especially noticeable in close-ups having limited depth of field but is also observable in mid-range and long-distance shots. All this is aided immeasurably by its quick, quiet autofocus and its highly effective OS optical image stabilization system.
Conclusion
When you consider Sigma 100-400mm f/5-6.3 DG OS HSM Contemporary lens' superior build quality, uncommon versatility, exceptional imaging performance, superb handling, built in 4-stop OS system, enhanced close-up capability, and excellent AF system there's a lot to like about this lens, and its downsides are minimal. But for many potential buyers the clincher is the price. At a street price of $949, it's a lot of lens for the money. And even though the older version in Nikon/Canon/Sigma SLR mount is currently selling for $200 less, the new mirrorless camera version is a better lens, and well worth the difference.
FEATURED VIDEO