Shutterbug's Exclusive photokina Coverage; Portable Storage & Digital Frames: Securing And Viewing Images
Digital photo frames at photokina were riding the tide of increasing popularity, with wireless technological support in the driver's seat. Manufacturers are trying to make them more utilitarian, so these digital frames don't just sit there when not in use. Whatever you say about them, they're always fashionable, competing with traditional frames for attention, and they make a nice addition to any home. Perhaps photokina is not the venue for back-up storage devices, as many there were similar to what we featured in our PMA 2008 report.
MemoryKick MediaCenter HDD
Portable & Back-Up Storage
MemoryKick came up with an original idea: make portable storage fashionable. The MediaCenter HDD is a portable storage/viewer that comes in several flavors, among them orange, red, blue, and green. Available in 30, 60, and 120GB ($399) capacities, the device boasts a built-in card reader (CF, SD, SDHC, MMC, xD, MS) and compact size, easily fitting in your hand. There is also a direct-connect USB OTG (On-The-Go) capability. You can listen to MP3 music or view images, slide shows, and videos on the 2.2" screen on a device weighing around 6 oz. Comes with an internal rechargeable lithium ion battery.
Sanho HyperDrive COLORSPACE UDMA
The Sanho HyperDrive COLORSPACE UDMA and JOBO GIGA Vu SONIC (80GB/$299) are virtually identical twins—at least on the surface, with a 3.2" QVGA color display. On the inside, the differences are noteworthy. The biggest difference I can discern is that the Sanho version also comes in a 500GB capacity, which, frankly, is mind-blowing for this type of device. The JOBO's maximum capacity is 250GB, while both start at 80GB. Given that both read raw files and that even the menu screens are alike, one has to assume they use the same embedded software. Data transfer rates are also identical, with verification. While both devices support USB OTG, the Sanho version uses a longer-life rechargeable battery. Regardless of who is actually designing and manufacturing these products, they do boast considerable memory card support: CF, SD, SDHC, the various iterations of Memory Stick, and more. Interestingly, only the Sanho product supports the various xD cards, whereas the JOBO GIGA Vu SONIC does not (at least directly). For direct xD support from JOBO, you'll have to turn to JOBO's other new product—a slightly smaller, vanilla version (also reminiscent of an earlier Sanho product), the GIGA One SONIC, in 80 ($149), 120, 160, and 200GB models. This one features a much smaller 1.8" monochrome screen—strictly for card downloads on the go.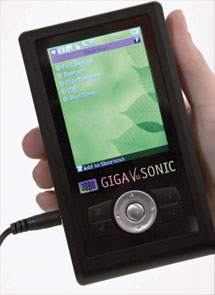 Verbatim's PhotoSave DVDs feature integrated software that launches automatically when the disc is inserted into a DVD-R drive, or you can control the process manually to search and burn images from a digital camera connected to a PC. Each DVD can store up to 2000 photos. In the Manual mode, users can continue to add photo files until the disc is full. Multi-disc spanning support for large file sets is also provided. Prices are $9.99 for the three-pack and $14.99 for the five-pack.
Digital Photo Frames
Aiptek has a digital photo frame of a different caliber entirely—with a built-in camera. The 8" Mona Lisa frame ($199) comes with a 5-megapixel digital camera built-in, thereby letting you digitize old family snapshots. The device even comes with a support to hold the pictures parallel with the plane of the lens. It also comes with 1GB of memory, a lithium ion battery, a power-save function, and support for USB and SD, MMC, and MS Pro cards (notably excluding CF). There are also calendar, clock, and alarm functions, plus a remote control. If you want wireless capability, then consider the 8" Monet Bluetooth. It features an auto slide show with MP3 music and multiple transition effects. More important perhaps, it supports SD, MMC, CF (Type I and II), MS, and MS Pro, plus USB flash drives. Both displays are 16:9 aspect ratio.
Calumet Photographic debuted a new line of supersized frames: 8.4, 10.4, and 15" (respectively, $109, $179, and $279) supporting CF-1, SD/SDHC/MMC, and MS Pro Duo memory cards and USB flash drives. They read MP3 audio files, motion JPEG AVI files, and photos up to 12 megapixels. Each features 1GB internal memory and six-position adjustable stand for optimum viewing angle. Additionally, each offers brightness control, thumbnail view, zoom, pan, rotate, delete, and auto slide show with music background. Comes with AC power adapter, remote control, and USB cable. Optional interchangeable frames ($9.99-$16.99) are available in acrylic and cherry wood finishes.
Calumet digital photo frames
FEATURED VIDEO