Rare Portraits of Native Americans
In his day, Father Ambrose Mattingly ministered to the Native Americans in the northern Great Plains, and had a small photography studio in South Dakota near the mission at Village Stephan. From 1895--1905, this Benedictine monk took pictures of various tribes in his studio and at several South Dakota Indian reservations, including Standing Rock, Yankton, Cheyenne River, Lower Brule, and Crow Creek.

Father Mattingly died in 1941, and 377 glass-plate negatives were discovered at the Stephan Mission in 1971 by another Benedictine monk, Father Stanislaus Maudlin from the Blue Cloud Abbey in Marvin, South Dakota. "As Mattingly got older, he stored these photos away in boxes and they began to deteriorate," explains Father Maudlin. "After I got them from the mission, I stored them at Blue Cloud Abbey."
A native American man poses proudly in Father Mattingly's studio in Stephan, South Dakota.
A Bit of America Discovered
The glass-plate negatives--many of which have now been painstakingly restored, scanned and printed by the U.S. Geological Survey--reveal an intriguing bit of history: A gathering of Yankton Sioux Chiefs waiting to speak to government officials, a medicine man, a warrior in traditional dress, and a dancer in traditional Lakota attire are among the photographs that depict the lives of these Native Americans in the northern Great Plains. According to one photo caption, Father Mattingly often used the entrance to the post office at Stephan as a backdrop, "due to its favorable natural lighting." Father Maudlin says, "On account of limited lighting options in those days, most of these photos were taken outdoors. If they were taken indoors in his studio, he used flash with black gunpowder."
Below are just a few of the fascinating images discovered at Blue Cloud Abbey:
A native American child poses for the camera.
"About 50--60 of these images have been restored so far and put on display," says Father Maudlin. Last February, they were shown at the Russell Senate Office Building in Washington, D.C. Father Maudlin himself was on hand to make opening remarks at the reception, and imparted much valuable history to the attendees. In June, the display went to the museum at the Department of the Interior in Washington.
A woman on her porch, posing in her best dress.
In 1973, Father Maudlin contacted the Eastman Kodak Company to inquire about restoring the images, but they told him that the glass-plate negatives had deteriorated beyond restoration. Then, in the summer of 2002, the USGS began searching for historical photographs to commemorate the 200th anniversary of the Lewis & Clark expedition. Thus Gene Napier--Native American Liaison for USGS--sent John Hirshman, a graduate student from the University of South Dakota, to inquire about artifacts from Blue Cloud Abbey. Father Stanislaus told him about the "very old negatives in the basement."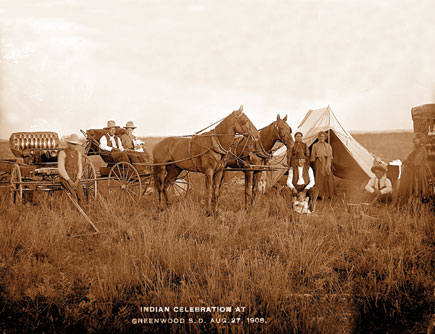 A native American celebration in August, 1909, on the Yankton Reservation in South Dakota.
Hirshman looked at the badly damaged images with interest and brought them back to USGS. Although these photos were taken during a later time period than Lewis & Clark's explorations, USGS felt that the images provided valuable insight into the cultures and landscapes that the Expedition encountered. They also offered some historical insight to the tribes.

LATEST VIDEO