Pro's Choice: Nels Akerlund's Weddings: On The Job With An All-Around Pro
"My dad won a Nikon FM at a company-sponsored event when I was 12, and, the moment he handed the camera over to me, it was love at first sight," Nels Akerlund recalls. Six months later, he'd built a darkroom in his basement and that love affair with photography has not abated. It carried him through the Rochester Institute of Technology, an internship with a White House photographer in the Reagan administration, and assignments for the National Geographic Society, The New York Times, and photo shoots worldwide. He shares this passion with his wife Anna, who is also his business partner and fellow shooter. Aside from weddings, Akerlund shoots architecture, food, small products, and of course portraits in his studio and on location. He and his wife operate a spacious, two-story, 2000-square-foot studio behind their home in Rockford, Illinois.
Reception Hall, Dominican Republic
Akerlund enjoys shooting away from the studio for the engagement portrait, however, feeling that a fresh environment adds a certain vitality to the shot. Weddings especially give him an opportunity not only to get out of the studio but also to travel to some exotic destinations, such as Mexico, Hawaii, and the Caribbean. (For more on Akerlund's wedding work, visit www.nelsakerlundweddings.com.)
Akerlund made the switch to digital within the last 10 years, and with the advent of the first Canon full-frame camera (providing the needed real estate for cropping) he adopted the Canon EOS system. "Currently, I'm working with the Canon 5D Mark II and 7D," with the new 1D X on order. He has also worked with the 1Ds Mark III.
Bride Riding A Horse
Bride In Doorway, Dominican Republic
"I try to crop in camera as much as possible, but every situation is different," Akerlund notes. "In the wedding industry, you need a little wiggle room in your crops, so you can print different sizes." The most popular display print sizes range from 5x7 to 11x14, while 8x10 remains the most popular. Occasionally he sees requests for 16x20 prints and 30x40 canvases. Akerlund used to do the printing, but he found it's more efficient to work with an online print service, www.collages.net, for albums as well. "We leave the framing to the client, because over the years we've learned: do what you do best, which is photography." Retouching and compositing are performed at the studio.
On The Job Gear
He shoots with two cameras at each wedding. On one body he keeps a Canon 24-105mm IS lens; on the second, a Canon 70-200mm f/2.8 IS II. He manages both with the aid of a BlackRapid dual-camera strap (www.blackrapid.com), which lets him carry the two cameras on opposite sides of his body, with all the weight supported by his shoulders. "It's been a lifesaver for me." His wife mainly uses a 24-105mm with her EOS, switching lenses as needed. Other lenses include a 16-35mm, 100mm macro, 400mm, 17mm TS, and 24mm TS, along with his 50mm and 85mm f/1.2 optics.
All capture is in Raw.
"We spend an enormous amount of time tweaking our gear and the layout of the gear in the carrying cases so that we are ready to roll." Akerlund carries backup camera bodies and other essential gear, because, as he points out, you can't reshoot a wedding—especially far from home. And to keep everything organized, he employs a large Tamrac roller. He also brings a Pelican case full of gear, which he usually leaves in the car. Stands and tripods also make the list.
Spring Bride In The Park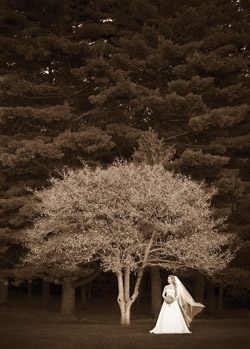 Bride In Cave, Hawaii
Runaway Bride On Chopper
Available Light And Flash
The lighting is tailored to each setting. Available light plays a key role, but so does the Canon 580EX II, powered by external Canon battery packs. "A big game changer for us in the last couple of years has been RadioPoppers (www.radiopopper.com), allowing us to control the light output from the camera," Akerlund remarks. "We use the RadioPopper in eTTL, manual, and high-speed sync modes, switching modes as the situation demands." Akerlund also switches camera shooting modes on the fly, going from shutter priority to manual and back again.
"Occasionally—and it depends what we're shooting—I'll have a couple of softboxes assembled and ready to go. I keep them in the car." These are Calumet and Westcott, as are the umbrellas (primarily shoot-through, but also silver) which he also carries.
"You've got to move fast at a wedding so it's important to have your gear really dialed in. Sometimes, if an umbrella is not working for the shot, I'll shoot through a Lastolite diffuser (www.lastolite.com) to get that same quality—it folds up quickly."
Akerlund supplements that lighting with yet another, somewhat unusual light: a Brinkmann MaxFire Dual Xenon Rechargeable Spotlight. "I'll use these flashlights if I don't have time to deal with the flashes and I want to gently introduce a little more ambient-quality light into a scene." And he adds, "It's great also to have at the end of the night, when checking that you have all your gear."
Bride And Horse, Orchard Ridge Farms (Rockton, IL)
Bride On Chair, Dominican Republic
Keeping Pace
"Depending on where I'm at during the day, I'll do rapid sequences. For example, with the bride and her father coming down the aisle, because it's a very important part of the day and it happens so quickly. So I need to make sure that I'm getting all that."
This sequence could be shot by available light or flash. "If I use flash, I'm well aware that I need to reduce my power to get the required recycling times. There's not one recipe that we use for every single wedding. Churches may be very bright and airy, or they may be gothic and almost gloomy. One thing: we always go to the rehearsal. That's a very important part for us, so we know what we're getting into. And we know what kind of lighting we're going to need for game day."
Akerlund also noted one special bridal shoot. "Occasionally the bride will want to do a 'trash the dress' session. That's usually for our destination wedding clients. The day after the wedding, the bride will wear a second (usually less expensive) dress in which she could be seen walking or running along the water's edge at a beach resort or even taking a dip in the ocean. We've shot these at weddings in Mexico, the Dominican Republic, and Hawaii."
When shooting outdoors, Akerlund will employ available light, flash, and Lastolite collapsible reflectors as necessary, showing a marked preference for mixing his light sources. Doesn't that mix of lighting wreak havoc with color balance? "Usually we shoot in AWB, but I have tons of filters that I use throughout the day. Mainly at the reception, we'll use CTO (warming) gels to color balance on the flash so that we can match the white balance to the ambient setting. But sometimes I like to leave it alone, as a mix of the warmer background with what appears to be a cooler, key strobe light."
FEATURED VIDEO