Pro's Choice: Brian Bailey Enjoys The Challenge: "Whatever It Takes" Could Be His Motto
"I don't have a favorite location. I just like the challenge of where I go and what I'm presented with on any given assignment," advertising photographer Brian Bailey declares. One assignment lasting 10 days took Bailey to the Galapagos Islands, for a sunglasses company. But many assignments involve anything but sun-drenched conditions. In fact, the road to this point was a rocky one—of sorts…
Rock Climber To Photographer
"I was a rock climbing enthusiast in the mid-80s. I spent a couple of summers living in my VW bus in Yosemite and just stumbled on to photography and started photographing rock climbing. One thing led to another." That set the stage. "I still do a little rock climbing, when an assignment calls for it."
Based in Aspen, Colorado, Bailey specializes in action, people, and lifestyle. He started with Nikon gear but switched to Canon some years later and became a firm Canon user when he went digital. While he owns most of the equipment he uses, which includes a Canon EOS 5D-series body, Bailey will rent a Canon EOS-1D X for available light shoots requiring fast bursts.
Medium Format Choice
The D-SLR, however, is not his mainstay camera. Bailey takes a Hasselblad with a Phase One IQ140 back on most shoots, even on the slopes. He values the higher sync speeds that the Hasselblad can deliver and for one very good reason: Bailey shoots many of his outdoor assignments with studio strobe, practically disregarding the terrain. "I'm very meticulous about sharpness, because I guarantee that at 1/250 second, you'll get motion blur when a skier is coming at you. Also, I see things differently using medium format. More to the point, it's just comfortable for me." The lenses he favors for his Hasselblads include 35mm, 50mm, and 80mm. With the Canon, he tends to favor the wider focal lengths—such as 16-35mm. "The 70-200 f/2.8 IS is a workhorse, but not my go-to lens."
He most often shoots with the camera tethered to a Mac. But he'll also furnish the client and art director with iPads so they can get a live view of the shoot when the situation proves too precarious for them. And much of his work involves the camera on a Gitzo tripod with a Bogen pan-and-tilt head, especially for the medium format, for the simple reason that this allows him to lock down the camera should he later need to composite the shot when foreground/subject and background exposures don't mesh in a single frame.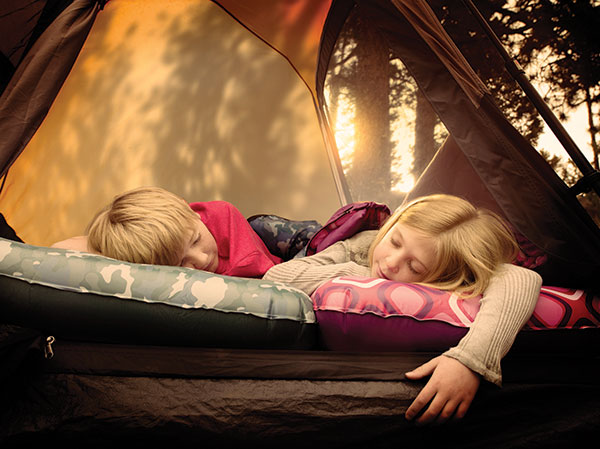 Studio Strobe…In The Snow
"I have to own a fair amount of lighting equipment where I live, because I don't have ready access to rental houses." Bailey lights almost exclusively with Profoto Pro-7b on location. "I usually take at least three 7b packs and heads on outdoor assignments." When the job requires him to be in the studio, he turns to the Pro-7a.
To shape the light, Bailey prefers an Elinchrom 6-foot Octabank, but also uses a Profoto beauty dish with a grid and Chimera strip lights. He will also employ 8x8-foot silks for the middle of the day, set into a Matthews frame or a Scrim Jim.
Getting Around
Bailey hires a location scout to recommend locations he may not be familiar with, but he always arrives a day or two early with his assistant to tech-scout the area. While he flies outside the state, in Colorado he drives his minivan to a shoot site. Hauling equipment from the vehicle, when distances exceed 100 yards on foot, often involves Lowepro backpacks for both camera and lighting gear. Otherwise, he'll stow gear in hard cases.
"I'm a snowboarder, so that's how I get around in snow country. When we're doing any ski-related shoot, my assistant and I are on snowboards and skis, respectively, but we also use snowcats. Usually the 'cat' will take us up to where we set up our base camp, and we ski or snowboard from there. Sometimes the cat delivers us to the shoot site directly." Depending on budget and location, Bailey will work with one or more assistants, adding a digital tech where possible to handle the files.
"My crew and I think nothing of carrying lots of gear on assignment, regardless of the conditions. In blinding snow, we're tethering to the laptop, lighting with Profotos. We face the challenges as they come along. These adverse conditions keep the adrenaline flowing from one shoot to the next and stimulate us to do our best." In fact, "people always talk about the energy in my work."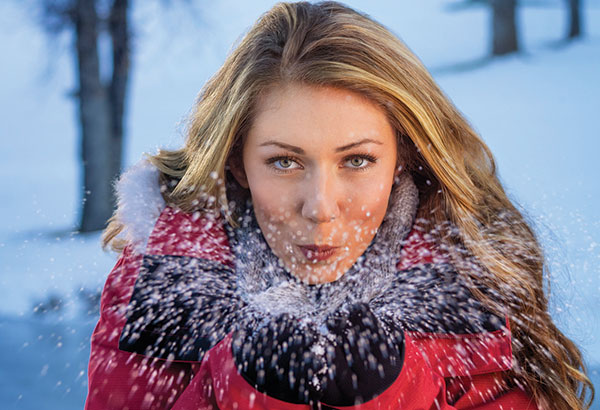 Most Challenging Assignments
When asked about his most challenging assignment, Bailey recalled one from some years back, when he was still shooting film. "My assistant and I were at the top of this climb. I had to send Polaroids down to the art director in a pouch, and we'd communicate via walkie-talkies."
But a more recent assignment also came to mind, this one for Polartec. "We had to shoot a variety of rock climbing images. One shot involved what climbers call a 'big wall.' The challenge there was that I and my assistant had to rappel off the edge of what was at least a 1000-foot wall in Black Canyon National Park in Colorado to photograph other rock climbers 1000 feet off the ground. We had a Profoto 7b that my assistant held while he was hanging at that height. Coupled with that, we needed to communicate with the Art Director (AD), who couldn't be expected to be hanging off ropes, and we couldn't tether the camera to a laptop. So I had to send my memory cards up to the digital tech at the top, who stood by with a monitor to show the client and AD what we're getting."
To see more of Brian Bailey's work, visit www.brianbaileyphotography.com.
FEATURED VIDEO