Air Apparent: Vincent Laforet's Heart-Stopping Night Flights Produce Spectacular Aerial Images
Award-winning photographer and filmmaker/director Vincent Laforet has observed the world from both sides now: on the ground and in the air. And these days, he much prefers shooting from an elevated perspective that is proving both challenging and exciting, with a hint of danger to spice things up. What is that element of danger? Flying thousands of feet up in an open helicopter—at night, no less. Strap yourselves in for a wild ride…
Who Is Vincent Laforet?
The name Vincent Laforet is familiar to many of us for his groundbreaking short film "Reverie" from 2008, which showcased the virtues of the DSLR, specifically the Canon EOS 5D Mark II, as a tool for shooting high-definition movies, not merely still photos. Beyond that, Laforet's bold step into shooting video with a DSLR also reflects what we, as photographers, need to do to stay ahead of the curve, by reinventing ourselves at every opportunity.
This project may have launched his filmmaking career, but Laforet did not stop there. He continues to challenge himself.
Laforet's time as a photojournalist with The New York Times garnered him a Pulitzer. When asked whether he considers himself first and foremost a photojournalist, fine art photographer, commercial photographer, or videographer, he responded: "All of the above, although I haven't done photojournalism in five or six years. Any modern artist, these days, has to be able to multitask and to be multifaceted. The two main ways I describe myself are as a filmmaker and photographer."
Taking To The AIR
"AIR" is what Laforet titles his current project, which is his most ambitious undertaking to date. For this series of images Laforet takes to the air in a helicopter at night, capturing major cities from an unprecedented miles-high perspective.
"I do fine art photography with the AIR series," he explained. "I was pretty much ready to give up on the photography end of my career. This project pulled me back in."
One might imagine that the famous helicopter scene in "Reverie" was the impetus to this venture. Not exactly.
"I got the bug when I was shooting for The New York Times, in the early 2000s, where they regularly sent me up in a helicopter on assignment, and it just became a specialty. So, by the time 'Reverie' happened, I was already somewhat known for my aerial photography."
But actually this craving to capture the world from a fresh perspective dates back almost 30 years. The AIR series began as a magazine assignment that took an odd turn, leading Laforet to post the images online, on a platform called Storehouse.
"The concept originated when I was 13 years old, flying into New York and looking out the aircraft window at the scene below. And I thought, wouldn't it be amazing to photograph that from the air at night? I had to wait 27 years for the technology to catch up." That technology turned out to be the latest Canon EOS cameras, with their ability to shoot virtually noise-free at high ISO levels and at higher and higher resolutions.
Working From A Helicopter
What kind of preparation is involved in a project such as this? "I work with Mike Isler, my first assistant and aerial coordinator, and some of the best pilots and helicopter charter companies. Air traffic control must be notified days in advance when you're flying that high. We're flying above what they call Class Bravo airspace, which is highly unusual for a helicopter and requires a bit of coordination."
The helicopters Laforet mostly relies on are the AStar and Twinstar, "which are some of the best helicopters out there, with plenty of power, and they're perfect in terms of shooting platforms." Depending on the aircraft, Laforet takes the doors off or slides them back. "I'm in a full body harness, as is my assistant, and the gear is harnessed to me. Technically my legs are always outside of the helicopter from takeoff to landing. In rare circumstances, where we need to fly long distances, I close the door and stay inside, and then have to open up the door when it's time to shoot, flopping my legs out over the skids for the entire shoot." They generally take off just before sunset and remain in the air an hour and a half.
"We shoot at altitudes anywhere from 1,500 to 12,000 feet. The higher you go, the scarier it is because you have more time to think about it. It has been scary at times, never because anything has happened. When I was flying over Las Vegas, we had to climb to nearly 12,000 feet with oxygen. We flew up with the doors closed to reach that altitude faster. It's an out-of-body experience to slide open a door in total darkness at that altitude above the desert and swing your legs out and start shooting. You really have to trust that your harness is going to work."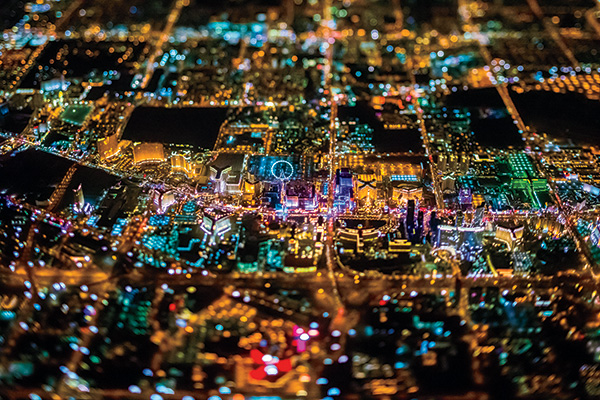 Gear Choices
How much gear does Laforet typically fly with? "Quite a bit," he said. "We bring two to three Pelican cases filled with gear, which includes 10 to 15 lenses, three camera bodies (which include the EOS-1D X and the new 5DS or 5DS R), and two Kenyon gyro stabilizers (www.ken-lab.com). And that's what my first assistant is coordinating in the back (in the passenger section). We use everything from an 8-15mm lens all the way up to a 200mm f/2 (the only image-stabilized lens in the kit).
"We're using the brightest prime lenses available and shooting them wide open, at shutter speeds between 1/125 and 1/160 second, between ISO 1600 and 6400." Keep in mind, he's shooting at night, with the only illumination coming from below, unless there's some moonlight. And he's burning frames in Raw mode at the maximum burst rates that his Canon 1D X and 5D-series DSLRs can deliver. "Because of the vibration, we're hoping to get 80 percent of our shots sharp." All captures are recorded on two 128GB SanDisk cards per camera body. Focusing is entirely manual, in Live View.
What's Next
Laforet has already photographed New York City, Las Vegas, San Francisco, Chicago, and Los Angeles for this project. "I shoot almost every city twice. It's hard to capture the entire city in one flight. It's a very expensive thing to do, but it makes sense."
From here he moves on to Europe and Asia. "I'm really looking forward to Paris—that's where I'm from." In fact, why stop there? One might say that the world is Vincent Laforet's oyster, for him to capture as no one has done before.
The continuation of this epic adventure is being sponsored by G-Tech (www.g-technology.com), known for their professional external storage solutions. There's also a book and set of postcards, available on www.laforetair.com, where you'll find the AIR galleries, videos, and more.
Laforet concluded: "This is a once-in-a-lifetime experience and opportunity. We all have plans for our lives, and life has a way of telling you which direction to follow. This is one of those cases. And I'm incredibly excited to share this project and to discover these cities around the world. I feel that it's an incredible privilege."
FEATURED VIDEO