PortraitPro Body 2 Software Lets You Improve Your Physique Without Going on a Diet!
Just about a year ago we reviewed a fun new software package called PortraitPro Body, designed to add curves to a slender model or make a scrawny teenager look like a weightlifter. And now, parent company Anthropics is back with the updated PortraitPro Body 2, offering a number of new features and enhanced processing speed.
PortraitPro Body 2 is available in two versions: There's a Standard standalone edition for full body retouching, and a Studio edition that works both as a standalone and as a plugin for Adobe Photoshop, Lightroom, and Elements. The Studio version also supports Raw files, conversion between different color spaces, and provides JPEG/TIFF embedded color profile support.
New capabilities in PortraitPro Body 2 include a Warp Fixer for correcting straight lines that were skewed during body-shaping enhancements, and a Lite Mode for quick face retouching when body shaping isn't necessary. The Studio version also includes a non-destructive Smart Filter for editing in Photoshop, enabling you to return to an image and add, remove, or change effects at a later date. And as we mentioned above, PortraitPro Body 2 works its magic much faster than the original version.
The special launch price for the Standard edition of PortraitPro Body 2 is $39.95, while the Studio package is $59.95. You can download a free trial version or purchase the retouching software on the company's website. Either version will let you slim down in a hurry, without a New Year's resolution to go on a diet.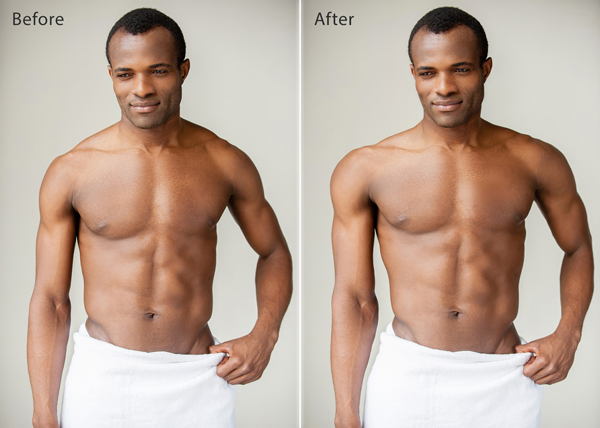 PortraitPro Body 2 offers a variety of powerful but easy-to-execute capabilities from skin retouching, body reshaping, facial editing controls, and full body editing with the ability to adjust posture and unflattering poses. The interface includes intelligent controls with simple sliders for fine-tuning results.
You can view more sample images read complete details about PortraitPro Body 2 by visiting the company's website. And be sure to read our story from last year, with a full review of version one.