Portable Flash; On-Camera Flash

Argraph introduced several brand-new Sunblitz Digital Lighting Products. The Sunblitz DAF 4500C ETTL is designed to work with Canon digital SLR and film cameras and has a GN (Guide Number) of 135 at ISO 100. The Sunblitz A 6000 Macro Ring Flash provides shadow-free light for medical, industrial, and creative subjects. It has a GN of 40, works with cameras having filter diameters up to 62mm, and has four built-in modeling lamps. The Sunblitz RL1200 is a ringlight with 12 LED lamps that produce constant, pure white light for even lighting of close-up subjects. It has a lithium rechargeable polymer battery that provides an operating time of 45 minutes of constant shooting, a power remaining indicator, and works on lenses with filter rings up to 62mm.
Sunblitz 4500C ETTL flash (Argraph)
Sunblitz A6000 Macro Ring Flash (Argraph)
Bogen Imaging Inc. has two powerful new Metz handle-mount flash units for digital or film applications. The 76 MZ-5 digital has an ISO 100 GN of 249, multiple shooting modes, a 24-105mm zoom head plus 20mm wide angle diffuser. The large, illuminated dot-matrix LCD display is conveniently located on the control unit that attaches to the camera's hot shoe, so it's much easier to see. The MSRP is $899. The Metz 45 CL-4 digital has a GN of 145, a 28mm wide angle diffuser, six auto working apertures, multiple operational modes, and a secondary flash head for fill. The MSRP is $550.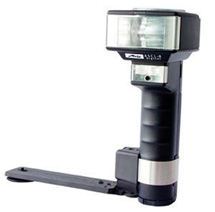 New at the Nikon booth were two new Wireless Close-Up Speedlight Systems, the R1C1 and R1, said to simplify and automate close-up flash photography. Both seamlessly coordinate within Nikon's i-TTL wireless creative lighting system. The larger R1C1 kit, which has an MSRP of $680, includes a Speedlight Commander plus two SB-R200 Wireless Remote Speedlights and an attachment ring. The two small flash heads can be connected to the attachment ring that encircles the camera lens or they can be placed on a stand. Creative close-up lighting can be easily accomplished without exposure calculations and completely wireless. The smaller R1 system ($430) comes without the Commander unit for use with cameras having a built-in Wireless Speedlight.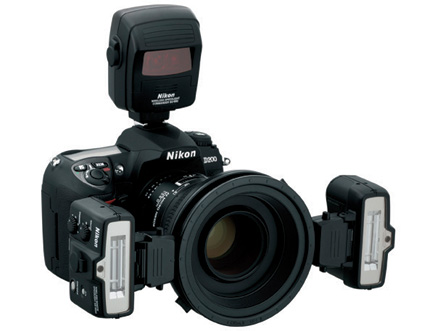 OmegaSatter showed the Phoenix DRLLD Digital Ring Light LED, having 12 daylight-balanced LED lights that surround the camera lens to provide constant illumination for even, shadow-free lighting of any item about 1-9.75" away. It will work with digital or film cameras having a lens with filter diameters up to 62mm. It comes with an AC adapter and a long-lasting slim lithium polymer rechargeable battery, which provides 45 minutes of constant shooting time. The MSRP is $150. The Phoenix DZBIS-112CII digital hot shoe flash is designed to work with Canon digital or film SLR cameras for full dedication with E-TTL I/II program automation. It has a GN of 112 in feet with ISO 100, a zoom head of 28-85mm, bounce-and-swivel capability, and has an IR focus assist beam. The MSRP is $160.

LATEST VIDEO