PMA Show Report; Interchangeable Lenses; Fast And Small, And Macros, Too
This year we've seen many fine lenses come onto the scene, many with new optical elements designed to enhance performance while making the lens lighter and more affordable.

Nikon announced two new lenses aimed primarily at FX-format shooters (but usable with DX format). The AF-S Nikkor 24mm f/1.4G ED ($2199) is a fast lens well suited to low-light landscapes or expansive interiors. The AF-S Nikkor 16-35mm f/4G ED VR ($1259) is the widest Nikon zoom to feature the proprietary VR II image stabilization, which expands the lens' hand holding range by four stops from optimum, and benefits from a constant f/4 aperture.
Nikon AF-S Nikkor 24mm f/1.4G ED
Olympus bolstered their Micro Four Thirds System with the addition of two new lenses: the M.Zuiko Digital ED 9-18mm f/4-5.6 (35mm equivalent 18-36mm) and the M.Zuiko Digital ED 14-150mm f/4-5.6 (35mm equivalent 28-300mm), each said to easily fit in a jacket pocket. Olympus in fact points out that the M.Zuiko 9-18mm is less than half the size (just under 2") and 60 percent of the weight (under 5.4 oz) of the earlier standard Zuiko 9-18mm. Street prices: 9-18mm/$699; 14-150mm/$599.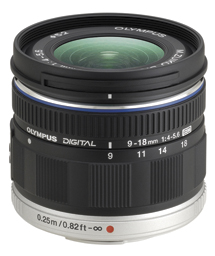 Olympus M.Zuiko Digital ED 9-18mm f/4-5.6
Pentax added the D FA Macro 100mm f/2.8 WR ($849) to the line-up of weather-resistant optics, with improved manual focusing and a rounded diaphragm for smoother background tonal gradations. The lens features SP (Super Protect) surface coating to repel dust, water, grease, and fingerprints. Focusing to life-size (153mm equivalent) at just over 5", it is compatible with the macro adapter included with the Pentax AF160FC dedicated ring flash.
Pentax D FA Macro 100mm f/2.8 WR
Samsung's new NX system appears to be off to a flying start with a total of eight lenses, encompassing wide angles, zooms, and a macro—some with Optical Image Stabilization (OIS): a 30mm f/2 pancake lens; a 20mm f/2.8 wide pancake lens; an 18-55mm f/3.5-5.6 OIS standard zoom; a 50-200mm f/4-5.6 OIS tele-zoom; an 18-55mm f/3.5-5.6 standard zoom; a 20-50mm f/3.5-5.6 compact zoom; an 18-200mm f/3.5-6.3 OIS super zoom; and a 60mm f/2.8 macro.
FEATURED VIDEO