Pixel Previews
The Latest Goodies For The Digital Photographer
Mitsubishi makes large, entirely flat screen, high quality monitor performance available in their lower priced 19 and 22" Plus CRT models.
The merger of AOL and Time-Warner sets a precedent that this first year of the new millennium will continue the acceleration of change. Trade shows like MacWorld in San Francisco and the Consumer Electronics Show in Las Vegas added to a picture of a very different future with new products that would have been unimaginable only a few years ago.

The word convergence has been associated with digital discussions for some time, and is being used with renewed significance. One example of the convergence of functions digital makes possible is a newly announced digital still camera, USB PC camera. It is combined with a MP3 music player, and voice recorder all rolled into a palm-sized package. This four function PDA (Personal Digital Appliance) runs on two AA batteries, and has a Compact Plus slot which supports the IBM 320MB MicroDrive, capable of storing more than 5000 pictures or five hours of music. It has the standard web 640x480 still photo resolution, and the camera features an optical viewfinder and built-in flash. Connected to a personal computer, this new PDA device outputs NTSC or PAL signals to function like any other PC Video Cam.
The Pretec DC-530 four function Personal Digital Appliance combines still digital photo, PC video cam, MP3 player, and voice recorder in one palm-sized unit.
This new four function PDA is manufactured by Pretec and is designated the DC-530. Pretec is an OEM manufacturer and the DC-530 will be sold in silver or gold as well as the now ubiquitous colored transparent and translucent outer shell. An estimated retail price was not suggested, but for quantity OEM purchases, a price of $99 was quoted. For more information about the DC-530 visit their web site at: www.pretec.com.

Mac G3-4 users have had the very high-speed FireWire connectivity for some time now. A convenient, hot-swap interface that is now a chief feature of the latest Umax scanner, the Power-Look 1100. Besides the speed and convenience advantage of FireWire connectivity this new, under $1000 scanner provides 1200x2400 optical resolution, a high 3.4 dynamic range, as well as 14-bit per RGB channel scanning and 42-bit output. In addition, the scanner has a transparency adapter and the software provides an auto detect frame function with the included film scanning holders, as well as batch scanning. For more information on this latest Umax scanner with FireWire call (800) 562-0311 or visit their web site at: www.umax.com.

Mitsubishi CRT displays have garnered many awards recently for their DiamondTron Flat CRT design. Now two new, more affordable Diamond Plus models, a 22" with 20" viewable area, and a 19" with 18" viewable area expand the line. The DiamondTron Flat CRT is available for an estimated price of $529 for the 91 model and $1049 for the 200 model. This highly desirable Mitsubishi display technology is now accessible to many more users.
Epson brings professional scanning performance to users with distinctly different needs in four different versions of their new model Expression 1600.
The 19" 91 model has a .25-.27mm aperture grill pitch for extremely sharp image display, 30-96KHz horizontal scanning range, and a 130MHz video clock frequency. The maximum resolution setting is 1600x1200 at 75 refresh rate for comfortable viewing. The Diamond Plus 200 22" model has a uni-pitch .24mm aperture grille, 30-108KHz horizontal scanning, and also supports 1600x1200 resolution at 85Hz. Both models are Macintosh and PC compatible, including Windows plug-and-play support. For more information call (800) 843-2515 or visit their web site at: www.mitsubishi-display.com.

Epson, after receiving a strong, positive response to their new Perfection 1200 scanner, introduced a new model in the Expression line of flat-bed scanners, a 1600x3200dpi optical resolution successor to the Expression 800. The latest Expression 1600, besides having doubled resolution, is also much faster and offers new performance advantages. One of these favoring photographers is a lens which raises the focus level 2.5mm above the scan surface to accommodate film scanning. The Expression 1600 model line includes four different versions. There now is a Special Edition for both PC and Mac with a low $799 estimated price, with software support limited to the Epson Twain Pro driver. In addition there are Artist, Pro and Pro FireWire models. These all have a software bundle that adds a Network version to Twain Pro, Adobe Photoshop 5.0 LE, Monaco EZ Color 1.5 color management software, NewSoft Presto! PageManager, and Xerox TextBridge Classic OCR software. The Pro version also adds a transparency adapter for film scanning, bringing its price to $1099, and the Expression 1600 Pro FireWire will be $1399. For more information about the Epson Expression 1600 scanners call (800) 463-7766 or visit their web site at: www.epson.com.

Monaco Systems has announced the immediate availability of the 1.5 version of the Monaco EZ Color ICC profiling software. This color management software includes improvements to the profiling functions for greater accuracy and adds a CMYK capability. Monaco EZ Color provides the ability to calibrate a user's computer monitor and write an ICC compliant profile for color management use. In addition the software provides the ability to custom profile scanners and color printers. This assures the user of obtaining the most accurate color matching between input, monitor, and output. It is also essential to obtaining color matching using third party printing papers and inks with contemporary color printers, particularly photo-realistic ink jet models. In addition to the software, Monaco Systems offers their own MonacoSENSOR that connects to the computer and measures the monitor's on-screen output to more accurately calibrate it and write a profile. The Monaco EZ Color software supports the PC Windows and Macintosh platforms, and is available for $299. The MonacoSENSOR is available for an additional $199. For more information visit their web site at: www.monacosys.com.

Hewlett-Packard announced a new HP DeskJet 1220C ink jet printer which has a 13x19" paper capacity for large size photo quality color printing. This new model is the first HP ink jet printer to offer their PhotoREt III enhanced color technology that was recently introduced with the PhotoSmart P1100 and DeskJet 970 Cse models. The new DeskJet 1220C has three paper paths one of which accommodates media weights up to 67 lbs. The 1220C also features low ink warning, automatic print cartridge alignment, and a media sensor to warn if the wrong size paper is loaded for the image size being printed. This new 13x19" ink jet from HP has support for all Windows as well as the Macintosh platforms and has parallel and USB connection capability. The new HP DeskJet 1220C is to be immediately available at an estimated retail price of $499. For more information visit HP's web site at: www.hp.com.

Micron offers a new workstation class PC in its ClientPro Dx5000. It is configured to meet the demands of graphics intensive applications and features the latest Pentium III processors with clock speeds up to 733MHz, and the Intel 840 chipset. This provides support for Rambus memory, a 133MHz front-side bus, AGP Pro graphics, and ATA-66 hard drives. This platform offers the choice of multiple processors and a selection from one of four graphics cards including the ELSA Synergy II 3D, and the Matrox Millennium G400. Prices start at $2499 for a single 533MHz Pentium III, 128MB of RDRAM, 13.6GB hard drive, and a 17" monitor. For more information and configuration choices visit their web site at: www.micronpc.com.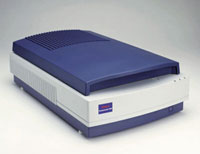 Umax adds fast FireWire connectivity to their newest PowerLook 1100 scanner.
X-Rite, a leader in color measurement equipment and color management software, announced immediate shipment of their next generation Colortron IIC. An all-in-one solution for the measurement and control of color. This newest Colortron is 30 percent faster, has improved reliability and repeatability, and easier to use. It is accompanied by X-Rite's latest 2.6 version of their ColorShop software which includes 12 distinct tools for the measurement and management of color. The complete package has a MSRP of $995. For more information and dealers carrying X-Rite call (616) 534-7663 or visit their web site at: www.xrite.com.

The DigiMarc Corporation, the company that introduced digital watermark copyright protection, has announced a new relationship to enhance their customer access and extend services through Creativepro.com This provides an integration of digital watermarking with a wide range of services designed to support the full spectrum of imaging professionals. This new relationship will make many digital imaging tasks a one-stop effort providing greater efficiency to the imaging professional. In this day of wide spread image distribution through a variety of media, copyright identification and tracking is becoming ever more essential. With Creativepro.com and the DigiMarc Corporation working together it makes its access and implementation more efficient. For more information visit the web site at: www.creativepro.com.

Praxisoft announces Version 1.4 of WiziWYG their most affordable software calibration and color management system. At $79 this highly acclaimed solution to color matching is available for the Macintosh and Windows 98 operating systems. The Version 1.4 improvements include better scanner profiling accuracy through changes in the algorithm, and simplified on-screen picture for judging monitor brightness and contrast for calibration. In addition there is a Deluxe version for Macintosh at $599 which ships with a monitor optimizer measurement device called the WiziWYG Calibrator. The Deluxe software package also includes an application for editing profiles called Tweak It, and ICC AutoFlow Lite. The latter is an application which supports automatic color correction of TIFF, PICT, and JPEG files using ICC profiles. Praxisoft also is a source for all formats of Kodak, Agfa, and Fuji IT-8 reference images in both reflective and transparency with accompanying data files. WiziWYG Deluxe for the Mac also supports many of the standard color measurement hardware devices from Color Savvy, X-Rite, and ColorVision. For more information about Praxisoft WiziWYG and WiziWYG Deluxe for the Mac, visit the web site at: www.wiziwyg.com.
FEATURED VIDEO