PhotoPlus Expo West 2000
Control box for remote control turntable for Astron Systems Orbiculight product table.
PhotoPlus Expo West 2000, held this past June in Los Angeles, suffered, as it does every even-numbered year, from occurring not long after PMA in February, and not long before photokina in September. This means few new introductions, mostly just items announced at PMA now becoming available on dealers' shelves. Nevertheless, there were a few fresh products, so let's take a look.
Astron Systems introduced a remote controlled, rotating turn-table option for their Orbiculight product table system. Great for QuickTime VR projects and other production intensive shoots, it can be programmed to rotate continuously at various speeds, rotate a set number of degrees and pause for a set interval, or be controlled manually. Products up to 50 lbs in weight are accommodated.
Photogenic PowerLight 300DR.
Bromwell Marketing introduced a gold foil-covered "desert" bellows (reflects heat in hot locations) from Walker, made to order for any camera requested. Also from Walker was the Walker XL Ultra-wide 4x5 field camera, made of ABS polymer with stainless steel hardware. A new Flexi Bellows provides swing/tilt for the Silvestri BiCam, a medium format body with rise/fall capability, for film and digital applications.
Century Archival Products introduced two new sizes (4x6" and 11x17") of their archival Century Box print storage boxes. The smaller one is good for standard 4" prints from 35mm, and post cards, while the larger size is tailored to large format ink jet prints.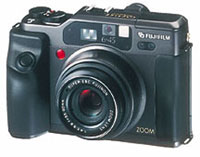 Black titanium version of Fuji's GA645Zi.
Cone Editions Press announced their Piezography BW digital printmaking system for Epson 3000 (and soon-to-be-introduced models) printers. Its Photoshop export plug-in software replaces the standard Epson print driver and offers support for 27 papers, including many fine art types.
Fuji debuted Fujichrome Provia 400F Professional (RHPIII) daylight color reversal film. Incorporating advanced technology developed for Provia 100F, the new film boasts the finest grain ever achieved for a color reversal film of this speed. Designed for low light and fast action, the film features excellent push (three stops) and pull (one stop) E-6 processing compatibility, as well as a high degree of color accuracy and saturation. It also has great low-light reciprocity characteristics with long exposure times. Fuji was also showing the new black titanium version of their GA645Zi camera.
Cone Editions Press Piezography BW digital printmaking system for Epson printers.
The Nikon booth was six-deep with photogs wanting a hands-on with the new D1 digital SLR. Based on the F100 body, and featuring a 2.74 megapixel CCD, the D1 offers 4.5 fps shooting speed, up to 21 frames; ISO 200 to 1600 equivalent; 1/16,000 sec top shutter speed (due to reduced frame size compared to 35mm); 2" LCD monitor; type I/II Compact-Flash card image storage; computer data transfer interface; and compatibility with 80 plus Nikkor lenses.
Phase One announced several new features and upgrades for their LightPhase digital backs for Hasselblad, Mamiya RZ and 645AF, and a new model for the Contax 645: Version 2 software for improved quality and productivity; optional IR filter; solutions for increased wide angle capability; a move-and-stitch adapter that allows 48MB files with a 4x5 camera; and an adapter for 4x5 wide angle lenses.
Photogenic showed their PowerLight 300DR, a monolight that can be powered down to a mere 4 ws (125 ws max), for occasions requiring very low power, such as low-key backgrounds.
SmartDisk Corp. showed the VST Tri-Media Reader, a small desktop USB device with three media slots for floppy disks, SmartMedia, and CompactFlash cards. The cross-platform reader avoids having to buy a separate reader for each medium, and will even read the new IBM MicroDrive.
ToCAD Bare-Bulb Head modification for Sunpak 622 flash.
ToCAD America announced a Bare-Bulb Head modification available to Sunpak 622 Pro or Super flash owners, which adds a (removable) 4.75" pebbled finish, chrome parabolic reflector to the Sunpak Bare-Bulb Head. In Auto or TTL modes, a Sunpak EXT 11 extension cable and standard or dedicated interface module are necessary, due to sensor obstruction by the reflector.
That's it folks; next stop--photokina!
Manufacturers/Distributors

Astron Systems, Inc.
22647 Old Canal Rd.
Yorba Linda, CA 92887
(714) 283-8820
www.astronsys.com

Bromwell Marketing
3 Allegheny Center #111
Pittsburgh, PA 15212
(412) 321-4118
www.bromwell.com

Century Archival Products
8001 Greenpine Rd.
Richmond, VA 23237
(804) 275-9000

Cone Editions Press, Ltd.
Powder Spring Rd.
E. Topsham, VT 05076
(802) 439-5751

Fuji Photo Film USA Inc.
555 Taxter Rd.
Elmsford, NY 10523
(914) 789-8100
www.fujifilm.com

Nikon Inc.
1300 Walt Whitman Rd.
Melville, NY 11747
(516) 547-4200
www.nikonusa.com

Phase One
24 Woodbine Ave.
Northport, NY 11768
(631) 757-0400
www.phaseone.com

Photogenic Professional Lighting
525 McClurg Rd.
Youngstown, OH 44512
(330) 758-6658
www.photogenicpro.com

SmartDisk Corp.
3506 Mercantile Ave.
Naples, FL 34104
(941) 436-2500
www.smartdisk.com

ToCAD America Inc.
300 Webro Rd.
Parsippany, NJ 07054
(973) 428-9800
www.tocad.com
FEATURED VIDEO