Photoflex TritonFlash: A Battery-Powered Strobe Kit
When I first saw the battery-powered Photoflex TritonFlash at a pro show I was impressed as much by its power output and flexibility as its tiny size. Available in a kit that includes one of the company's light banks along with everything—except a light stand—the setup can get you started making portraits in the studio or on location with nary an electrical outlet in sight.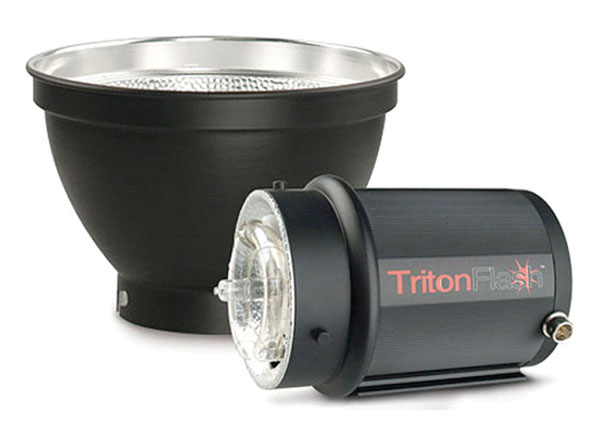 What's New?
The centerpiece of the Photoflex kit is the compact TritonFlash head. Rated at 300 watt seconds, it has a Guide Number of 185 at ISO 100 and 19 different output settings, adjustable in 1/3-stop increments. A variable power knob lets you choose whatever output setting you want, such as a specific aperture. For dance, sports, or scientific applications there's a Fast Power Mode that lets you shoot at up to 7 frames per second—if your camera is capable. An LCD display on the back shows the selected power setting. In the studio, the display was easy to read but, when on location with higher ambient light and when the TritonFlash was raised high on a light stand, it could occasionally be difficult to read.
The 22-oz lithium-ion battery is lighter than older, heavier Ni-MH systems and is capable of delivering 750 flashes at full power from a single charge. To maximize battery life, the TritonFlash's modeling light has a built-in 10-second automatic shutoff, but you can easily reach over and press a button on its back to get another 10 seconds. The battery pack can simultaneously power up to two TritonFlash heads, automatically splitting its output between them. The charger automatically adjusts AC voltages between 100-240v. The battery can be charged while connected to the TritonFlash or can be removed from the battery pack to charge, while the flash uses an optional ($249.95) backup battery. Having a backup battery would be a wise investment for wedding, event, and location shooters and swapping a new battery in the pack takes a matter of seconds.
The kit includes one of Photoflex's extra small (18x18x9") OctoDome light banks, which has a large surface area for its diminutive size and produced natural-looking catchlights. The kit also includes a 7" metal reflector, allowing you to use the TritonFlash with an umbrella. Atop a light stand, the TritonFlash sits on a tripod head-like swivel mount with twist lock handles and easily supports an umbrella or even a larger light bank. The kit includes a charger, battery and extension cables, including a 4-foot battery cable, 10-foot battery extension cable, and power cord.
In The Studio
Setting up the Photoflex kit in my 11x15-foot home studio was a snap. The kit includes a speed ring, which is compatible with the Comet CT-300 system, for mounting the OctoDome on the TritonFlash. Assembling the OctoDome was a relatively simple matter and I recommend that you assemble it with the speed ring off of the TritonFlash head and attach the support rods to the speed ring by working from opposite ends, instead of doing them sequentially one after the other. The process is made easier by the fact that mounting the speed ring, even with light bank installed, is the easiest of any light bank/speed ring/flash combination that I've used. For my tests, I mounted the entire assembly atop an 8-foot Photoflex Medium Weight Black LiteStand ($72.95).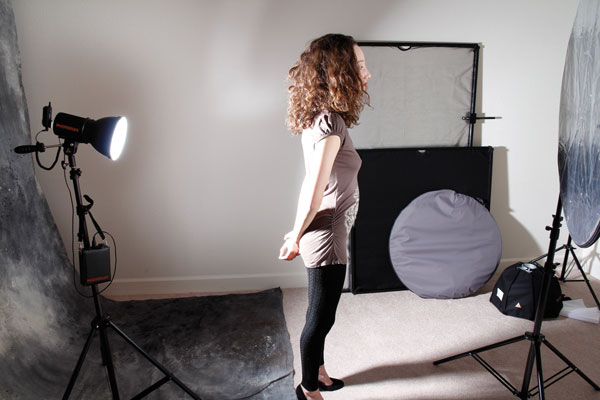 The first lighting setup in my 11x15-foot home studio consisted of placing the TritonFlash with the OctoDome light bank mounted at camera right with a 32" reflector located on the left. A Silverlake Photo "Carbonite" backdrop was hung over a JTL background stand. Although the kit includes a hot shoe sync cable for direct connection to your camera, I dug out an old wireless tripping system for use with this test. With this initial setup, I was able to achieve f/10 at ISO 100 with the TritonFlash set at half power.
Changing out the light bank for a 33" white umbrella (with black cover) was easy after installing the bundled reflector. Even though the TritonFlash is quite small, all of its bits and pieces have been extremely well engineered and manufactured so attaching the reflector, inserting the umbrella, and locking it down went as smoothly—if not smoother—than might be expected. One of the things that I like to do when I only have one light for a test is to use it as a backlight behind the subject and then place a 32" fabric reflector in front of the subject, bouncing light from the flash into their face. (See setup illustration.) As you might imagine, this eats up light and I was quite surprised that even with the TritonFlash set on half power I was able to achieve an exposure of f/10.
On Location
The TritonFlash is ideal for on-location portraiture so I took it out of the studio for a few test shots, shooting in a medium-sized house, shooting in a dining area next to a patio door and using the ambient light as fill. Moving into the living room, I tried a similar approach using the window light as fill but, after a few shots, reversed camera position using the TritonFlash as a backlight for the subject. Moving the light, even with it attached to a light stand and the OctoDome was quite easy and on a wedding shooting in the bride's house, this would be a great light to use both from an ease-of-use point of view and from the quality of the lighting produced.
Recommendations And Conclusions
In all of my testing, I found that the Photoflex TritonFlash Lithium Battery Powered Strobe Kit is indeed a well-thought-out system. While not inexpensive—the kit sells for $1400—all of the components are crafted to a high level of build quality. If the size of your lighting kit is an important consideration and you don't want to worry about having a nearby power source, the Photoflex TritonFlash Lithium Battery Powered Strobe Kit is hard to beat.
For more information and full specs, contact Photoflex at www.photoflex.com.
FEATURED VIDEO