Personal Project; Photographing The Dakar Rally; Challenges Face The Hardy Photographer
I woke up startled—I was about to cross the border into North Korea. I was cramped; it felt like I was stuffed in economy class on a bad airline. It was so bad I could hear the rain pounding away outside. It was pitch black. Worse yet, I did not have my passport with me. What was going to happen to me? As I came to, I realized I was not dreaming anymore.
Robby Gordon, who normally drives in NASCAR, powers past a VW Race Touareg in his Hummer at the instant both competitors cross a railroad track in the middle of nowhere in the Sahara Desert in Mauritania during the 2007 Dakar Rally. Photo captured on a Nikon D200.
© 2007, John Rettie, All Rights Reserved
But, reality wasn't much different. I was crammed inside a VW Touareg in the middle of the night in one of the driest places in the world on the edge of the Sahara Desert. It was raining and I did not have my passport with me.

Just what was I doing at 4 o'clock in the morning in the pouring rain in the Sahara without my passport? It was just another adventure as a photographer covering one of the most challenging auto races in the world—the Dakar Rally.

We were on our sixth day of the 15-day race and we had just driven from Lisbon, Portugal, through Morocco. We were told that in order to cross the disputed border into Mauritania we had to be at the border crossing at daybreak so the soldiers could create an opening in the barbed wire fence to let us pass through. We had arrived the night before to await its opening. The soldiers had taken our passports as collateral to make sure we didn't try and sneak across without permission—as if we would!
American Mark Miller, driving a VW Race Touareg, races across the Atacama Desert in Chile on his way to a second place finish in the 2009 Dakar Rally. Photo captured on a Nikon D3X.
© 2009, John Rettie, All Rights Reserved
At first light they handed back our passports and we proceeded to continue on the barely marked and extremely muddy track. We were warned to stay on course, as there were hundreds of unexploded mines everywhere. I was navigating at the time and we were following two SUVs in front when I realized we were on a track that was petering out. I quickly suggested we turn back and warn the others in the convoy. We did and found the correct track without anyone hitting any land mines. It was all in a day's work.

In another hundred miles or so we were able to get some photos of the competitors as they set off on that day's special stage where they drove as fast as possible along tracks and across dunes to that night's stop at a bivouac. We also had to drive on a slightly shorter and easier course to get to the same bivouac where we could mingle with the competitors as the teams rebuilt broken cars, bikes, and trucks, readying them for the next day's completion. We never saw the leading competitors that day in action but got plenty of "color" photos.
Competitors kick up plenty of dust as they plow through a riverbed in Argentina during the 2009 Dakar Rally. Photo captured on a Nikon D3X.
© 2009, John Rettie, All Rights Reserved
Auto racing photographers who cover the Indy or NASCAR races have it easy as they never have to work in the rain nor drive thousands of miles to get pictures. Nor do they have to put up with dust.

Barely 12 hours after we were soaked in a once-in-a-decade rainstorm, we were back to the usual desert weather—wind, dust, and more dust. It gets in everything and is the bane of everyone. Lens barrels grind to a halt and buttons become sluggish on the best of cameras. It is even worse for the TV crews who have to transmit pictures each evening for live TV shows back in Europe, Russia, and Japan.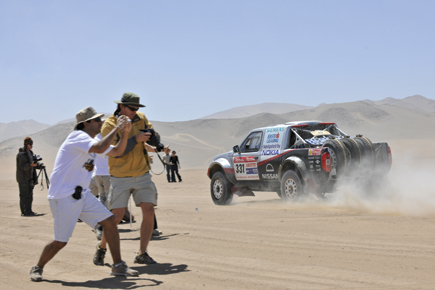 As competitors race across the Atacama Desert in Chile, anyone can get really close to the action. Photo captured on a Nikon D3X.
© 2009, John Rettie, All Rights Reserved
When I first photographed the start of the Paris to Dakar Rally, as it used to be named, back in 1985 I vowed that one day I would cover the whole event from start to finish. It's easier said than done, though, as the organizers charge something like $10,000 for a member of the media to cover the event. Granted that includes all meals in the bivouac each night and the choice of flying in a plane each day from bivouac to bivouac. But if you want to photograph the racers in action you've got to provide your own vehicle that has to be fitted with safety equipment that almost turns it into a race car. It has to be that way as you're covering much of the same off-road terrain as the racers, albeit at slower speeds.

This was how I found myself embedded with the VW team riding in one of three Touaregs for the media in the 2007 edition of the Dakar Rally that ran from Lisbon to Dakar through the western edges of the Sahara Desert.
Racers have to slow down to a compulsory 30 kph as they travel through African villages in Mali, during the 2007 Dakar Rally. Photo captured on a Canon EOS 10D.
© 2007, John Rettie, All Rights Reserved
The beauty of covering an event like this is you're much more than a spectator, as you end up being part of the event along with over 2000 other people. It's challenging getting to locations to see the cars in action. In fact, we did not manage to see them in action until the fourth day of the event. Thank goodness I did not have to file photos each day! Those who did were harried, as they had to get to the bivouac in order to get into the media tent where they hoped they could get Internet access in the wind and dust. Fortunately, the organizers, who incidentally also organize the Tour de France bike race every year, use a satellite uplink for Internet access, but charge an arm and a leg to use it.
FEATURED VIDEO