Pentax ZX-7 Intermediate Level 35mm SLR
The ZX-7 can be as automatic or as manual in its operation as desired. When shooting quickly, I appreciated the subject-specific Programs, "autoexposure compensation" (six-zone meter), autofocus, and auto pop-up flash because they allowed me to concentrate on the subject. (FA 20-35mm f/4 AL; Portrait Program; flash; Fuji Superia 200.)
Photos © Peter K. Burian, 1999
Following the resounding success of the ZX-5N--a high tech autofocus SLR with traditional controls--Pentax has introduced several models with an equally handsome silver and black finish. Most recent is the mid-priced ZX-7, designed for maximum ease and speed of operation. Instead of conventional knobs and rings, or numerous small buttons, the ZX-7 takes a more logical approach. Sporting a "mode selector dial"--a single control used to access 13 camera functions--it accelerates the entire photographic process.
This is a well-equipped model for an affordable SLR as I discovered last fall while shooting various subjects from autumn colors to candid portraits, and the action at a demolition derby and an Oktoberfest parade. Including numerous operating modes and the overrides that photographers expect, the ZX-7 met many of my needs while making images for my stock files.
Physical Attributes. The camera is particularly compact, with a protruding rubberized grip for convenient holding. This is a polycarbonate body, but the lens mount, film guide rails, and pressure plate are made of metal, giving Pentax an edge over some competitors. In order to reduce weight, size, and price, a penta mirror type viewfinder is used, instead of an all glass prism. (This is becoming common in the industry.) Thanks to a new type of focusing screen, the view is surprisingly bright and contrasty.
The large selector dial allows even the novice to begin using this camera without reading the instruction manual. Other manufacturers use a similar control, but this one has an advantage: whenever a Program mode is selected, the pertinent symbol on the dial is illuminated, very useful in low light. Pentax should be congratulated for including this amenity. I hope that subsequent cameras will offer illumination for the other symbols on the dial, too, making their functions easier to select in the dark. Yes, there are a few buttons as well but all are extremely well marked with logical symbols and ideally located. (Apertures are selected with the ring on the lens, but only in Manual mode.) Both data panels provide plenty of useful information and are illuminated in low light.
The wide area autofocus sensor allows for off-center compositions instantly. Since the point in sharpest focus is not indicated by a signal, do check the viewing screen carefully when critical focus is important. (FA* 80-200mm f/2.8ED; AF 500 FTZ flash; f/11 in Aperture Priority AE; Fujichrome Sensia II 100.)
As with many recent SLRs of all brands, two autofocus controls are missing, in order to avoid over-complicating camera operation. There is no switch for selecting a single focus detection sensor as you'll find on the ZX-5N. For critical focus on an essential element--such as the eyes, instead of the nose, in a portrait--manual focus remained useful. (In less demanding situations, I would zoom in on an important subject element and hold the autofocus setting with AF Lock while recomposing.) Pentax does not include a switch for selecting Continuous Autofocus (as found on the PZ-1p) because that mode should be automatically activated when necessary. This is a common omission today but unfortunate. Frankly, all automatic systems are all slow to activate follow focus, so the first few frames of any sequence of a moving subject are often not sharp.
The built-in TTL flash pops up automatically when needed in Program modes, if the flash mode is set to "Auto." In bright light, the head can be manually raised and forced to fire in Program modes--for fill flash. Though not powerful, such heads are fine for fill-in flash with a nearby subject: e.g., to soften shadows cast by a hat. I recommend ISO 400 film with "slow" zoom lenses for an effective "reach" up to 13' at f/5.6 indoors, and far greater outdoors in bright light.
Primary Capabilities. While the Specs lists all ZX-7 features, let's consider the most important of these and their performance in actual photographic situations.
Though not a true "panoramic" effect, the stretch format can be useful for excluding distracting elements in any scene. It's not simply for landscapes and it can be equally useful in vertical compositions. (FA* 80-200mm f/2.8ED; Sports Program; Fuji Superia 200.)
o The seven Program modes make this a camera that anyone can operate. Simply turn it on and rotate the large selector dial to the symbol that represents the subject type. Surprisingly, however, Continuous film advance in Sports Program must be manually selected by pressing a button.
o The [Auto Pict] setting on the dial is used to access an "intelligent" system that automatically selects the most appropriate Program mode for the type of subject encountered. Frankly, the system is not foolproof in its determination process; personal choice of a specific Program offered a more predictable combination of aperture/shutter speed.
o Automatic fill-in flash--balanced with ambient light--is provided in bright conditions with the built-in head or an accessory flash. With slide film, I found the output a bit excessive; if you shoot negative film, the lab can simply print the images slightly darker. Surprisingly, flash will fire even in the Sports and Landscape mode when set for "Auto" operation. In these situations, the small unit is unlikely to be of any value, so set another flash mode. In the Manual and Aperture, or Shutter-Priority AE mode, the head never pops up automatically but can be manually raised and will fire for every exposure, a highly suitable arrangement.
o The only metering option is six-segment "multi-pattern," adequate for a camera of this type. It is surprisingly successful with light-toned subjects and in moderate backlighting, often preventing underexposure, a real benefit with slide film. Overall however, the meter is optimized for color print film, a wise precaution because that is what most ZX-7 owners will shoot. The multi-segment system produced printable negatives in 95 percent of test situations. It tends to slightly overexpose mid-tone scenes, because print film definitely benefits from this strategy: shedding grain and increasing color saturation. In quick shooting with slide film, I found an exposure compensation factor of -0.5 to be useful with scenes of "average" reflectance.
Photographers who frequently shoot sports or other action subjects will prefer the Pentax PZ-1p, but the ZX-7 is suitable for more casual shots of moving subjects. (FA 20-35mm f/4 AL; Sports Program; flash; Fujichrome Sensia II 100.)
Final Evaluation. After shooting 10 rolls of slide film and five of print film, I made the following assessments of the ZX-7:
Overall Operation. Operating noise is moderate--it's quieter than the ZX-5N. The 2 fps film advance is quite adequate and much faster than that of most lens/shutter compact models. The ZX-7 accepts manual focus lenses, too, but without multi-segment metering or Program modes. Even so, anyone who already owns K-mount lenses need not trade his entire arsenal if switching to a Pentax autofocus SLR. With the optional AF Adapter 1.7x (also a tele-converter) some such lenses will even autofocus, though not quickly.
Adequacy Of Features. As expected in a model of this class, there's no multiple exposure capability, reflex mirror lockup, PC cord socket, autoexposure bracketing, custom functions, other metering patterns, or depth of field preview. However, considering the price and the target market, I felt that all of the essentials were included, plus extras like eyepiece diopter correction switch and facility for two types of remote release accessories.
Autofocus. The ZX-7 incorporates a wide area (three point) autofocus system, allowing for slightly off-center compositions instantly; in action photography, there's less risk of "losing" the subject. The system favors accuracy over sheer speed of focus acquisition or tracking of an ultrahigh speed/erratic subject. Still, the overall performance should satisfy those likely to buy a ZX-7 as their primary camera. Do not recompose too quickly after setting AF for a static subject because the ZX-7 may continue shifting focus. And do check the viewing screen carefully as to which section of a subject is in sharpest focus when that is important.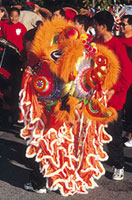 Although the ZX-7 has a full complement of fully automatic Program modes, it also offers overrides and full Manual control. Hence, it is equally useful as an entry-level camera and as a serious SLR for the photographer who prefers to make all the settings. (FA* 80-200mm f/2.8ED; B+W polarizer; Manual mode and focus; f/4 at 1/125 sec; Fujichrome Sensia II 100.)
Flash Photography. A top synch speed of 1/100 sec is not high, but was plenty for all but fast moving subjects on bright days. As all manufacturers caution, redeye cannot always be completely eliminated in dark locations with the pre-flash feature. An accessory flash unit that sits higher above the lens axis is more effective, especially when flash is bounced from a nearby wall or ceiling. As well, the optional Pentax FTZ units offer more power and some additional features, so they are worth considering.
Program Modes. Like most cameras, the ZX-7 emphasizes fast shutter speeds in Program modes to minimize the risk of unsharp pictures in handheld photography. This is logical but creates a problem with ISO 100 film on overcast days. Wide apertures (with minimal depth of field) are usually selected in every Program mode, especially with telephoto lenses. Switch to an ISO 400 film to allow the system to select smaller apertures, as in Landscape Program. Finally, remember that the settings provided by any Program mode may not meet your own creative demands (e.g., in nature close-ups you may prefer f/22 instead of the f/8 selected by the computer). That's why Pentax wisely offers other operating modes, for full user control.
Conclusion. Photographers who have owned only conventional SLRs may prefer the ZX-5N with its more familiar controls and the PZ-1p still offers more capabilities for the advanced enthusiast. Still, the ZX-7 is an ideal entry-level camera that should satisfy its new owner for years. It will also be a suitable backup to a manual focus Pentax for those who appreciate autofocus (with AF lenses) and the high tech capabilities when shooting quickly. The camera is small, lightweight, elegant, a pleasure to operate, responsive, and affordable. This combination should ensure that Pentax has another winner on its hands, keeping this brand competitive in the SLR market.
Technical Specifications
Type: 35mm autofocus SLR with KAF bayonet mount; also accepts KAF2, KA, and K-mount lenses; autofocus possible with KA-and K-mount lenses with AF adapter; does not operate power zoom lenses
Shutter: Electronically controlled vertical run focal plane shutter; 1/2000-30 sec speeds, and Bulb in Manual mode; flash synch at 30 sec to 1/100 sec and Bulb
Focusing System: TTL phase matching three point (wide area) AF; single shot AF with AF Lock and Continuous predictive focus, automatically activated; manual focus with confirmation signal; AF detection range EV -1 to EV 18 (ISO 100 at f/1.4)
Viewfinder: Penta mirror type; 92 percent field of view; 0.7x magnification; fixed bright matte focusing screen; rubber eyecup provided; mechanical blackout type panorama frame selectable
Exposure Control: Six-segment TTL metering coupled with lens and focus info; range: EV 0 to EV 21 (at ISO 100 and f/1.4); exposure compensation selectable, +/-3 EV (1/2 EV steps); AE Lock; f/stops and shutter speeds selectable in half step increments
Operating Modes: Metered manual, Aperture and Shutter Priority AE, seven Programs
Flash: Retractable pop-up TTL head with 28mm coverage; GN 11; slow synch and automatic daylight synch; discharge level automatically adjusted; redeye reduction mode selectable
Data Panels: Full information viewfinder panel (nine items) and external LCD panel (15 items)
Film Handling: Motorized advance and rewind (mid roll rewind possible); single shot or continuous (to 2 fps) advance; DX code reader (ISO 25-5000); manual film speed setting (ISO 6-6400)
Other: Self-timer; multiple exposure; cancelable beeper; accepts electronic cable release and infrared remote controller; optional Data Back FG
Dimensions And Weight: 5.3x3.6 x2.5"; 13.9 oz (135.5x 92x63.5mm; 395 g) Power Source: Two 3v lithium batteries (CR2 type) or four AA with optional battery pack FG

LATEST VIDEO