Pentax Unveils Retro-Style Q-S1 Mini Mirrorless Camera and 28-45mm 645 Medium-Format Lens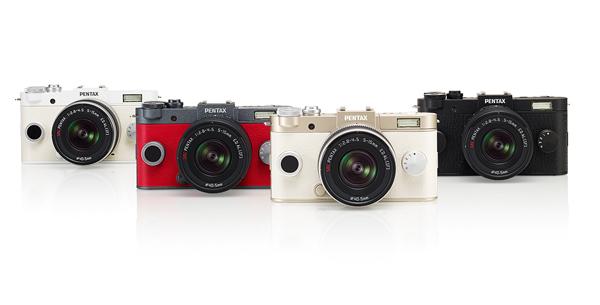 Pentax's parent company Ricoh Imaging just announced some product news big and small: a whopping 28-45mm F/4.5 lens for its 645Z medium format camera system; and a tiny, retro-style Q-S1 mirrorless compact system camera.
The Pentax Q-S1 should have the broader appeal of the two products, both because of its more affordable pricetag ($499.95) and its snazzy look. There have been many interchangeable lens-based digital cameras with retro or "throwback" designs that have infiltrated the photo market in recent years but the Pentax Q-S1 is one of the smallest and lightest yet.
Here's a rundown of the key specs of this traditional-looking, new mirrorless model, which uses the same small, 1/1.7-inch sensor as the equally tiny Pentax Q7. :
Pentax Q-S1
• 12.4-megapixel back-illuminated CMOS sensor
• Shoots at up to ISO 12,800
• Built-in, gyro-sensor-based Shake Reduction
• Creative tools including bokeh control and Smart Effect filters
• Aluminum grip
• Artificial leather styling
• Standard color combinations include Gunmetal, Bright Silver, Pure White, Champage Gold and, of course, black, along with 36 additional body and grip colors
• Ships with Pentax-01 Standard Prime (47mm equivalent) lens in five color options
• On sale this month for $499.95
Meanwhile, Pentax's other new photo product offering today comes in one color only: basic black (with silver and red trim). It's the HD Pentax DA645 28-45mmF4.5ED AW SR lens for Pentax's 645 medium-format cameras and, in particular, the new Pentax 645Z.
The 28-45mm F/4.5 lens ($4,999.95) offers focal lengths of 22mm to 35.5mm in the 35mm format. It's the company's first wide-angle zoom lens (approximately 1.6x zoom ratio) for medium-format camera. Here's a rundown of key specs for this lens.
HD Pentax DA645 28-45mmF4.5ED AW SR
• 17 lens elements in 12 groups including two aspherical elements and two extra-low dispersion elements
• Pentax's SR (Shake Reduction) mechanism is built into lens, compensating for camera shake of approximately 3.5 shutter stops.
• Multi-layer HD lens coatings designed to optimize light transmission and minimize reflection
• Aero Bright Coating to increase dynamic range
• 11 weather seals to prevent dust and water from getting into the lens (good for outdoor and landscape photographers)
• On sale this month for $4,999.95
For more information on both new Ricoh/Pentax photo products, visit www.us.ricoh-imaging.com.
FEATURED VIDEO