PC Workstations 2000
The Computer Basis Of A Digital Darkroom
Dell Precision 220/420 workstations.
Photos © David B. Brooks, 2000
This last year of the century, 1999, saw the emergence of the digital darkroom. Most of the products I reported on during the year included scanners, printers, and digital cameras as well as new versions of image-editing software, all parts of a digital darkroom. The one thing missing from all of this reporting has been anything about what is at the heart of a digital darkroom, a personal computer. I was reminded of this short sightedness by the news that came out of this last fall's Comdex, the extravaganza trade show for the entire PC industry held each year in Las Vegas. Three of the largest, most prominent makers of PCs announced new high-performance PC workstations with specifications targeted at graphics computing. This was particularly significant because these new machines all featured dramatic new levels of performance with much faster CPUs, a new type of faster RAM, as well as a selection of new generation video cards including choices ideal for digital darkroom work.
What Is A Graphics Workstation And Why Do You Need One? The mainstream of computing referred to as home/office applications includes functions like word processing, accounting (database), spreadsheets, e-mail, and web browsing, all of which involves relatively small file sizes. This kind of computing is easy work for an off-the-shelf, contemporary PC. However, when you start processing digital photographic files which are from 10 to 100 times greater in size, a typical home/office PC's performance becomes inadequate. This is not entirely a matter of differences in the power of the CPU between one machine and another, but involves the system bus, the RAM (Random Access Memory), the hard drive, and video card. All of these components are acutely involved in processing the big chunks of data that are typical of digital photographic images. This processing involves the movement of large amounts of data between these computer components, between the hard drive and memory, between memory and video. If there is not enough RAM memory on a PC, at least three to four times as much as the largest file size you will open, the computer creates a scratch file (virtual memory) on your hard drive to store an image copy, and shuttles data back and forth even more intensely, slowing down each processing action further. In other words, a workstation is a computer with all of the components selected throughout the system providing optimum performance for processing large files.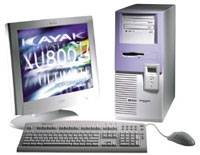 The new Hewlett-Packard Kayak XU800 ultimate performance workstation.
Of course this new generation of workstation models can be purchased with the most powerful CPUs with clock speeds now to 733/750MHz. But as significant, these newest CPUs are accompanied by new mainboard chipsets, what I would call the traffic cops of computer functioning. Also of significance, the top of the line workstation models feature an altogether new type of system memory called Rambus. And, if you can't afford this new fastest yet memory, some models are available with a 133MHz system bus and a PC-133 SDRAM, instead of what is now standard, a PC-100 RAM. On the hard drive side, to keep up the pace Adaptec now offer a new SCSI Wide interface that supports up to 160MB per sec data transfer rates, with 10,000RPM Wide Ultra SCSI hard drives from several vendors to complement this new SCSI speed. On the less costly side, new IDE ATA66 drives running at 7200RPM have just about matched the performance of last year's SCSI drives. To round out these workstation systems there is a large selection of new video cards. Many of these are optimized for 3D rendering and texture mapping which is important to vector graphics including industrial and architectural design, not to mention computer animation and video gaming. Among this wide selection are two 2D digital photography standouts by Appian and Matrox, now offering very fine color reproduction with fast Ramdac chips and multiple outlets supporting the use of more than one video monitor.

The New IBM IntelliStation Pro. The new IBM IntelliStation Pro workstation has been specifically designed to address performance issues working with large file sizes. They feature Intel Pentium III processors with clock speeds to 733MHz, and include a new 133MHz system bus. Instead of a single channel for data flow, the IntelliStation workstation has two--increasing the rate of transfer from 800MB per sec in previous workstations to 1.6GB per sec. Data transfer to video has also been addressed with support for the latest 4x AGP (Advanced Graphics Port) video card slot.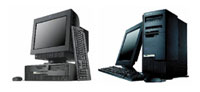 IBM's new IntelliStation Pro workstations.
The chipset running the show on these new IBM workstations is the latest 840 from Intel, which supports up to 2GB of new high-speed Rambus ECC system memory. And, due to the fact different kinds of work is done with this type of computer, displaying distinct kinds of graphic images, a wide selection of graphic cards is offered including: the Intense 3D Wildcat 4110, the IBM Fire GL1, the Matrox Millennium G400, and the Appian Gemini. Prices for the IBM IntelliStation M Pro start at $2775. More information including complete specifications and the entire option line can be found at IBM's web site at: www.pc.ibm.com/us/intellistation.
Dell Precision 220 And 420 Workstations. Dell, the largest direct seller of computers to business, is now offering two new high-performance workstations, the Dell Precision 220 and 420 Workstations. These two new models offer a selection of Intel Pentium III processors with clock speeds to 733MHz. The systems come with PC800 RDRAM at 400MHz running on a 133MHz system bus. Both Ultra 160/m SCSI and EIDE hard drive options are available, and 4x AGP graphics video slots are included. Video card options include the Appian Jeronimo Pro, Matrox Millennium G400, Intense 3D Wildcat 4110 Pro, and Diamond Viper V770D. Complete Precision 220 systems including monitor and sound system start at $2859, and Precision 420 systems at $4829. For detailed specifications and a complete options list visit the Dell web site at: www.dell.com.
The new Intergraph Zx1 ViZual Workstation.
New Hewlett-Packard Kayak Workstations. HP's newest professional quality workstations include the HP Kayak XM600 and HP Kayak XU800 models. The XM600 is a low cost workstation and the XU800 is an ultimate performance option. Both offer Pentium III processors with the Intel 820 chipset on the XM600 and the Intel 840 on the XU800. The XM600 may be configured with ECC SDRAM or the new Rambus RDRAM. The XM600 offers ATA66 or Ultra SCSI 2 hard drives, and has support for 10,000RPM SCSI drives, and the XU800 comes with the newest Ultra 160 SCSI hard disk option. Both models offer a diverse selection of video card options including: the Matrox Millennium G250, Matrox Millennium G400 dual port, the ELSA Synergy II, or the 3Dlabs Oxygen GVX1. As with all HP PCs these new Kayaks may be configured and equipped with a full range of system components. Single processor HP Kayak workstation models start at $1380 and dual processor models are priced at just under $2000. For more complete specifications and available options visit the Hewlett-Packard web site at: www.hp.com/kayak.
Intergraph Zx1 ViZual Workstation. Although not the household name of other computer companies now offering workstations for graphics, Inter-graph has a long and substantial history producing PC workstations for the graphics professions. Their new Zx1 ViZual Workstation offers the latest in Intel Pentium III and Xeon processors (up to 733MHz), Intense 3D Wildcat 4110 graphics, and unusual features like anti-vibration components and aerodynamic cooling design, as well as tool-less cover access to the internal components. ViZual workstations from Intergraph feature their own Wahoo technology designed to provide twice the graphics processing performance of typical PCs. The new Intergraph Zx1 ViZual Workstations are offered in single and dual processor configuration, and start at a new low introductory price of $2545. For more detailed specifications and options visit their web site at: www.intergraph.com.

Wacom Intuos USB, The Essential Luxury. Digital darkroom work involves a lot of activities which require exact placement of the screen cursor, like repairing dust spots, scratches, and film defects in scanned images; selecting small local areas to change color or brightness; retouching portraits; and restoring antique photographs, to name a few. Doing this with the standard tethered rodent is to me like trying to thread a needle wearing winter mittens. An easy and efficient solution is to use a tablet and pen or cordless puck (mouse) to control the position of the screen cursor. This is made precise by the tablet's connection, now with an USB interface option, providing an exact proportional relationship with the screen. With the larger tablets, like the 9x12" Wacom Intuos tablet, movement of the pen or cordless mouse is almost directly proportional to an average monitor screen area.
The new Wacom Intuos USB 9x12" graphics tablet.
In addition, the Wacom Intuos tablet is specifically supported by software applications like Adobe Photoshop and allows programming the buttons on the Intuos cordless mouse to emulate particular keystrokes or modifier keys you'd use for different tasks with the application. For instance I find it extremely efficient doing retouching in Photoshop using the Rubber Stamp tool. I program the mouse right button to emulate the Alt key in Windows, that allows setting the clone pickup point for an easier, single-handed operation. A wide choice of tablet replacements of the nefarious computer rodent is offered by Wacom from the ($99.95 street price) Graphire with a 4x5" active tablet area and pen and cordless mouse, to the 9x12 Intuos USB tablet I just purchased for my new workstation which has a street price of $459.95. For more details and specifications on the entire Wacom line of tablets, including the Graphire and Intuos USB, visit their web site at: www.wacom.com.
Working With A New Digital Darkroom Workstation. When I started reading about the performance capabilities of the new workstations announced at Comdex this last fall, I was susceptible. The PC I was using for graphics was getting tired, or maybe I was just getting tired of it. I couldn't very well buy one of the new machines announced without slighting the other three, so I had to find another solution. From the specifications of these new machines I had a precise idea of what I wanted in a new workstation, so I took my demands to a local computer shop. This computer store is a local independent whose chief business is supporting the town's businesses with computers and computer services, so it was easy to establish their good reputation just by talking to some locals who are their customers. With my notes of the specifications of what I wanted, and could afford, in hand, I went to this shop and got a bid on what it would cost. I responded to the bid with an order to build my new workstation.
Using two monitors supported by the Matrox Millennium G400 DualHead graphics card provides a Windows 98 desktop that is twice as wide. This allows using one monitor screen for a clean display of the image and the other then can display all of the control windows, tool bars, icons, and even other applications running in the background.
What I came home with a few days later has the features of the big brand workstations I could have ordered with like options at a similar cost. I selected a 600MHz Pentium III processor rather than the fastest of the series mostly for economic reasons--the fastest clock speed is considerably more expensive, and the difference in performance between 733MHz and 600MHz is not so much in my book. The same philosophy was applied to selecting a hard drive. Although the latest Ultra 160 SCSI with a 10,000RPM drive is fast, the Maxtor 20GB Dia-mondMax ATA66 I chose is not that much slower and a fraction of the cost. When it came to the mainboard and system memory I stayed with the conventional SDRAM, but chose 256MB of the new PC-133 Dimms running on a board with the VIA 693/596 chipset supporting a 133MHz system bus. This board also provides two USB ports, two standard serial ports, and a parallel port, as well as support for an installed ATA CD-ROM drive. For connection to scanners, my CD-R burner and other SCSI devices, an Adaptec PCI 2930 interface card was installed. Finally, my selection of a graphics card was a Matrox Millennium G400 DualHead with 32MB of video RAM. Windows 98 2E was installed as part of the package. This system delivered for under $2000 less tax and monitor.

I was most eager to set up the new machine and take advantage of two Sony Trinitron monitors both connected to the Matrox Millennium G400 DualHead graphics card. In a very few minutes using the Monitor setup in Control Panel in Windows, I had a view of a double-sized desktop across both monitors. Then I installed Windows 2000 Release Candidate 3 in a second partition, making the workstation a dual boot system, so I could select to run Windows 98 or Windows 2000. To be able to experience how the system worked I installed Photoshop, PageMaker, and Corel PHOTO-PAINT 9, with a second copy of Photoshop as well as Microsoft PhotoDraw 2000 installed in Windows 2000. Between then and now I've been able to do many of the things I normally do in my digital darkroom work, including color correction and retouching, compositing and the application of special effects with this new workstation, and using both operating systems. This new machine is many times faster and more efficient than my old, now retired to e-mail and word processing PC, and even noticeably faster than a less than a year old "blue" Apple Macintosh G3 which is no slouch with 300MB of PC-100 SDRAM.

Considering a top of the line workstation, not even as fast as this new machine of mine, just a few years ago would have cost as much as a new luxury sports car, I couldn't be more pleased. Besides being more efficient, cleaner, better smelling, and more comfortable, a professional performance digital darkroom is also now more affordable than a traditional wet one.

Microsoft Windows 2000 Addendum. Because PC workstations are usually available with single or multiple processors Windows NT has been the operating system usually installed on new workstations. By the time you read this Windows 2000 will have been released and these new machines will have it installed as the operating system unless another option is chosen. Windows NT in the past had been a digital darkroom disadvantage not offering support for many graphics devices, and without system level ICM color management as is available with Windows 98, as well as without support for USB or plug-and-play devices. Windows 2000 resolves most of these issues, and from my short experience provides a more efficient and definitely more stable environment for doing digital photographic processing. However, the prerelease version of Windows 2000 I installed did not support all of the functions I tried to use in Photoshop, nor did it support USB connection of an Epson Stylus Photo 1200 printer. Either there will be fixes in the release version, or there will be new drivers available from companies like Epson by the time, or shortly after, Windows 2000 goes on sale, I'm sure. There was an announcement by Adobe and Microsoft that they are partnering which I would assume implies new versions of Adobe software or service upgrades for older versions will be available from Adobe shortly.

New upgraded performance plug-ins are currently available for download from Adobe to provide full performance compatibility with the latest Pentium III processors, which I downloaded for installation on my new machine. So, from now and over the two months prior to Windows 2000 release most companies will likely develop support for the graphics devices and applications you might have. As you read this Windows 2000 will be out and let's hope if you choose to use it there will be only a rare few not ready with support.