Our 5 Favorite Photo Gadgets & Gizmos: Stylish & Versatile Camera Vests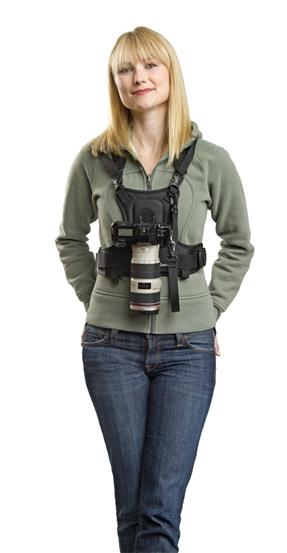 Cotton Carrier Camera Vest: This camera vest system comes complete with a comfortable, durable (one-size-fits-all) adjustable vest unit crafted from strong 1680 Denier Polypropylene material and fitted with a Lexan camera receptacle. It includes one 10-degree camera hub (suitable for all cameras), one camera tether, one hand strap and one universal adapter plate. The recently updated design also offers users an interior sleeve to hold an umbrella, a larger front pouch and a camera rain cover is included.
Features
Eliminates neck straps that cause neck strain and swinging cameras
Comfortably carries any size camera/ lens combination
Secure camera-locking system with instant release
perfect for wedding, sports, nature, and studio photographyThe Cotton Carrier Camera Vest is available in your choice of black or green with a retail price of $149.
More info on the Cotton Carrier Camera Vest here.
Lowepro's S&F Technical Vest:This vest is tailored, lightweight and flexible making it the ideal solution for sports, news and event photojournalists. Pair it with S&F belt to disperse a heavy equipment load. Shoulder adjustments give users the ability to custom fit the vest, internal/external cable ports allow wires and cables to route inside and outside for tight equipment integration. The back stash pocket offers storage for other items and the detachable ID holder lets you display press or event credentials on any SlipLock attachment loop. Lapel strap keepers secure the camera strap to the harness at your shoulders via the sturdy snaps and the SlipLock attachment loops secure S&F bags, pouches and cases. The retail price is $119.95.
More info on the S&F Technical Vest here.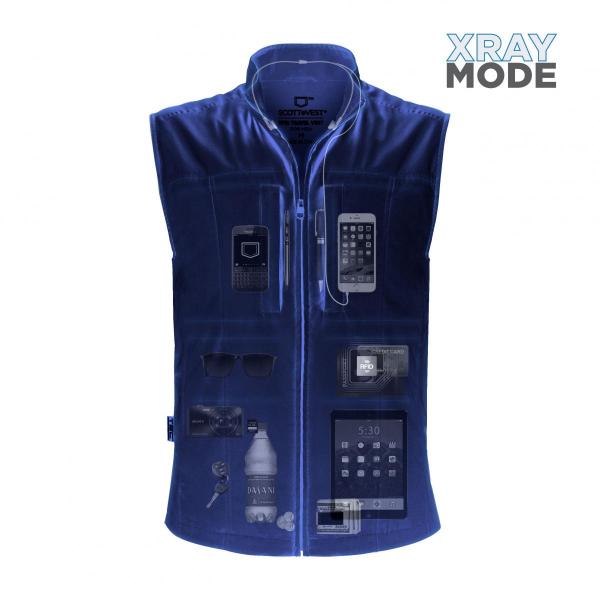 RFID Travel Vest: This photography vest features 26 handy pockets to keep you organized and connected. An RFID-blocking pocket protects your passport and credit cards from high-tech skimmers that can steal your identity. Pocket icons help you to organize your travel documents, ID, camera and accessories, Bluetooth headset, cell phone, iPad (or Kindle, books, maps, magazines), sunglasses and more. Crafted from a lightweight, breathable poly fabric that is Teflon treated for water and stain-resistance. The RFID Travel Vest is machine washable and available in black, navy, olive or khaki. Choose a standard or 2-way zipper, the retail price is $135 and the vest is available for men or women.
More info on SCOTTeVEST's RFID Travel Vest here.
CampCo Safari Photo Vest (Humvee): The Safari Photo Vest from CampCo is a 100 percent cotton vest with 21 pockets of various sizes. The vented back and mesh liner allow free movement of air around the body. The snap epaulets keep your camera (or binoculars, tote bag straps) on your shoulders. The vest features a heavy-duty zipper that closes the entire front. It also has a single snap closure for the front and two snap adjustments for the sides. The vest is made oversized to accommodate fully filled pockets. The Safari vest has a large pocket at the bottom back with two snaps. There are slash pockets on either side of the vest. On the right side from the top down, a shirt sized, bellows pocket with "hook & loop" fastening with two D rings and a vertical zipper pocket with water resistant lining. A set of three pockets, one over the other with the smallest being net is closed with a "hook & clamp" loop, suitable for film or batteries, filters, lenses etc. The suggested retail price is $44.63.
More info on the CampCo Safari Photo Vest (Humvee) here.
The Billingham Photo Vest: Hand crafted in Birmingham England of Cordura 500 denier texturized, multi-filament material, this vest is supple and soft. Featuring four exterior, zippered 7x9 inch equipment pockets with a cloth flap. These pockets can carry spare camera bodies, as well as motor drives or spare lenses. There are two exterior, chest-height "hidden" 10 inch pockets on either side of the vest that can accommodate just about any size zoom lens. These horizontal pockets are deep enough to prevent gear from falling out. There are two concealed, horizontal 9 inch exterior zipper compartments that can store gear, which might not be used immediately. Two exterior, protected front flap pockets will hold press credentials, wallet, etc. Two pen slots are positioned on either side of the main center zipper. There are two interior chest height 7x8 inch zipper pockets for extra camera bodies and four interior open pockets for carrying filters, batteries, etc. The vest has two stainless steel eyelets are secured to the vest for tying on light meters, etc. There are epaulettes on both sides with two position snaps for securing camera carry straps. The padded semi-shawl collar is comfortable and prevents chafing while carrying a heavy load. A heavy-duty zipper closes the vest, and a secondary snap tab, right at under-chest height allows the photographer to keep the vest closed while allowing for increased airflow. The vest is machine washable and has a retail value of $298.95.
More info on the Billingham Photo Vest here.
FEATURED VIDEO