Nikon's D3s; A Speedy, Full-Frame D-SLR Page 2
For those of you unfamiliar with the feature, you set the outer limits of what you want the camera to use—say ISO 12,800—and the minimum shutter speed you want to be set—say 1⁄250 sec. That way, Auto ISO becomes a form of Shutter-Priority that only sets as high an ISO as needed. The camera is programmed to take at least two variables into account—your minimum shutter speed, based on your best bet on what the action demands, and max ISO—and then decides on the final settings. Thus, the camera processes information according to the needs of the moment, a kind of variable preset in which you have a hand in the parameters. This automation becomes a very practical choice when you don't want to or have time to fiddle with settings, and the results are impressive.
Noise And ISO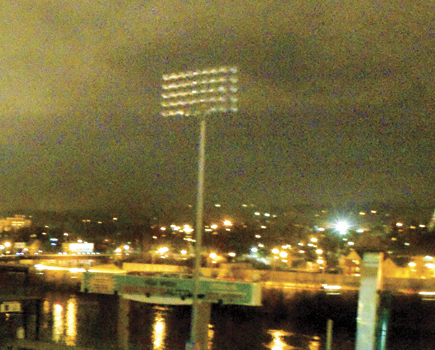 Some might say that the D3S should deliver more megapixels and larger file sizes, but I think that sanity is beginning to prevail and image quality is being placed to the fore. The large photosites here (8.45 microns) will deliver better quality in low light at higher ISO levels just because of their greater light-gathering ability. But ISO 102,400? Well, it's there if you want it, and perhaps law enforcement might like the fact that you can often record what you cannot see with the eye, like this unlit ball field taken from a hotel room window at night. Note the takeout of noise, made with HighNR noise reduction filtration on.
Making choices, creating parameters, and customizing the camera to your way of shooting, and distinct shooting scenarios, is what the D3S is all about. You can choose: how data is distributed to the two CF card slots; different aspect ratios and sizes for movies and stills; Live View modes (handheld or "tripod"); bracketing in various setups up to nine shots (HDR fans will get their fill); white balance; tonal curve compensation (Nikon's D-Lighting); and assigning various buttons to have distinct functions. In fact, there are so many choices to be made with the camera that you should plan to spend a night or two curled up with the instruction book to get a full sense of what's available, and to begin to make your own choices about how this extremely versatile camera can serve you in numerous shooting situations.

In fact, programming the shooting situation sets prior to shooting, and assigning them to various banks to be recalled later, might be the best bet here. Yes, you can set the camera on Aperture-Priority Exposure mode and Matrix metering and single AF mode, etc., as you might with any D-SLR, but I can assure you that this camera deserves study to get the most from its potential workings.
Color, Too

If you keep the ISO boost "reasonable," here at a +1 setting of ISO 25,600, you can actually get quite good results with noise that is under control. Here I used center-weighted metering aimed at the statue on the right and locked exposure prior to recomposing. I used VR on the 70-200mm lens at a 70mm setting; exposure was f/6.3 at 1⁄20 sec. The detail shot shows noise is fairly well controlled even in shadow areas; camera was set to HighNR noise reduction filtration. Photo was made in an interior gallery of the Currier Museum of Art in Manchester, New Hampshire.
I did some preprogramming and named the sets using a surprisingly easy type input system, creating IDs like "ports," "hispeed," "ultraNR," "candids," and more. It felt like I was creating my own Scene modes, but ones that were customized to the way I see and how I wanted to capture the images in a particular shoot. In fact, you can even program contrast, saturation, etc. into these sets to customize the images to the nth degree. It's not that making such changes in the field is difficult; it just tends to slim down the extensive menu options to quickly "choosable" shooting situations.

In many ways the D3S is perhaps the most usable and versatile D-SLR I have worked with. Indeed, it posed somewhat of a dilemma—to shoot mechanically or "programatically," to create personal Scene modes or rely on my instincts (and research) in the field as I worked. Often, shooting conditions are unpredictable, and I am not suggesting that you can always create presets for every shoot, but it sure comes in handy when you know pretty much the conditions in which you will be working. Sports shooters, wedding photographers, event photographers, and those who know their turf will love these features.
"Old" Lenses On The D3s
One of the things you gotta love about Nikon is lens compatibility going way, way back. I still have lenses (and the FM2n bodies) from the 1980s that still work with this camera, albeit without a lot of communication and of course no AF, but still with AE in Aperture-Priority mode using click stops for exposure control. You can even "register" those lenses in the camera so that you can see lens info in EXIF data later. This shot was made at night on Taos Plaza with a manual focus Nikkor 24mm f/2 lens. Exposure was f/11 at 1⁄15 sec at ISO 12,800, handheld.
Taken at first blush, the camera seems to offer so many choices that you have to sit and think prior to shooting. The instruction book is a 400-page tome that seems to scatter information in rather odd ways. But if you aim for certain information one piece at a time you'll get through it all right. As you work with the D3S you begin to understand that the camera is a "smart" tool that quickly adapts to your needs. It delivers startling quality in low light and even better quality in "normal" light, focuses so fast I rarely got an out-of-focus action shot, and offers a framing rate coupled with exposure and focusing accuracy that revealed "hidden" moments that my eye never discerned, and did all of the above with little fuss.

The D3S is unquestionably prime for sports, photojournalism, wedding, and fashion photographers—in short, anyone who makes a buck with their photography. The video aspect is intriguing and will add to the camera's allure for many shooters, although I do not put that at the forefront of my concerns and, as is our wont here, concentrated on the still image aspects of the camera.
D-Lighting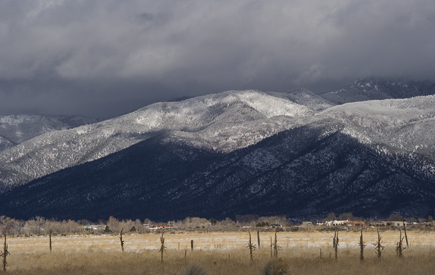 The Nikon metering system is uncanny in its ability to deliver full-tone images. I shot this with D-Lighting set at High to get some detail in the dark mountains even with the bright sun reflecting off the snowy field and hills. Exposure with VR on at ISO 250 was f/10 at 1⁄500 sec.
The D3S will undoubtedly draw comparisons with its crosstown rival, the Canon EOS-1D Mark IV. I did not shoot them side by side and Joe Farace is handling the Mark IV review for us. I won't run down the blow-by-blow specs here, as there are plenty of Googleable resources available on that. All I can say is that from my experience the D3S is a state-of-the-art pro camera that lets you get images you might not have considered previously possible, and then some. Battery staying power, framing rate, customization features, nine-shot brackets, focusing speed and accuracy, and video and still crop and size options make it a formidable machine for any working photographer.
Outdoors
While I probably would not opt for this camera for general travel and stock work (for that in the Nikon realm I'd use the D300), I still enjoyed working with it in the field. The long-life battery sure would come in handy on the road. It stayed active for a long afternoon shoot at about 20?F in 30 mph winds. Exposure using Auto ISO and Aperture-Priority Exposure mode and center-weighted metering here was f/20 at 1⁄100 sec with VR on with the 70-200mm lens at 70mm. The exposure system picked ISO 560 to handle my narrow aperture requirements. The 16-bit Raw (NEF) file opened at 69MB, or 34.5MB at 8-bit, and stored at 12.4MB.
For more information, contact Nikon Inc. at: www.nikonusa.com.

LATEST VIDEO