The NEW State Of Stock Photography; Times Have Changed, And So Has The Business Page 2
SB:
So, for a long-time professional photographer trying to adjust to the "new stock" business models, or even for those just starting out, what do you recommend as steps they can take to seriously consider stock as a revenue stream?
EB:
Photographers need to study the competitive mix. Look at the images that are found on the websites of the big providers such as SuperStock, Getty, and Corbis. What is the agency looking for? For example, at our agency we are not looking for image submissions of landscapes, wildlife, or scenics. Photographers should consider the concepts that the images are about, the emotions that the images elicit as well as techniques and style. Today's successful stock photographer has the same qualities as any successful advertising photographer: a great sense of style, the ability to assemble a good production team, and a good knowledge of the market's needs. Increasingly, a photographer who is just getting started could be faced with doing work for hire or being hired for a staff position as more and more companies are demanding wholly-owned material, especially from their more junior photographers.
© Wendy Amdahl/SuperStock, All Rights Reserved
SB: Describe your firm's "business model" and the aspects that make this a more successful relationship between stock agency and stock photographer than those of the "big box" stock agencies.

EB: SuperStock represents a mix of an independent agency with a major generalist company. The collection is multifaceted across at least four genres: contemporary photography, travel, vintage, and fine art. At the same time SuperStock has less than 400 photographers, as opposed to the giants that have thousands of contributors. As a consequence photographers have the benefit of a closer relationship with the company.

The parent company of SuperStock, a21, is looking to become a leading content (image) provider for professional creatives. We understand that good and relevant content is critical to our success and we strive to support our photographers and artists with their craft. We offer competitive royalty splits and pride ourselves on always making timely payments to our contributors. In addition, we have pulled together a team of industry professionals who understand the art and commerce sides of the stock business.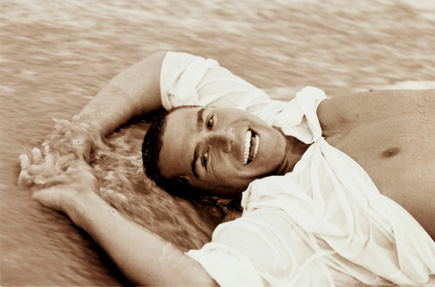 © Tracy Kahn/SuperStock, All Rights Reserved
SB: Since stock photography sales are based on getting images in front of potential clients, what are some marketing tools that have worked well for you?

EB: Now that our world is nearly completely digital, the most important marketing and advertising tools are those that drive the client to the web. This call to action is effectively delivered via e-mail blasts on a regular basis. Targeted e-mail to particular market segments is more likely to get results than a blanket mailing to all clients and customers.

SB: What types of clients do you seek out and what do you send them?

EB: Because our collection has a good mix of contemporary, fine art, and vintage images in both rights-managed and royalty-free, we focus on targeting our customer base with the appropriate message that we believe will speak to their particular needs. One recent printed piece was a small format booklet focused on our contemporary collection that was mailed to current and potential clients. It worked very well as it showed off some hero shots, while also presenting copy that covered all our collections and services.
FEATURED VIDEO