New Products Of 2012: Lighting: Studio And On Location: Portability And Compactness Are Key
Among the latest trends in lighting are the increasingly popular LED lights. While these lights were initially aimed at video, they serve a purpose in still photography as well, notably as accent or fill lights. In studio lighting, we have new monolight kits; and in speedlights, we have a new TTL ringflash along with a wireless TTL remote. We'll also look at some interesting lighting accessories as well.
Dot Line Corp.'s polycarbonate RPS Studio Triple Speedlight Mount RS-3090 ($29) features three insulated, adjustable, locking shoes equally spaced around a hexagonal hub and is designed to throw an even wash of light when used with an umbrella. Also for speedlights, the DLC Umbrella Holder for Speedlights DL-0315 ($21) features an insulated shoe that can be rotated or tilted. A removable spigot allows the holder to be mounted to a light stand. Also new is the DLC DV320C Color Temperature Adjustable LED Light ($369), with variable light output up to a maximum equivalent of 200 watts using 320 LEDs. This unit comes with a diffusion filter, rechargeable battery/charger, and ball head. For the starting studio photographer, there is the RPS Studio 1000 Watt Digital/Video/Photo Light Kit ($349). This photoflood kit comes with two 500w lampheads, umbrellas, stands, and kit bag.
Hensel USA debuted the Integra Mini series, comprised of the Mini 600 (600 ws) and Mini 300 (300 ws) in an effort to introduce reasonably priced kits to the marketplace (Integra Mini 1200 2 x 600 ws Light Kit: $1499; Integra Mini 600 2 x 300 ws Light Kit: $1099). The monolights are solid metal, fan-cooled, and multi-voltage and feature auto-dumping (when reducing output, avoiding manual triggering to dump the excess charge). The Mini 600 specifically offers an energy-saving modeling light, flash recycle from 0.2 seconds, with full charge at 1.7 seconds, flash duration to 1/1100 sec, adjustable output in .01 EV over six stops, and digital rotary switches. Low sync voltage ensures that the units are safe to use with popular D-SLRs.
Manfrotto Distribution showcased the Gossen DIGISKY, one of the sexiest little meters I've ever come across, albeit pricey ($449). This microprocessor-controlled flash/ambient meter reads both incident and reflected (averaging) light and uses a spacious and highly readable multicolored TFT LCD display (in 0.1, 0.3, 0.5, and full-stop increments), while supporting contrast measurement and cine functions. It operates in cord and cordless modes, but more importantly a radio trigger is built in for operation with compatible Elinchrom Skyport systems on eight channels. The meter is powered by a rechargeable battery (included) or USB, as well as AC.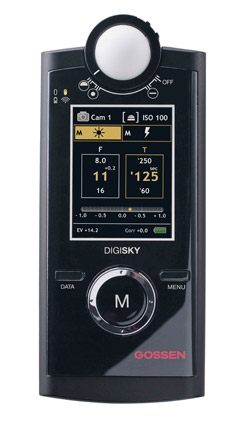 Minox teased us with a new Nissin ringflash at photokina, but now the MF18 Macro Flash (for Nikon or Canon) is a reality. This ringflash builds upon two key features common to Nissin flash units: wireless TTL and a multicolored, self-orienting (for horizontal or vertical shooting) display. In wireless, the ringflash acts as master flash. It comes with adapter rings covering all popular filter diameters to 77mm (others are optional) and features a Fine Macro Mode adjustable in 1/6 EV steps from 1/128 to 1/1024 output, with adjustable Manual output from full to 1/64 in 1/3 EV. Four LEDs serve as a focusing aid or modeling light and follow ratio output of the left/right flash tubes, which open outward to encompass larger subjects (for wraparound lighting) or large filter diameters.
I was confidentially informed months ago that OmegaBrandess would be introducing the Phottix Odin TTL Flash Trigger ($349 for transmitter and receiver)—and I finally got a quick glimpse of the newly unveiled Nikon version of this wireless radio remote (Canon version already available). The transmitter (which sits in the hot shoe) sports an LCD screen for full digital control. It supports operation on up to four channels and three groups of flash units in TTL mode with EV adjustments (to 3 EV in 0.3-step increments), or Manual (power levels set on the flashes themselves). It's also compatible with non-TTL flashes and studio strobes. Additional receivers: $139.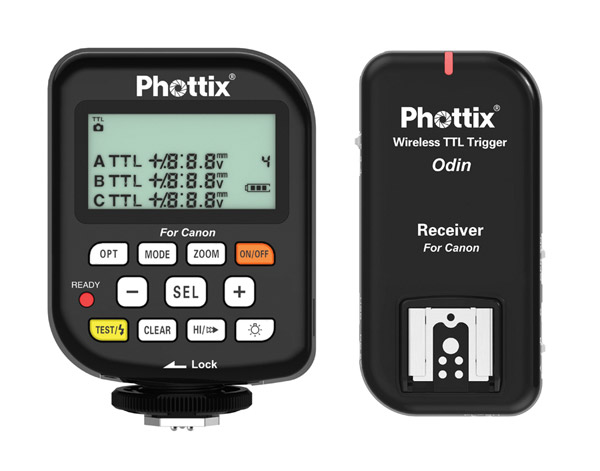 Pro Cyc, which specializes in modular studio backgrounds and MyStudio desktop cycs, introduced MyStudio AL1 and AL2 Accent Lights for use with their desktop systems. These are 5000K fluorescent lights that can be positioned vertically or horizontally to add backlighting or rim lighting, for example. Also new is the MyStudio VS53 Versa Sweep, the company's largest desktop unit at 53" wide by 8' long—made of durable white polystyrene. The sweep backdrop comes with positionable 5000K fluorescent lighting. Shooting green screen composites? Pro Cyc now has a Portable Green Screen system featuring proprietary Pro Matte III virtual green seamless material. Available in 80 and 160" widths x 24' long; heavy-duty stand included.
ToCAD America showed a line of shoe-mounted Sunpak LED lights. Models LED 30 ($59) and LED 96 ($89) are said to reach 20 and 30 feet, respectively, with 30 and 90 LEDs. Both are daylight-balanced, with a removable warming filter, and feature variable output; battery-powered.
Tristar/APV unveiled several new lighting products for use in the studio or on location. Model 50-1000 is a reflector/diffuser, supplied with reversible gold/white and silver/white reflectors, and a diffusion screen. The fabric mounts to snap-together tubing, which makes it convenient for travel or storage. It can be mounted on a light stand, handheld, or even used self-standing on the floor (aimed upward), and works with practically any lighting. Version BDK includes a snap-on barn door set. Tristar also introduced the HPL-1500, a daylight-balanced studio 100w LED light (equal to 800w halogen), lasting 10,000 hours (110v to 230v). A glass diffuser creates one continuous wash of light, instead of countless point sources. Dimmable and fan-cooled; 11x5x5" without glass diffuser; 3.5 lbs.

Contacts
Dot Line Corp.: www.dotlinecorp.net

Hensel USA: www.henselusa.com

Manfrotto Distribution: www.manfrottodistribution.us

Minox/Nissin: www.nissindigital.com

OmegaBrandess: www.omegabrandess.com

Pro Cyc: www.procyc.com/mystudio

ToCAD America: www.tocad.com

Tristar/APV: www.tristar-photo.com
FEATURED VIDEO