New Products Of 2012: Camera Bags: Fashion, Daypacks, And Rollers
Camera bags and carriers come in every shape and style, from highly functional rollers to bags that make a fashion statement whenever you step out the door with your gear. Among the new products appearing this year are those that will fit every photographer for every photo excursion. There are backpacks for day hikers to trekkers, and rollers for making the transition from plane to city streets. Camera carrier makers are always improving product to keep up with the changing needs of photographers and their gear.
Clik Elite showcased the Clik Classic line of retro-style camera carriers for the trails with a rustic charcoal nylon pack cloth exterior, with padded bays to protect camera gear and keep it organized. The flagship daypack is the robust Klettern for strenuous hikes, also carrying a laptop and tripod, with various pockets for the small stuff; rainfly included against downpours. There is also a smaller pack and a streamlined shoulder bag, both of which hold a tablet.
Golla specializes in camera bags that look smart. This year this Finnish company brought out numerous models, although we'll focus on the Razo (G1269) large shoulder bag. This dark blue bag measures 12.6x9.4x5.9" and features a zipper closure with flap and touch fasteners, tablet compartment under the flap, organizer pockets, padded interior, and adjustable shoulder strap. The bags are constructed of cotton and wax-coated fabrics.
Designed for the woman who enjoys a touch of chic, the Essential Camera Bag ($79) from Jill-e Designs features a weather-resistant microfiber exterior, durable, top-grain leather trim, customizable padded interior, organizer pockets, zipper closure, and convertible leather strap (shoulder/sling). Weighing in at 1 lb, the bag measures 9.5x3.25x7".
Manfrotto Distribution introduced compact additions to the line of STILE bags ($69 to $109) aimed at the style-conscious yet practical photographer. The bags are available in three colors: black, light brown, and white, and in addition to carrying camera gear in a safe and well-organized fashion will also tote a tablet, netbook, or laptop. The new bags include the VELOCE III traditional backpack, AGILE II sling bag, and UNICA III messenger bag.
Samsonite entered the photo bag market with several offerings in sling and shoulder bags, in various colors. The exterior of what they call the Large Shoulder Bag (actually a sling) is a mix of polyester and ripstop nylon. A combination of zipper and buckles provides access to the adjustable interior. Measuring 13x7x6" and weighing 1.6 lbs, it holds a D-SLR with attached compact zoom lens, plus an additional lens and flash, with extra gear fitting in additional pockets. The two shoulder bags are considerably smaller and lighter.
Tamrac rolled out an impressive array, ranging from sleek messenger to carry-on-friendly roller bags, including the Aria line, expressly designed for women. My favorites naturally fall to the backpacks. The Zuma 9 Secure Traveler (Model 5729) borrows a familiar concept by letting you access gear via the back panel, adding a level of security. The padded interior is fully customizable. The birder will appreciate the Super Telephoto Lens Pack (Model 5793). This backpack holds up to a 600mm optic attached to the camera, while remaining airline friendly. The bag is reinforced to bear the burden.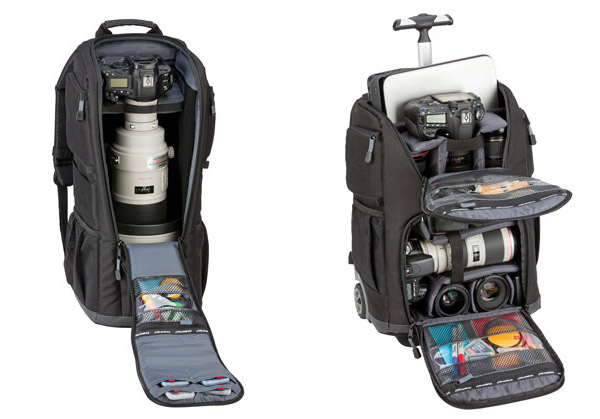 Travelers will appreciate the Evolution Speed Roller Backpack (Model 5797). Again, not a new concept, but a welcome design for those of us who expect to traverse both city streets and rugged terrain. What I found especially inviting about this bag is the convertible upper tier: it can hold a D-SLR with short lens attached, or personal items with padded module removed. The main lower compartment is fully customizable for camera with lens attached and extra lenses, flash, and more, including a 15.6" laptop in padded sleeve. Shoulder harness tucks away so it doesn't drag along the ground when rolling.
Timbuk2 introduced the Sleuth Camera Pack ($139—in black/gunmetal or algae green/gunmetal) made of ballistic nylon. This photo backpack is a two-tier design, with a lower, padded camera section (holds D-SLR with lens and extra lenses/flash) and an upper compartment for personal items, plus 17" laptop sleeve and tripod straps.
Vanguard's Kinray Series ($149 to $249) not only makes backpacking chic with a variety of fashionable color schemes, but also gives birders and long-lens enthusiasts a fully customizable bag tailored for the trails, featuring a rainfly and durable construction. The bag also converts to a personal daypack with interior modules removed. It also accommodates a tripod and even a sleeping bag. The backpack is available in two sizes, plus a sling model. For the studio photographer on the go there is the Xcenior Series, which includes shoulder bags ($219 to $299; three sizes, with one large enough to hold considerable gear), and the Xcenior Trolley ($249 to $349; three sizes, two being carry-on friendly). The rollers have oversized wheels and telescoping handle, and are fully padded and configurable, and can double as conventional luggage sans padded interior. They also hold a laptop and tripod.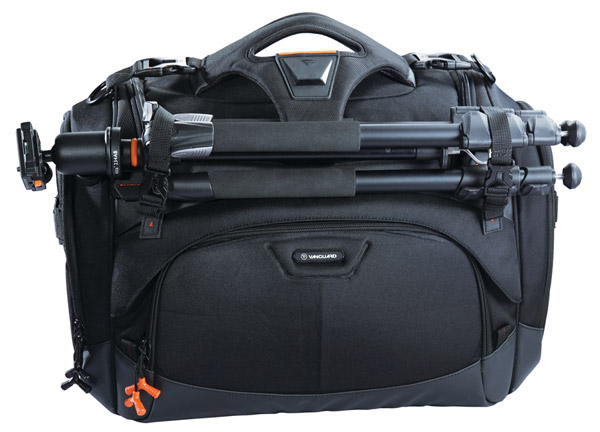 Contacts
Clik Elite: www.clikelite.com

Golla: www.golla.com

Jill-e Designs: www.jill-e.com

Manfrotto Distribution: www.manfrottodistribution.us

Samsonite: www.samsonite.com

Tamrac: www.tamrac.com

Timbuk2 Designs: www.timbuk2.com

Vanguard USA: www.vanguardworld.com
FEATURED VIDEO