The New Hewlett Packard Photo Printer
HP DeskJet 970Cse printer.
It has been some time since Hewlett-packard first introduced the PhotoSmart printer, so this new generation of HP photo quality ink jet printers is quite distinct. There are essentially two different yet similar models: those that continue the PhotoSmart model name, the P1100 and P1000 which are intended for use with Windows 95, 98, and NT and the HP Deskjet 970Cse Professional Series which also supports use with the Macintosh platform in addition to Windows. The two basic models are similar in appearance, which is quite distinct from the original PhotoSmart printer, with a slick, compact molded plastic outer shell. the print engine and performance of both models are the same, which also differs in philosophy and intent from the original Photo-Smart concept. These new HP ink jet printers are photo capable, but not exclusively so, and use a four color ink supply system as well as HP's new, enhanced color layering technology called PhotoREt III. These new model HP ink jets are designed to provide fast, high quality color printing on plain paper, as well as coated ink jet paper, and realistic photo quality on HP's new Premium Plus Glossy and Matte photo papers.
HP PhotoSmart P1000 printer.
The difference between the Photo-Smart printers and the DeskJet 970Cse, besides the 970 supports the Macintosh platform, is the former can be used to print photos from a digital camera read directly from a SmartMedia or Com-pactFlash image storage card inserted in slots in the printer, and without the need for a computer. All the controls for printing photos are on the front of the printer with an LCD panel read-out to choose options. In addition, the P1100 model is slightly faster than the P1000 and features automatic two-sided printing. It is also network capable with an optional HP JetDirect print server. The PhotoSmart P1100 and DeskJet 970Cse share 12ppm black, and 10ppm color print speeds. Both offer 2400x1200dpi photo mode printing using HP Premium and Premium Plus photo papers, the latter of which has been specially developed to provide photo-like results with these new printers' improved technology. All of these new models also benefit from HP's new print technology in reproducing more effective color on all media including plain paper. The HP DeskJet 970Cse is expected to sell for $399 and the PhotoSmart P1100 for S499.
The HP DeskJet 970Cse produced very high quality photographic images using the Premium Plus Glossy and Matte papers.
Photos © 1999, David B. Brooks, All Rights Reserved
Printing With The New HP Photo Ink Jet. For the purposes of test and evaluation, I requested the HP DeskJet 970Cse so I could use it with my Windows 98 PC and my Mac G3. And because these new models are intended as much for general color and black and white printing as well as photo printing, I used the 970 for all kinds of printing, like pages from the web, letters and envelopes, thumbnail pages for my locator book for my CD collection of image files, and printing proofs and finished prints from scans. Installation of the printer whether you are using a USB or on a PC parallel connection is distinct, as it is between installation between Windows and Macintosh platforms. On both platforms the printer driver is quite easy to use and select orientation, paper type, print quality, or make adjustments in three dimensions of print quality: light/dark, saturation, and ink intensity. These adjustments are particularly useful allowing effective adjustment for printing on specialty papers not offered by HP.
The new HP photo ink jet printers' four color output is most effective with saturated primary colors, but less so with subtle, complex natural hues and tints.
The printer was fast and efficient using the USB connection on the Mac and Windows. However, on the Mac the print driver would only function when set to print in the background, while on Windows 98 it was just the opposite, I had to set it to print in the foreground. I think this was more a USB problem involving conflicts with other USB devices and drivers on both systems rather than anything inherent to the 970 printer. Another feature that I appreciated very much is this printer's quiet operation--a vast improvement over the previous PhotoSmart printer, which I thought was noisy in part because of its all-metal construction. The 970 handles all of the photo papers I used with it, including plain paper, very well. But even though the 970 prints with unusually good quality on HP's Premium Inkjet paper, its thinner, lighter weight seemed to cause an occasional paper jam.

One of the new Premium Plus Photo papers specially made for the Photo-Smart/970 has a matte surface. I found this new paper printed with just as much contrast and saturation as the glossy, and it has the advantage that the surface after printing remains even just like before printing, compared to the glossy which changes in shine between areas with a lot of ink and areas with little. With all papers, color matching between the image on screen on Windows and the mac and print output was very true. I was quite surprised on the Mac there was no noticeable difference in image output in prints whether I used HP's own color control in the print driver or I selected Colorsync to control output. This says a lot for HP's new PhotoREt III technology.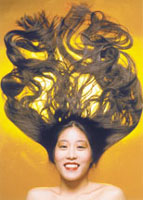 In this portrait subtle, fine detail in the hair and smooth complexion tones were reproduced sharply and accurately, making an exceptional portrait print on the HP Premium Plus Matte photo paper.
Evaluation And Recommendation. HP's target market for these new photoSmart and 970 Deskjet printers from a photographic digital darkroom perspective is a bit puzzling. That is unless HP expects the printer to sell mostly to people who have only an occasional interest in printing photographic images. This makes sense considering it is a four color rather than a six color ink printer, even though HP claims their new layering technology matches six color ink output. But that too is a bit puzzling because HP made a point of comparing these new photoSmart and 970 Deskjet models to Epson's 900 Stylus Color printer which Epson clearly classes as a business rather than a photo printer.

So how do these new HPs stack up as both a general office printer and a photo printer? The fast, quiet functioning, and sharp, well saturated images on both plain and coated ink jet paper surely favors a broad use for the printer. The photo output on HP's new Premium Plus Photo Glossy and Matte papers is also quite good by photo standards. However, I did not find photo print saturation equal to six color ink printer output except in images which were made up of strong primary colors. The saturation falls off with colors which are closer to a balanced mix of cyan, magenta, and yellow, the kinds of complex colors which are typical of many natural subjects including skin tones. So from my experience, using the HP Deskjet 970Cse indicates it is a very good choice for anyone who needs a wide range of printing capabilities with photo printing being just a part of that.

For more information, contact Hewlett-Packard, 3000 Hanover St., Palo Alto, CA 94304; (800) 752-0900, (650) 857-1501; www.hp.com.
Technical Specifications
Print Method: Drop-on-demand thermal ink jet printing
Print Quality: Black print resolution 600dpi, color photo print resolution 2400x1200dpi
Print Speed: Range from 12ppm text to 0.3ppm full page color image
Media Size And Types: Plain, ink jet, photo 8.5x11 or 8.5x14 paper, banners, envelopes US10 and A2, transparencies 8.5x11, labels 8.5x11, index cards 3x5, 4x6, and 5x8, and custom
Media Weight: Paper, banners, and envelopes to 24 lbs; cards 110 lbs
Memory: 970Cse - 4MB; PhotoSmart P1100 - 8MB
Interface: IEEE 1284 Centronics parallel, USB
Printer Language: HP PCL Level 3
Built-In Fonts: Eight
Duty Cycle: 5000 pages per month
Compatibility: 970Cse - Windows 95, 98, NT and Macintosh; PhotoSmart P1100 - Windows 95, 98, NT
Dimensions: 970Cse - 17.3x7.7x14.6", 14.7 lbs; P1100 - 17.3x7.7x16.9", 16.3 lbs