New Gear For 2007: PMA Report; Portable Storage And Digital Display: Portable Hard Drives, USB Flash Drives, And Digital Photo Frames
There was no lack of gadgetry at this year's PMA, especially when it came to portable data and picture storage and display. The themes and variations boggle the mind, making it increasingly difficult to choose one product over another--especially when products from one company show an uncanny resemblance to those from another. However, many products distinguish themselves as innovative.

Portable Hard Drives
This category consists of two principal groups: data back-up devices and card reader/storage/viewers. The first group focuses entirely on hard drives that practically fit in the palm of your hand. Their sole mission is to back up data from your hard drive so you can keep it handy when away from home or the studio. The second group is more versatile. Here we see devices with built-in card reader/writers that allow us to transfer memory cards from the camera while on the road, freeing us to carry and use fewer memory cards on a trip. They can also be used for data backup and increasingly as MP3 players. And just as important, most come with a color display, some quite sizable (nearly twice the size of the camera's LCD), for reviewing images and watching movies.

All these devices are battery-driven, recharging by household AC or, on select units, via USB 2.0 connection to the computer (usually while the device is turned off). Capacity ranges from 40GB (less on some) to a whopping 160GB.

Digital Foci expanded its line-up of portable storage devices with Photo Safe in 40GB ($139, MSRP), 80GB ($179), and 120GB ($229) capacities. Photo Safe is a battery-driven hard drive with built-in memory card reader and sports a backlit LCD for viewing/confirming data operations, not viewing pictures/movies. The user-replaceable lithium ion battery can be recharged via a computer's USB port or external AC power. It weighs in at 0.6 lbs (battery included) and measures 4.6x3x0.8".
Epson displayed the P-3000 (40GB) and P-5000 (80GB), priced at $499 and $699, respectively, offering crystal-clear viewing on a 4" high-resolution full-color LCD that's hard to beat. The device supports the Adobe RGB color space and raw (as well as JPEG) file viewing, along with MP3 audio and video playback. The only shortcoming is limited memory card support (CompactFlash, Microdrive, and Secure Digital).
Fabrik/SimpleTech showed the USB-driven SimpleDrive Portable in four stylish colors to match capacity: gray/60, blue/80, black/120, and red/160GB built around a 2.5"/5400 rpm IDE drive. This storage device is said to have a high shock tolerance. It was designed by the people who design Ferrari (I'm getting a red one to match my red Ferrari).
Fabrik/SimpleTech SimpleDrive Portable
JOBO enhanced their line-up of portable storage/viewers with the Spectator, in 40, 80, and 120GB (MSRP $249, $299, and $379, respectively). This device features a high-resolution 2.5" TFT color LCD and built-in card slots supporting all popular memory cards. And the unit's integrated auto-verify function provides added security and gives users assurance that the copy process was successful. It is powered by an internal rechargeable lithium ion battery.
Memorex introduced the Ultra TravelDrive USB hard drives, which deliver up to 160GB of storage capacity based on 2.5" hard drive technology. They feature interchangeable faceplates in nature-inspired colors.
Memorex Ultra TravelDrive USB
The Sanho division of Brandess-Kalt-Aetna announced the lithium ion-battery-driven HyperDrive SPACE storage drive. The built-in card reader/writer accepts 15 types of memory cards for data transfer from/to the internal hard drive (capacity ranges from 40-160GB). It incorporates a 32-bit verification system and LCD for data operations (not playback), all in a very slim package.
Western Digital exhibited the USB-driven WD Passport, a 5400 rpm portable drive in four capacities (60-160GB/$199) for data backup. Of course it's built around a 2.5" Western Digital drive, which speaks volumes for reliability, and it weighs less than 4 oz. The Passport comes with synchronization and encryption security software.
Western Digital WD Passport
And now for something a bit different. It may look like a multimedia storage/viewer, but the Smartparts Portable Video & Picture Player ($119) is only a playback device--with a difference. It sports a 7" color display and supports Secure Digital/MultiMediaCard, Memory Stick, CompactFlash, and xD cards, as well as USB flash drives.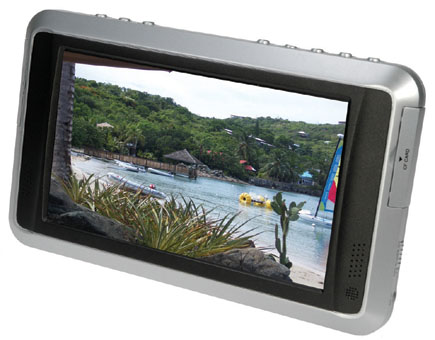 Smartparts Portable Video & Picture Player
FEATURED VIDEO