New Gear For 2007: PMA Report; Photo-Quality Printers
It used to be that manufacturers and even us press types hailed every tiny improvement in printer technology as a major achievement. Now the honeymoon is over. We expect these devices to produce impressive color and monochrome output and do so at an inexpensive price--except for the inks, of course. As a result, photo-quality printers, except for pricy laser and dye sublimation models, have become a commodity and downward price pressure has resulted in printers that while capable of producing beautiful prints are more fragile and quirky in operation than previous generations. C'est la vie.

Dye Sublimation
Fujifilm's ASK-4000 and ASK-2000 photo printers use the company's chemical-free dye sublimation technology, allowing wedding and portrait photographers to quickly produce 4x6" prints in 8 seconds. The ASK-4000 and ASK-2000 have footprints of 1.5 square feet and 1.3 square feet respectively and all operation and maintenance can be performed with the printer in place. The ASK-4000 produces borderless 8x10" prints in 40 seconds and 8x12s in 49 seconds. The ASK-2000 offers borderless printing of 4x6, 5x7, 6x8, and 6x9" prints. It produces 5x7" prints in 16 seconds, allowing pros to generate up to 225 prints per hour. Event shooters can schlep the printer and a laptop to assignments and deliver prints on-site. Both printers feature color-correction software that incorporates Fujifilm's Image Intelligence technology for color correction and smooth skin tones.

The Mitsubishi DPS Click 5000 has a new user interface and carousel feature ideally suited for event photography. Carousel allows the DPS Click 5000 to be connected to a second monitor, enabling an event shooter to simultaneously run an uninterrupted slide show of his or her photos while operating the DPS Click 5000 unit to print selected photos. Within the system each photo is automatically given a number so attendees can jot down the number of the photo they want to receive.

In the what-will-they-think-of-next category, the Shinko CHC-S8175 dye sublimation printer not only prints photographs but will laminate gold or silver holographic foil to produce eye-catching prints, greeting cards, or invitations. The printer can produce a 4x6" print with holographic foil at 600dpi in 45 seconds with a capacity of 280 prints per roll.
Mitsubishi DPS Click 5000
The OP1000 printBOX is the latest in the line of Olmec high-performance dye sub printers from ICI Imagedata. Designed for photographers and general office use, the OP1000 printBOX produces full-bleed 4x6" prints in less than 7 seconds. It's easy to load and has a capacity of 790 prints per ribbon and roll of photo paper.
ICI Imagedata OP1000printBOX
Hi-Touch Imaging Technologies' new BS-ID400 ID photo printer and BS-G400 event photo printer with built-in photo template function offer 403dpi print quality. The detachable 2.5" LCD controller controls all printing functions without the need of a computer. A 100-sheet capacity and fully enclosed printing path prevents dust problems and longer continuous operation before having to replace ribbon and paper.

Laser Printers
If you were watching the Super Bowl you saw an ad for Konica Minolta. Nope, it wasn't our old friend the camera company, they're long gone, but the Konica Minolta name lives on in its line of copiers and photo-quality laser printers. The magicolor 5550 costs $1195 and works with Linux, Mac OS, and Windows computers. Its 733MHz PowerPC processor and Emperon printing technology deliver 27 color or 31 black and white pages per minute (ppm). The on-board 256MB memory doubles data throughput and can be upgraded to 1024MB for greater productivity. This printer is equipped with a Gigabit Ethernet interface as well as with USB 2.0 and parallel interfaces for local printing.

The $2999 magicolor 7450 features a 733MHz G4 processor and custom acceleration hardware, delivering its first black and white page in 8.2 seconds, its first color page in 11.4 seconds, and subsequent prints at 24.5 ppm. It is compatible with Linux, Mac OS, and Windows systems. Equipped with a Gigabit Ethernet interface, the printer supports PostScript, PDF, and JPEG/TIFF Direct Print emulations.

Inkjet Printers
HP brought a noted painter to PMA and printed her work to show off their inkjet printer's capabilities. Evidently they could not find any photographer's work to print. HP's Designjet Z3100ps GP Photo Printer uses 12 HP Vivera pigment inks to produce prints that can last more than 200 years and implements HP's DreamColor, an integrated system that delivers color consistency across a series of devices. Offering a built-in spectrophotometer for color management, the printer also has an embedded Adobe PS3/PDF RIP. The HP Advanced Profiling Solution even includes a monitor calibrator.

The Photosmart Pro B9180 Photo Printer uses HP's third-generation gray ink that's more neutral than before, allowing for smooth transitions and greater detail. Eight individual ink cartridges enable printing of 4x6" photos in as fast as 10 seconds and 13x19" output in 1.5 minutes. Professional photographers and advanced amateurs can print photographs on fine art media, including canvas, photo rag, watercolor, stiff pre-matte, film up to 1.5mm thick, as well as HP's Advanced Photo Paper. The HP Photosmart Photoshop compatible plug-in automatically synchronizes Photoshop and the printer driver for a single user interface and color management.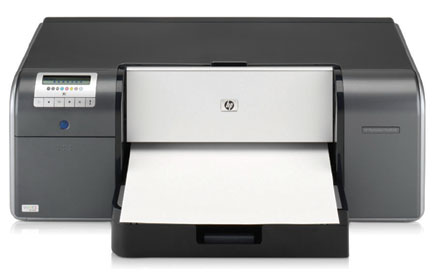 Canon's PIXMA Photo Printer line-up includes the iP3300 and iP1800 with an estimated selling price of $79.99 and $49.99, respectively. Both printers feature Canon FINE (Full-photolithography Inkjet Nozzle Engineering) print heads and are certified for Windows Vista. Delivering ink droplets as small as 2 picoliters, up to 4800x1200dpi resolution, the iP3300 uses Canon's individual ink tank system to produce 8.5x11" borderless photos. This printer offers dual selectable paper paths and a PictBridge port for printing from select digital cameras and camcorders. The iP1800 Photo Printer delivers 4x6" prints in approximately 70 seconds and is capable of printing borderless photos from wallet-size through letter-size without optional accessories. Included with the iP1800 Photo Printer is a pigment-based black ink cartridge for improved text printing.

And now for something completely different--cheap ink. Canon is introducing a new line of ink cartridges for its PIXMA iP1800. The new PG-30 (pigment black ink cartridge) and CL-31 (tricolor ink cartridge) have an estimated selling price of $15.99 and $19.99, respectively. The iP3300 and iP1800 Photo Printers use the Canon ChromaLife100 system to produce prints made on certain Canon photo papers that resist fading for up to 100 years when stored in an archival-quality photo album.

Canon showed Shutterbug the prototype of its new wide-format printer, the imagePROGRAF IPF6100, a 24" wide inkjet printer that uses scratch-resistant inks! It has 12 Canon Lucia pigmented ink cartridges, including three different black/gray inks. The IPF's software driver ships with built-in profiles for more than 50 papers/media.
Canon imagePROGRAF IPF6100
© 2007, Jack Neubart, All Rights Reserved
The $249.99 portable PIXMA iP90v features wireless printing and software that lets you print photos using menu choices to locate digital images, pick paper size, choose the layout, and print. The iP90v's print head has 1088 total nozzles for high-speed printing in a single pass. With a maximum resolution of 4800x1200dpi and droplets as small as 2 picoliters the borderless output has smooth gradations, accurate skin tones, and vibrant colors with throughput of 16 ppm in black and up to 12 ppm in color. The printer's PictBridge port lets you print photographs without a computer. The iP90v has a built-in IrDA port and the optional Bluetooth Unit ($79.99) lets you print wirelessly from select Bluetooth-enabled cell phones. The Portable Kit ($99.99) includes a lithium ion battery with a 450-page life per two-hour charge. Users who work from their car can use the optional Automobile Power Unit ($89.99) to power their iP90v directly through car power a.k.a. cigarette lighter socket. Oh yeah, it's Vista compatible.

The Epson Stylus Photo 1400 shares the same technology as the Stylus Photo R260 and R380, including the use of Claria ink and DX5 MicroPiezo print heads, producing output up to 13x19"--this includes on CDs and DVDs. It has six ink cartridges and automatically corrects color for dark, backlit, and washed-out photos, adjusting skin tones and sharpening prints (but not on the Mac OS X). The printer offers PictBridge for computerless printing from digital cameras and cell phones and has a street price of $399.99.
Epson's Stylus Pro 3800 is a compact, 17" wide printer that uses UltraChrome K3 inks, including a three-level black ink system that simultaneously uses black, light black, and light-light black inks. The printer features an Auto-sharing Black Ink technology that permits automatic switching between Photo and Matte Black ink modes. The 3800 uses a new screening algorithm that places droplets precisely, producing smoother tonal transitions and greater detail from highlights to shadows, achieving resolutions up to 2880x1440dpi with variable-sized ink droplets as small as 3.5 picoliters. It's available for $1295 and ships with 10/100 BaseT Ethernet and USB 2.0 connectivity.
FEATURED VIDEO