New Gear For 2007: PMA Report; Hot New Digicams
New digicams now offer higher resolution, larger LCD screens, longer zoom lenses, more compact body size, greater speed, and some other amenities that I'll discuss in this report. And the megapixel race has not really slowed as we had expected a year ago. Apparently, some consumers are not satisfied with 6- or 7-megapixel (MP) resolution, making the ultrahigh-resolution category particularly attractive. At PMA 2006, we were impressed by the 8MP models, but I found lots of 10MP cameras at this year's show, as well as a few with even higher resolution. Some of the latest full-featured digicams are also remarkably affordable, making the cost of upgrading relatively painless. That's a trend that will be accelerating.

High-Tech Features
Features such as face detection autofocus/autoexposure and in camera enhancing software made headlines in 2006, but since then, both have become standard in most brands. Hewlett-Packard remains a leader in terms of in camera software, particularly with their new 7MP Photosmart R837 ($219, list) with a 3" LCD monitor and 39-118mm zoom. (All lens focal lengths in this report refer to the 35mm format equivalent.) The latest version of HP's Design Gallery (creative and technical enhancement software) boasts an incredible range of options now, including a new blemish removal and pet-eye fix.
Anti-Shake systems have also become common in every price range. It's important to note however, that many so-called "stabilization" features are electronic: they merely boost the ISO levels in low light or when a gyro sensor detects camera shake. But most manufacturers also employ a true optical system (that shifts lens elements) or a CCD-shift device (that moves the sensor module) in at least some of their new digicams. Panasonic has gone a step further, equipping all new Lumix models with the MEGA OIS (optical) stabilizer plus a new amenity: Intelligent ISO mode with motion detection, also available with the new Leica C-LUX 2.

Other interesting technology includes new types of Wi-Fi and greater use of MPEG-4 SVGA video recording; image quality is very impressive, similar to what you might expect from a digital camcorder. While several companies now offer MPEG-4 capture in a few cameras, Samsung is the leader, having added this feature to every one of their nine new digicams.
Samsung attracted a lot more attention with their World Tour Guide feature, with information that covers up to 4500 regions in 30 countries, available in the 7MP L74 Wide and L73 ($349 and $299, list). The L74 Wide, with wide to telephoto 28-100mm zoom, was my favorite of the two, because of its 3" LCD with Graphical User Interface (touch screen) function selection, Face Recognition AF/AE system, MPEG-4 SVGA capture plus in camera video editing, 450MB of internal memory, and all of the features that families usually want, except a true Image Stabilizer system.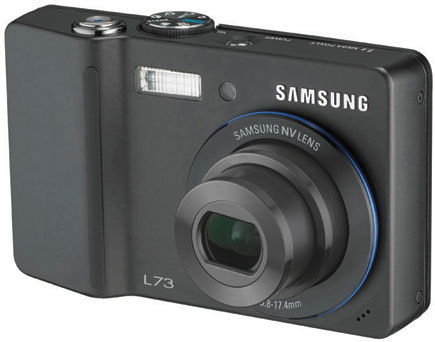 More importantly, both the L73 and L74 Wide (and some future Samsung models) will be compatible with a very compact GPS module, to be available by September (price not yet set). This accessory will track longitude, latitude, and elevation for later upload to the camera. Users can then map their images using GoogleEarth.com, which will establish individual icons on the precise location. Clicking on the icons will provide data for each image, showing the latitude, longitude, and elevation at the time of capture.

On the other hand, the concept of wireless image transfer did not really catch on in 2006. Even so, two manufacturers are investing big bucks to advance this technology to the next level. Nikon has installed a new Connect 2 Wi-Fi feature into their Coolpix S50c ($349, list). This is a camera with a very slim (0.9") metal body, oversized 3" LCD, 15 Program modes, the basic overrides, a non-protruding 38-114mm equivalent zoom with an Optical Vibration Reduction Stabilizer, Face Priority AF plus in camera software for correcting redeye and underexposure. Connect 2 Wi-Fi allows users to send photos by e-mail from any open-access wireless hotspot; they can also send up to 2GB of image files for storage on Nikon's secure server. The latter would be particularly useful when traveling, allowing Coolpix S50c owners to clear their full memory cards and continue shooting.
Sony has announced a "wireless digital photo sharing" system using Wi-Fi 802.11 (g) signals (with greater range than Bluetooth) but not intended for long-distance transmission. Available in their new Cyber-shot DSC-G1 ($599, list), this feature was designed to be compatible with various Digital Living Network Alliance (DLNA)-enabled devices to be available in future printers, PCs, camera/phones, other digicams, and so on. A Sony rep demonstrated the system as a method for sharing photos with another nearby DSC-G1 camera and it worked very well and quickly.
The 6MP Cyber-shot DSC-G1 with Carl Zeiss 38-114mm zoom is noteworthy for other reasons, too, including the massive 3.5" LCD screen with an amazing 921,000 pixel resolution, a full 1.86GB of internal memory that minimizes the need for memory cards plus an auto image management system with sophisticated search functions. This is a slim (1" thick) family-oriented digicam with numerous Program modes, the basic overrides, and a Super SteadyShot Optical Image Stabilizer.

High Megapixel Digicams
While 7- and 8-MP resolution remains the norm, an increasing number of 10MP models are now available. Not long ago, we assumed that 10 million pixel resolution would be the maximum level with today's small sensors, but GE and Sony are marketing 12MP digicams with 4000x3000 pixel resolution. Extensive testing will be required to determine whether either 12MP camera, with its smaller photosites or pixels, can produce images with a wide dynamic range or really fine quality at ISO 400 and above.

Granted, both the GE and Sony models employ a 1/1.7" CCD sensor with an actual size of 7.6x5.7mm in size; that's larger than the more common 1/2.5" type, with a size of 5.76x4.29mm, that's used in many of today's digicams. Consequently, the size of each of the 12 million pixels may not be far below average, although specific data was not available. By comparison however, the sensor used in the 10MP D-SLRs is at least 22.2x14.8mm in size, allowing for much larger pixels for superior light gathering ability and hence, for better dynamic range and high ISO quality.

The new Sigma DP1 boasts the largest sensor in the integral lens digicam category. Measuring a full 20.7x13.8mm, it's a Foveon X3 chip, containing 4.7 million oversized pixels in three separate layers, for a total of 14.1 million photosites. (The same sensor is used in the new SD14 D-SLR.) This is a luxurious camera ($999, list) with a compact metal body, 28mm lens, 2.5" LCD, a hot shoe for accessory flash, and a very wide range of advanced (SLR-type) capabilities. An optical viewfinder will also be available as an optional accessory, targeting photographers who are traditionalists.
Sony's 12MP digicam is a prosumer-grade model in a handsome metal body. The Cyber-shot DSC-W200 ($399, list) features a Carl Zeiss 35-105mm zoom with Super SteadyShot Optical Image Stabilizer, 2.5" LCD, and a true optical viewfinder. This camera is loaded with capabilities and overrides, lacking only Semiautomatic modes, so it targets the D-SLR owner who also wants a more compact camera that includes software for redeye fix and for artistic effects. In fact, the DSC-W200 includes technology developed for the Alpha D-SLRs: the very fast (and superb) BIONZ processor and the Dynamic Range Optimizer that works before JPEG compression is applied in order to correct certain exposure problems.
General Imaging's 12MP camera, the GE E1240, is equipped with a 40-160mm zoom, 3" LCD, Face Tracking AF/AE, 15 Program modes, the essential overrides, and extras such as MPEG-4 Movie mode, in camera panoramic stitching, and redeye removal. This slim (1" thick) digicam is surprisingly affordable ($299, list) although its "Image Stabilization mode" is actually an ISO boost that's activated in low light, while the GE X1 super zoom model employs a true Optical Stabilizer.
The 10MP category has expanded rapidly and now includes a wide range of cameras. Among the latest models, my own favorite was the Nikon Coolpix P5000 ($399, list), their flagship digicam. It's equipped with a fairly large 1/1.8" sensor, 36-126mm zoom, Optical Vibration Reduction Stabilizer, 2.5" LCD and optical viewfinder, Face Priority AF/AE mode, and in camera enhancing software. The P5000 includes most of the modes and overrides that we expect in a D-SLR and also accepts accessories: optional SB-series flash units as well as a wide and a telephoto converter.
FEATURED VIDEO