The New Corel PHOTO-PAINT 9
I scanned in a scene in 12-bit per channel mode, taken with an early version of high contrast Ektachrome, which was an advantage to render the flowers brilliantly, but made the blue haze in the background much too saturated. Corel PHOTO-PAINT 9's Hue/Saturation/Lightness dialog allowed me to click on just the blue channel and reduce the saturation in it, making the scene much more realistically balanced.
Photos © 1999, David B. Brooks, All Rights Reserved
Corel PHOTO-PAINT is an application with a long history and one that I have used off and on for as many years. This latest Version 9 is not all that different in outward appearance and the included feature set than the previous Version 8, or even 7 for that matter. However, using this new Version 9 was a much better experience because of what I can best describe as refinement. Before getting into how Corel PHOTO-PAINT 9 performed, let me first describe what the package contains and generally what it is designed to do. The name PHOTO-PAINT is about as broadly descriptive as you can get for such an image-editing product. It has the tools, processes, and brushes that computer artists need for painting and digital photographers require to acquire images from scanners and digital cameras, color correct, manipulate, and incorporate in a publishable document containing not just photographic images, but graphic design elements and standard text and manipulated type fonts.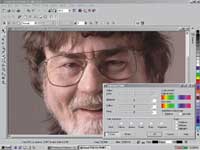 Digging through boxes of old slides to scan for testing I found a lost set of portraits made for me when I was editing a computer magazine a few years back. I have very few pictures of myself, so I scanned this one. I looked much too florid in the 12-bit scan opened in PHOTO-PAINT 9, so I decided to try the Selective Color dialog, which is supported in 12-bit mode, and proceeded to modify just the red channel to produce a more natural, lightly tanned skin tone. This and all of the other primary color correction tools in Corel PHOTO-PAINT can be applied to a raw 36-bit scan opened in the PHOTO-PAINT workspace, making the editing application an extremely powerful scan adjustment utility, and precluding the too usual method of adjusting in the scanner's software and then tweaking the 24-bit image file in an image editor.
In addition to the main paint and image-editing application, Corel also includes Bitstream Font Navigator 3.0 to organize, view, and select fonts stored in your operating system. Canto Cumulus 4.0 is an acclaimed professional digital asset management application; Adobe Acrobat Reader for access to documentation in Acrobat .PDF format on disc; DigiMarc Digital Watermarking to record your copyright within images; Human Software Squizz an image morphing utility; Corel Capture 9 to record and save screenshots; and Corel Script Editor to automate processes. The features within Corel PHOTO-PAINT 9 are more extensive than just about any image editor consumer software product currently available. They include in part:
· Artistic media brushes that may be used directly and as cloning brushes to paint or repaint using all kinds of natural painting effects as well as more imaginative options.

· Layered object effects can be created to manipulate, composite, as well as add graphic elements like type with drop shadows over a photographic image.

· You can either open or save to a wide variety of graphics file types making resources created in a number of different applications available, as well as creating images in PHOTO-PAINT that can be used in other applications, including Adobe Photo-shop, MetaCreations painter, among others.
It was time to design and make myself a new business card, so I made it a project to test Corel PHOTO-PAINT 9. I have recently renewed an interest in flower photography so decided on it as a background theme, and selected an image for the purpose.
· Ixla digital camera support is built-in providing easy access to the images stored by most of the popular brands and models of cameras.

· Full support is included for HTML output to create content for web publishing.

· Encapsulated PostScript Export includes enhanced color management to assure high quality printing and output to offset press reproduction.

· Images created in PHOTO-PAINT may be output in PDF format for web or offset printing targets.

· A Wizard is included which makes output to a pre-press service bureau easy.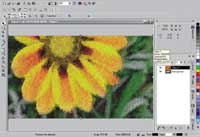 After cropping the flower picture and sizing it to business card proportions at 360dpi, I made two copies of this image file. One copy received the affect of the SketchPad filter, and the other the Impressionist artistic filter. I then blended the two together adjusting the transparency between the second layer and the background.
· More extensive and controllable access support of color management is included, incorporating the selection of one of a number of standard color workspaces with ICC profiles which may be imbedded in output files.

· And in Corel tradition the package includes a clip art library of 1200 items, 1500 royalty free photos, 750 floating objects, and 300 TrueType fonts.

Working With Corel PHOTO-PAINT 9. Immediately after a quite smooth and effortless installation, I set up PHOTO-PAINT's options and preferences to suit my system, particularly how color management is configured with my monitor calibration, scanner, and printer. This latest version of Corel now has much improved color management control, and works effectively with Windows 98 ICM 2.0. I then undertook putting the application through its paces, first by acquiring images with two different Canon scanners using their TWAIN module within PHOTO-PAINT. In all of the several images scanned, with 24-bit and 36-bit output selected, the match between the scanner software preview window image and what was opened in PHOTO-PAINT's workspace was a very close match. PHOTO-PAINT is one of the few current image editors which supports 12-bit per channel image data color correction, so I deliberately used this to input raw, uncorrected data from several scans to use PHOTO-PAINT to do all of the color correction. Corel has been able to make nearly all of its tools for image value adjustment available to correct images in 12-bit per channel mode, and I found them all much easier to use and precisely tune the image characteristics to yield exactly the qualities I wanted.
After selecting the bottom 1/4 of the image and inverting the colors, my next task was to apply the necessary text and select type fonts. Corel PHOTO-PAINT 9 includes the convenience of providing a preview image of the font appearance, making this task much easier than most image editors to use.
I then used an image scanned earlier and on CDR to create a new business card. After cropping and sizing, I used some of PHOTO-PAINT's many artistic filter effects to create two different layers, which I blended together using the object transparency adjustment. Then after selecting an oblong rectangle at the bottom of the image I used the Hue/Saturation dialog to reverse the colors. The finishing step was to apply the text for the card by selecting the outline Text tool option and then inverting the type and lightening it with the Bright-ness/Contrast tool. This rather involved construction, with many different steps was quite easily accomplished even though I was barely familiar with this new version of Corel PHOTO-PAINT, which says a great deal for the functional logic of the application's design.


I selected the option of inserting type as outline selections, which allowed me to manipulate the background underneath by shifting the hue and lightening the values using the HSL adjustment dialog. Then, with the text in place I merged all of the layers and saved the file for printing.
Evaluation And Recommendation. With previous versions of Corel PHOTO-PAINT I've always found there is a lot to recommend as a professional-level image editor. At a quite reasonable price, it becomes even more of a bargain when all of the wide variety of artistic paint and clone brushes, as well as a large selection of very diverse filters included are considered. Much of the difference I found in Version 9 included streamlined and redesigned dialogs, making them function much more controllably, and with the option of a small side by side comparison thumbnail window or full-screen preview. In other words, using the application is easier and more effective, although I did find that with a 2-year-old PC it was rather slow. To use Corel PHOTO-PAINT 9 on a regular basis I would want a very current, fast, system with at least 128MB of RAM and preferably more.

The Corel PHOTO-PAINT 9 list full price is $595. The upgrade cost is $149, which is extended to include not just upgrading from almost all major Corel products but side upgrades from other software brands as well. For more information, including any special rebates, call (800) 772-6735, or visit Corel's new web site at: www.designer.com.
FEATURED VIDEO