Metz Mecablitz 64 AF-1 Flash Review
Shoe-mounted flashes are handy tools. Where space or weight is a concern, a kit with two or three shoe-mounted flashes is much easier to carry than even the smallest power pack/head combo or a low-output monolight, and more versatile.
Case in point, on two separate photography assignments I employed no more than two shoe-mount strobes to light-paint the huge blue whale model exhibited at New York's American Museum of Natural History (in collaboration with museum photo staff). In fact, there is an entire subculture among pros that favors shoe-mount strobes – aka "strobists" – over bulky and expensive studio lighting gear for location work and even in the studio.
The dedication to the shoe-mounted flash for other than run-and-gun photography is largely centered on finding portable lighting gear that will reliably deliver the kind of results we expect of larger strobes.
Among the "third party" shoe-mount strobes I've come to trust is the Metz brand. Reliable German engineering and a long-standing reputation reinforce that trust. And the company's new flagship Mecablitz 64 AF-1 digital flash promises to keep that reputation intact. Metz also makes my favorite ring flash, the wireless and ultra-compact Mecablitz 15 MS-1, which also played a part in this review.
The Mecablitz 64 AF-1 retails for $449 and is available in versions for Nikon, Canon, Sony, Olympus, Panasonic, and Pentax cameras. I tested the Nikon version of the flash.
Features
The Mecablitz 64 AF-1 offers something you don't see on some popular flash brands: a built-in sub-flash. Situated directly below the main flash head, the stationary secondary flash tube (secondary reflector or sub-reflector, as Metz refers to it) can be activated as a fill light when the main head is raised or swiveled, for bounce applications. (Only available in select modes, the sub-flash can be activated via the Menu button: choose Option.)
Beyond that, this flash boasts an impressive GN of 210 (max., in ft.) at ISO 100, with zoom capability out to 200mm and down to 24mm (12mm with the built-in diffuser).
If that doesn't grab you, then perhaps this will, especially if you're into super high-tech. The new Metz flash features a resistive full-color, auto-rotating touch panel. Slight pressure from your finger activates any function, resulting in a very neat and tidy interface, with only three function buttons, including the on/off switch.
That aside, for me what counts is full support for Nikon's wireless remote operation. I savor the ability to trigger multiple off-camera strobes simply by activating the camera's built-in flash, sans accessories. It makes life so much easier.
In Use: Outdoors
I put the Mecablitz 64 AF-1 to use with my Nikon D610. For my first outing, I visited a nearby forest preserve, with the aim of photographing fall foliage and deer. As tall in the saddle as the 64 AF-1 sits on the camera's hot shoe, it was not tall enough to get around red-eye in a buck, or what I call the "deer-in-the-headlights" phenomenon, since the reflections are anything but red.
That aside, the flash did capture considerable detail that was lost in my available-light shots.
When it came to foliage, the on-camera, direct flash served me well as a fill light, so that plants in the foreground did not get lost amid a spectrum of similar and contrasting colors in the background.
One of my favorite shots from that outing depicted leaves against an out-of-focus sunset. The automatic fill was subtle enough so as to bring out the flavor of the foliage, while retaining good color in the background.
Wireless Flash: Studio Still Life
I wanted to see how well this Metz flash played with others; wirelessly, that is. Indoors I have little hesitation about using Nikon's CLS wireless tech for TTL flash control (provided transmitting and receiving devices have a clear line of sight with each other).
I set up two still life sets, using different light tents. In the shot of my new watch, I also brought in the Metz wireless ring flash as a fill light—positioned off-camera, while the 64 AF-1 did the heavy lifting. The D610's built-in flash, in Commander mode, successfully triggered both remotes.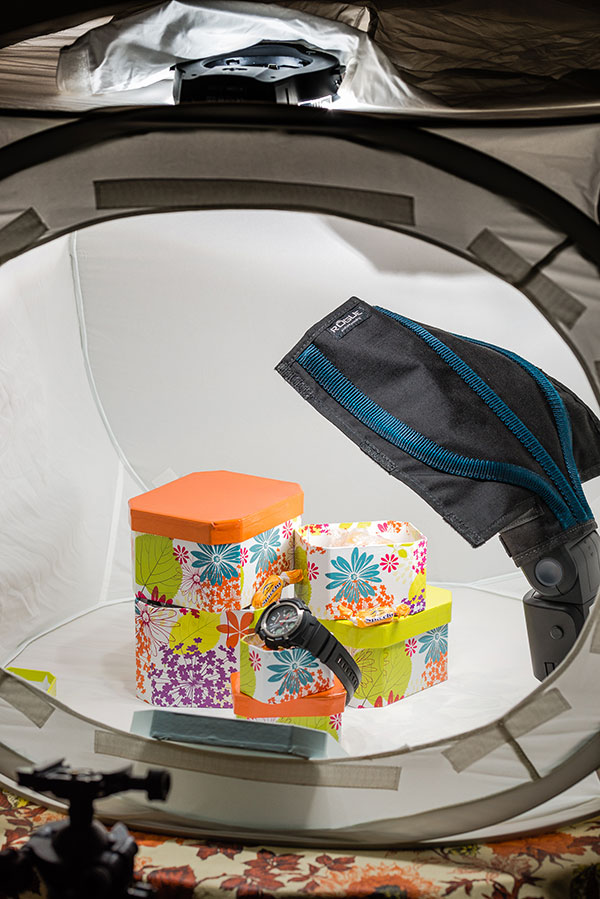 In the second set, with the figurine of a medieval knight enjoying his ale and lamb shank, I kept things simple—kinda—and seated the 64 AF-1 in the hot shoe, positioning it as the Master/trigger, with a Nikon SB-700 as remote.
Whether or not I could have achieved better results with a studio strobe is open to argument. I was working fast and dirty.
The idea here was to see how well all this worked. And it did. Well enough to prove the point.
My tests confirmed that you can use a Nikon CLS flash and Metz 64 AF-1 together as master or remote, in either position—with confidence. Just remember to set the Metz as the triggering strobe or remote (as applicable) via the Mode setting on the 64 AF-1 touch panel. As Master, the 64 AF-1 governs output on the respective remotes.
When the Metz was used as a remote, I established output for each contributing flash in camera, assigning the built-in flash to Commander mode and then setting output for each. Normally, to prevent unwanted reflections from the direct flash, set the built-in flash to Off.
Be sure to assign trigger and remotes to the same channel for them to work in tandem, and input the respective remote group setting on each remote flash so each will fire and output the amount of light needed. The 64 AF-1 supports 4 channels and three groups in wireless remote mode.
Conclusion
The Metz 64 AF-1 feels solid and proved itself admirably outdoors and in a studio situation, on camera, and wirelessly as Master or remote. Together with my D610, the flash delivered respectable exposures, and color balance was easily acceptable.
While I can't fault the flash for overall performance, I do have a few personal qualms. I'm more comfortable with the instantaneous tactile response of an electromechanical on/off switch than with the electronic switch found here. On this flash you have to hold the button down for a brief second. And I always found myself searching for that switch when in the dark.
The digital display is bright and clear. I had no problem reading it outdoors, as I recall. But touch displays take some getting used to. I find it faster to just use buttons. That said, the display panel is pretty much straightforward. Get past the learning curve and you should be running smoothly.
I wish this flash came with a diffusion dome, not simply the built-in bounce panel. I've gotten spoiled by other flashes that include one. And the multi-language manual is a bear to plow through. That said, I really have little to complain about. The flash proved itself in each situation I threw at it, especially in wireless mode. At $100 less than Nikon's own SB-910, this new Metz Mecablitz 64 AF-1 flash is a great value.
Price: $449
Info: www.metz.us
BIO: Jack Neubart (www.jackneubart.com, www.pixelPERFEXION.net) is a photographer, photo-technical writer, educator, photo industry consultant, and author with over 35 years of experience, covering practically every aspect of photography.
FEATURED VIDEO